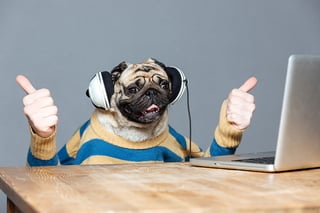 Fun fact: In 2011, Hubspot set the Guinness World Record for largest online marketing seminar.
Another fun fact: For about three months last year, I was submerged in a deep sea of webinars. A favorite client of ours asked us to help manage their annual digital conference. That meant more than a month of B2B digital marketing content presented worldwide, twice weekly, from the comfort of the internet. I emerged from that sea with a master scuba certification and hands-on experience and knowledge about B2B webinar best practices that I'd like to share with you.
A webinar is a live, online seminar, presentation, or workshop that's delivered over the internet. Webinars are great in both the B2B and B2C sphere and can be used for everything from employee training to live demonstrations and panel discussions. You know what else they're great for? Driving leads.
In 2016 Demand Wave found that, for a second year in a row, webinars were a top revenue driver for B2B companies. They're also incredibly simple to host. So with that compelling information in mind, here are my recommended tips and tricks to produce the best webinars for B2B digital marketing.
Pick Relevant Webinar Content

Like any other marketing tactic, the foundation of a successful webinar is in the research. Determining the best content for your webinars requires a good understanding of your buyer personas and the information they want. Retracing the journey of current leads and prospects, analyzing your most popular content, and discussing FAQs with your marketing and sales team are all great ways to identify the best content to produce for your audience. Evaluate what has been most popular and leverage webinars to present the information in a fresh, unique way.
Identify the Best Webinar Tool

A quick Google search on "webinar hosting software" will return thousands of results, but before you click through the links, it's important to identify what you need from a software tool. First, determine how many people might attend your webinar sessions.
TIP: We found that the average number of unique viewers on your most popular blogs is a good way to ballpark the number of potential attendees.
Make sure that you're selecting a webinar tool that can support that capacity. Better to have too much space than not enough. Here are some other features that I recommend:
Web-based interface. Remove the burden of the software download for your attendees. Being able to join a webinar by simply clicking a link makes for a seamless audience experience.

Screen share capabilities. Many of us already utilize screen share functionality in our day-to-day lives. Whether you're reviewing creative, doing a software demonstration, or just trying to get tech support to understand the issue that you're having, the benefits of being able to share your screen with other people extends to webinars.

Interactive chat and/or polling. One really cool advantage of live webinar sessions is the ability to personalize and engage with your attendees. Selecting a tool that allows your audience to "talk back" to you via chat will save you the time and hassle of integrating and managing a conference line that supports a high volume of participants. It also allows you the opportunity to pre-screen questions and only touch on those you're prepared to answer or those that will be most beneficial for the majority.

Customizable templates, which allow you to brand the webinar.
Do Dry Runs
Rehearse! Rehearse! Rehearse! Dry runs are the equivalent of a dress rehearsal for your presentations. Whether you're presenting to a live audience or pre-recording your session, it's important to set aside time a few days before the real thing to iron out the kinks. Dry runs are a great opportunity for both new and seasoned webinar presenters to get familiar with the software, test drive interactive elements, and double check the slide deck.
If there are multiple presenters, dry runs are a good opportunity to talk through speaker transitions and review the flow of the presentation. Practice might not make perfect, but it will make sure you're prepared.
TIP: For single presenters, we recommend asking someone to hop on during your dry run to provide constructive feedback on any areas where you can improve.
Have a Plan B (and C)
One lesson I've learned over and over again is to always, always prepare for the worst – especially when it comes to technology. Even with practice, there is a chance, a likelihood even, that something will go wrong. Webinar audio messes up, live screen share doesn't work, you've set the live presentation for 3 a.m. instead of 3 p.m. and don't realize until you log in to cue up the session at 2 p.m. (yeah, I did that). Even with a dry run, you should still leave room for error. Consider these safety nets when preparing for your webinar.
Make the slides a downloadable resource. If the viewer window malfunctions and 100 people start messaging you about a black screen, be calm! Instruct them to download the slides from the webinar host's resource center and they will be able to follow along on their own. TIP: If this happens, make sure the presenter verbalizes transitions from one slide to the next.

Mock up the screen share. You heard me. I want you to walk through whatever process you are going to demonstrate to the group and take some screenshots. I can't tell you how many screen share demos worked perfectly fine during the dry run, then refused to function during the live session. Back up slides save lives.
Be Entertaining
Whether you're doing a live-video stream, screen-sharing, or just clicking through a presentation, webinars provide a unique opportunity to engage your audience and let your personality shine. Your attendees have scheduled time to tune in, and it's important that your webinar be both educational and entertaining.
Don't read verbatim. Your webinar attendees can see the copy that is displayed on the screen. Don't read your presentation verbatim! Keep the bullets in your presentation deck concise and elaborate on those items as you present.
Engage your audience. Remember those college lectures where you'd sit in a huge classroom for three hours and listen to your professor monotonously talk through a very boring presentation the entire time? Don't do that. Engage with your audience by prompting them with questions, including an interactive poll, or even adding funny graphics and/or video into your presentation.
Including interactive elements or tactics into your webinar benefits your audience by not boring them to death. You benefit yourself by compelling them to be attentive and increasing the odds that people don't have the screen minimized and are toggling back and forth between Pinterest and Facebook.
TIP: When incorporating audience polls in your presentation, make sure you prompt attendees to participate at least three to four times before moving on to the results slide. Use specific information – for example, "About 40% of you have responded, I'm going to wait until we hit 60% before pushing to results.
Offers and Incentives
Everybody loves free stuff. Offering relevant downloadable resources or exclusive product or trial incentives during your webinar is a surefire way to leave attendees feeling like they received high value from attending your session. Since attendees have already provided some personal information during registration, you aren't losing out by giving them access to gated assets of other high-value content.
Now that I've shared what's up my sleeve, you, too, can become a webinar pro. One final note: in addition to all these tips, make sure you have a system in place to follow up after the webinar. That means a) sending emails both to those who attended and those who didn't and b) making sure you're ready to handle the leads that will come from the presentation. Successful webinars don't end when people sign out; ideally, they're a starting place for great conversations – and conversions to new business for you.
Download the Calero World Webinar Case Study
See how our experience helped successfully deliver 13 hours of webinar content, manage 21 presenters and engage 500+ clients and prospects, all in little more than a month.