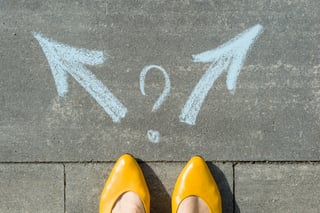 After getting the green light to implement a marketing automation platform, you're probably at a loss for which tool to choose. And who wouldn't be? In 2019, there were over 7,000 marketing technology software solutions. Even a quick look at G2 Crowd's grid for marketing automation can easily overwhelm anyone who is trying to understand which software will be the best fit.
But if you're looking for a more specific B2B marketing automation tool that can help you achieve your goals, then look no further. In the search for the best-in-class marketing automation software, four platforms come to mind: HubSpot, Pardot, Marketo, and Eloqua.
In this blog, we're going to explore each to help narrow down your choice. Let's get started.
HubSpot
HubSpot is a crowd favorite for small to medium size businesses, and for good reason. It provides customers with a comprehensive platform to manage and align marketing, sales, and services. Check out this blog we wrote on HubSpot's flywheel methodology to learn more.
Pricing for HubSpot has several different starting points, beginning with a free option that has access to several tools and HubSpot's CRM. The next level is starting at the lowest priced bundle which is $50/month, and includes access to their marketing, sales, and services hubs and their CRM.
Pros:
HubSpot recently released its own ABM software, allowing marketers to develop a full-fledged ABM campaign directly within the CRM
Intuitive design makes it easy for users to set up shop quickly with a drag and drop editor for email, landing pages, and website pages. They also have a marketplace filled with 3rd party templates (some of which are free!), as well as 16 pre-built templates with multiple design options
HubSpot has the best security features in the market at the enterprise level, using Amazon Web Services to automatically run software updates—ensuring your website is safe and secure
Built-in SEO, CMS, and social media tools make optimizing content easy
Integration with Google Analytics and AdWords provides a wealth of information, making campaign planning and tracking simple
Includes workflow management, list segmentation, and contextual marketing features to give you an in-depth view of client/lead interactions
Offers smart content where certain aspects will display different versions based on specific viewer criteria, allowing you to further personalize your content
Support is easy to access through chat, email, and phone
Cons:
Reporting can become complicated if you require a custom report with specific engagement metrics that aren't typically included in their standard reports
Because there are separate hubs (marketing, sales, services, and CSM), there are a lot of add-on options that can make you feel like you're constantly having to pay for features
Pricing structure can be confusing and can lead to you not being sure what is included in what you're paying for
Lacks flexibility for complex sales teams, and its integration into SFCD is adequate but could be improved
Pardot
Salesforce officially acquired Pardot in 2013 to better service B2B companies. The goal of this merger was to bring tighter sales and marketing alignment to increase efficiency when creating and managing marketing campaigns. Pardot is suitable for medium to large companies, with pricing starting at $1,250/month.
The platform uses data-driven programs to help marketers develop lead generation programs that accelerate leads through the sales funnel. Its most famous feature, Salesforce Engage, gives users a real-time view into prospect engagement that can be easily tailored to each user's preference.
Pros:
Can be easily integrated with top CRMs in the market, although it works best with Salesforce
Pardot also provides WYSIWYG blog, email, and webpage design interfaces with 36 pre-built templates
The lead deck features allow sales and marketing teams to receive real-time alerts and data from prospects
Engagement studio gives users lead nurturing tools that allow for the creation of really sophisticated and intelligent automated programs to engage prospects more effectively
Cons:
As we know from experience, Pardot is not as user friendly as other marketing automation platforms
Building out custom emails or landing pages requires a developer, otherwise you have to fit your brand into very cookie-cutter templates
Several functions require the use of third parties, making it a no-go for companies that want a more comprehensive solution
Lacks the SEO functionality provided by other marketing automation platforms
A/B testing is reserved for its more expensive package
Missing ABM capabilities
Marketo
Marketo has been an industry front-runner since 2006. Its comprehensive, intuitive design, and ease of customization make it a fan favorite among large corporations that have the resources to invest in it. The tool offers a wide range of features such as landing pages, lead management, social media, analytics, and more. It was acquired by Adobe in 2018, adding further to its capabilities.
Marketo is known for its seamless CRM integration. And marketers far and wide sing its praises for being an easy and straightforward platform. Marketo has a robust library of educational resources that can help users in a pinch. Pricing for this marketing automation software starts at $895/month.
Pros:
Out-of-the-box data collection is superior to the other automation platforms mentioned here
Responsive and helpful customer support
Dashboards and reporting features are fan favorites as their analytics are easy to understand
Marketo's engagement program is engineered specifically for lead nurturing, which make setting up ABM campaigns a breeze
There is a large community of users which is helpful for questions and reviews of feature
Cons:
Pricing is expensive for smaller businesses as it drastically increases above the basic amount
With so many integrations, it's essential to have a technical understanding of how each piece works to get the most out of the tool
Customization for landing pages is difficult without a developer to help
The email templates do not have a drag and drop feature, making them more difficult to edit and customize
Eloqua
Eloqua is the marketing automation solution from Oracle's Marketing Cloud. It was built to help companies deliver more personalized customer experiences, with features like lead scoring, marketing analytics, and cross-channel campaign orchestration. Pricing for Eloqua begins at $2000/month.
One of the most exciting features of Eloqua is that it doesn't use the traditional point system. Instead, it gives each lead a percentage based on how closely it matches your ideal customer profile. Eloqua uses the lead's profile information and its integration capabilities to generate the percentages. The caveat? The system can be very cumbersome and complex to understand. Without any technical resources the learning curve is steep.
Pros:
There's no need to know code to design emails, and landing pages can be created from multiple templates
Eloqua has been around since 1999, which explains its favored position among enterprise marketers
Its visual campaign builder is second to none as it has an intuitive design helpful for reducing user errors and training new users
With so many integrations available, creating a tailored marketing automation platform is easy
Through its Metadata integration, users can tap into ABM capabilities to build personalized and hyper targeted campaigns
Cons:
This platform is the least user friendly compared to the other platforms mentioned above
Requires a large budget to get started
Despite its integration with Google AdWords, tracking the ROI of PPC campaigns is virtually non-existent
According to word of mouth, the downtime with Eloqua is severe and requires a lot of rekeying
Looking for More?
With so many options and features to sort through, selecting the right B2B automation platform can be overwhelming. At Marsden Marketing, we've invested time in learning the ins and outs of these marketing technologies to help B2B organizations maximize their marketing automation investments. We'd be happy to share what we've learned to point you in the right direction.
Want to get started now?
Give Us a Shout!