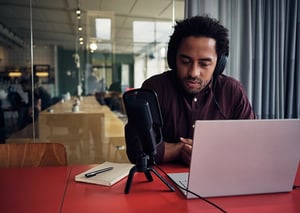 When someone in your company says, "let's start a podcast," it's often accompanied with uncertainty or an unsettling feeling. Questions rush to the forefront of your mind. Do we have the margin to start a podcast? How much time will it take? Will anyone even listen to it? Is there really a place for my B2B company to have a podcast? But let's be clear right now, you should consider creating a podcast today.
In 2018, more than six million Americans listen to podcasts on a weekly basis, with one-third of Americans ages 24 to 54 listening to podcasts monthly. Creating a podcast will give you the opportunity to reach this market while establishing yourself as a thought leader in your industry. It will also provide you with another alternative to blogging and you can even reuse your old content. Additionally, when it comes to being found on the internet, options for hosting your episodes on podcast havens like iTunes and Spotify, will improve your SEO efforts.
So are you ready to get started? This week's post is all about how to create the process. Next week I will dive deeper into the equipment needed to get started.
How Does a Podcast Work?
A podcast works like other content marketing: through a planned-out process. Establish a cadence for publishing your podcast and then create a timeline by working backwards. Let's look at the different steps involved.
1. Brainstorm Topics
Start with a brainstorming session. What topics can your company add value to? Don't red light any ideas at the beginning and use sticky notes (one for each idea). Set a 20-minute timer and go nuts. Then categorize all your ideas and stick them to a whiteboard. You'll start to naturally see areas that make sense as potential new topics; you might even discover more during this process. After doing this exercise, you can start narrowing down ideas to develop the content calendar for your podcast. This is also a great time to think about what interviews you might be able to lineup and establish a process for scheduling them.
2. Schedule Time to Record
Recording a podcast can feel daunting, but it doesn't have to be. Schedule a time of the week that works best and commit to recording at that time all the time. This will remove the stress of having to get it done by a certain deadline. Generally speaking, you only need 2-3 hours to record a podcast. I recommend recording interviews separately and splicing them into the podcast in post-production. This makes it easier and less stressful when first starting out.
3. Use a Quiet Room
You probably don't have a room built with soundproofing. That's okay. All you need is a room that is quiet where you won't be interrupted. A good rule of thumb for selecting a room is to pick one that is carpeted with tiled ceilings. This helps retain the quality of your audio by reducing the number of hard surfaces that can distort your recording.
Another helpful tip is to find a room where you can leave your equipment setup. Not having to set up and tear down your equipment will cut down on the time you will need to set aside for the podcast. It's also more motivating to do your podcast if you see everything set up. As a final reminder, make sure to keep your phone on silent while recording.
4. Record the Podcast
Staying organized is the key to recording your podcast. Have a print out of your agenda so you know the order in which your podcast will flow and try to set a specific amount of time for each section. It's easy to find yourself rambling on about a topic, but if you have a finite amount of time in your head then you are less likely to go down the rabbit trail, allowing you to stay on track.
Don't worry about messing up. It's going to happen and there's nothing you can do about it. As soon as you realize you need to redo a part, talk into the recording and say what you are going to do like, "I'm going to start this topic over from the beginning," or "I'm going to start by re-answering this question." Then pause for a few seconds and start again. Take note of the section you messed up, which will help expedite the editing process, especially if someone else is editing it.
5. Length of Podcast
The average time someone spends listening to a podcast episode in one sitting is 22 minutes, which coincides with the average commute time. People will usually listen to a podcast in two or more sessions if it's longer. This is important to keep in mind when thinking about how long different sections should be in your episode. Ideally, you should have natural breaks around the 20-25-minute mark. Other than that, there is no real ideal length for a podcast.
6. Editing and Exporting the Podcast
Editing will move along smoothly if you took notes and clearly communicated your retakes and mistakes during the recording. While you're editing, make sure to trim the audio around the beginning and end and take out long pauses throughout the recording to create a faster pace. You'll do the same action when splicing any interviews.
Adding music to the intro and outro will make your podcast feel more professional and create familiarity for your audience. Many people even use music as a small five to ten-second segue for recurring segments. Taking the time to set up your first podcast recording in this manner will create a template that you can reuse for your future recordings. Once you've completed your first episode, you're ready to export your file.
7. Upload to a Podcast Hosting Site
Choosing a hosting site can be overwhelming. There are so many options. Just searching for a list will yield results that say "23 of the best podcast hosting sites for 2018." Twenty-three? How about I give you my top two? Buzzsprout and PodBean. When it comes down to finding the best option for ease of use for new podcasters with the best price point, these two hosting sites can't be beaten.
8. Embedding and Posting Your Podcast
Now that you have a hosting site, you have the freedom to post your podcast in many different places. You should start by embedding the files on your company website. Then you should post your podcast to all the popular platforms where people go to find them. The top five are iTunes, Spotify, Stitcher, Google Play Music, and TuneIn Radio (this one allows you to get your podcast on Alexa). Obviously, you increase the chance of people finding your podcast if you post it to more than one platform. Buzzsprout and PodBean make this easier by allowing you to set up an option to auto-post.
What do you need to start a podcast?
Ready to jump right in to podcasting? First, you'll need some equipment. In next week's blog, I'll talk through some best-in-class and some great affordable options for podcast equipment, including microphones, recording and editing software, and additional hosting options.
Don't miss out on part two. Subscribe to notifications for new blog posts: