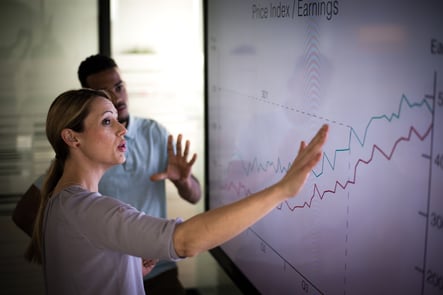 Most B2B organizations aspire to achieve predictable and sustainable revenue. But in an ever-evolving B2B landscape, deciphering the 'how' is the real challenge. Think about it.
The buying journey is not linear. There are more decision-makers involved in the buying process. Gartner reports that the typical buying group for complex B2B solutions involves 6-10 decision-makers, each needing 4-5 pieces of information to make a decision.
Then there's technology. While it provides new capabilities, it can become a costly burden if not properly managed. And finally, let's not forget about shifting buying expectations.
B2B buyers today expect seamless omnichannel experiences. They want a divided mix of traditional, remote, and self-service channels, such as face-to-face interactions, inside sales, and e-commerce.
Adapting to these challenges today requires a more data-driven and unified approach to sales, marketing, and customer success/support. That's why high-performing teams are turning to Revenue Operations (RevOps) to modernize their revenue engine. With this holistic approach to revenue generation, you can improve long-term growth prospects by 50%.
So how can RevOps help you drive revenue growth? Here are the top three ways:
1. Enables Data-Driven Decision Making
To identify the right growth strategies, the modern go-to-market (GTM) organization must be able to gather and analyze performance data and implement strategies based on those insights. And they need to be able to adapt quickly.
The RevOps model enables data-driven decision-making by integrating data from various sources — CRM, marketing automation platform, and customer feedback — under one umbrella, providing GTM teams with a single source of truth. In doing so, GTM teams can gain valuable insights into customer behavior, pipeline velocity, and revenue performance that empower them to identify opportunities for improvement.
For example, you may have bottlenecks in your sales pipeline due to ineffective targeting of your ideal prospects. Revenue Operations can root out the cause of that bottleneck, reassess your ideal client profile, and provide data that can help you refine messaging and tactics. All of which leads to making more informed decisions that drive revenue growth.
Better decision-making pays off. Boston Consulting Group (BCG) found that RevOps can lead to a 10% increase in lead acceptance and a 100%-200% increase in digital marketing ROI.
2. Aligns Go-to-Market (GTM) Functions
Customers have more options than ever for interacting with your company. Each interaction is an opportunity to provide a seamless experience that increases customer stickiness and revenue. But you can only do that when sales, marketing, and customer success/support are working in lockstep and have a 360-degree view of the customer.
However, many teams work in silos that prevent them from sharing data on customer insights and interactions with one another. As a result, customer success/support may ask customers for information they've already provided, or sales may offer solutions that aren't relevant to their needs. Worse, sales can miss an opportunity for an upsell.
In the highly competitive B2B marketplace, these frustrations can drive customers toward a competitor and result in missed opportunities to drive revenue growth within already existing accounts. Revenue Operations changes that.
To get everyone on the same page, Revenue Operations takes a cohesive approach to aligning and optimizing the entire GTM organization by:
Breaking down silos in workflows by configuring tech stacks to support the flow of data between disparate systems and ensure that teams work in coordination throughout the customer journey

Establishing shared goals and metrics that allow all GTM teams to work towards a common objective

Providing a consolidated view of all data sources so that GTM functions have a greater view of how to grow new and existing accounts to drive predictable revenue growth and increase customer lifetime valu
When GTM teams are aligned, it can lead to a 36% increase in revenue growth and up to 28% more profitability.
3. Optimizes Processes to Drive Efficiency
Inefficiencies like data redundancies, workarounds, and communication breakdowns slow down revenue generation. Disjointed technology, data siloes, and preferred ways of operating are often the underlying cause of these inefficiencies.
For example, quite often, sales, marketing, and customer success have their own needs for specialized tech stacks. When these technologies don't integrate with one another, commercial teams waste time on manual tasks that could be spent on delivering engaging customer experiences or identifying the next growth channel.
RevOps actively addresses these inefficiencies so GTM teams can work smarter to:
Develop standardized workflows for tasks like lead handoffs to ensure everyone follows the same processes

Identify and implement automation wherever possible to streamline workflows, remove bottlenecks, and improve the accuracy and availability of data

Ensure that reps have access to content that's relevant to the buyer/customer and their stage of the buying journey
By optimizing how teams work, GTM teams can drive faster sales cycles, improve conversion rates, enhance customer retention, and, most importantly, reduce operational costs. For example, BCG found that these efficiencies can result in a 10-20% increase in sales productivity.
Adopt a Modern Approach to Revenue Generation
The B2B buying landscape is undergoing a seismic shift and will continue to evolve rapidly. Revenue Operations enables you to adapt to the pace of change by aligning and accelerating technology, processes, and GTM functions. It's quickly becoming a competitive advantage, with Gartner predicting that 75% of high-growth companies will adopt a RevOps model by 2025.
It's important to take the right approach for your company to unlock the benefits of Revenue Operations. Aligning your GTM functions is a good place to start. Read this article to get practical tips or read our comprehensive guide on Revenue Operations best practices to follow.