87% of sales and marketing leaders say collaboration between their departments enables critical business growth. That means that companies understand the importance of having their sales and marketing departments work together. The question becomes how well is your company doing that?
Each section below focuses on an important aspect that is necessary to maximize collaboration between the two teams. Grade your company by adding up points to see how you are doing, then look back over each section to see helpful tips on how you can improve.
Customer Journey
The customer journey is the experience a customer goes through when interacting with your company at different stages in their buying process. It's easy for departments to divide and conquer the different stages and think that is collaboration when, in fact, that becomes the root of the problem, creating gaps in communication, content, and expectations.
Instead, sales and marketing should have a single shared customer journey. Once this journey map is agreed upon, expectations and contact definitions become clear. The departments will start to share terminology and speak the same language, which is a good first step in collaborating. Below is an example of a shared customer journey and how different elements can fit along the path.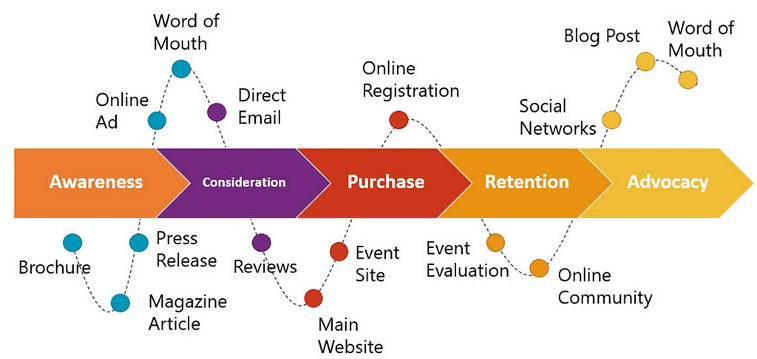 Practical Tips:
Need a template to get you started? Download this customer journey map template.
Once a journey map is agreed upon and created, encourage marketing and sales team members to print it out so they see it every day and commit it to memory.
Grade Yourself:
Does your company have a mapped-out customer journey?
Is the customer journey shared between marketing and sales teams?
Buyer Personas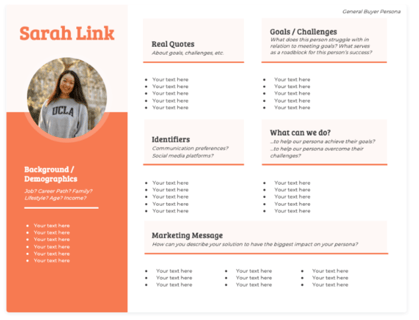 Buyer personas are often confused with Ideal Customer Profiles (ICPs). The difference is that ICPs focus on the qualities of a company that makes them a perfect fit for the solution you provide, while a buyer persona is a generalized representation of a person that is the ideal customer you are selling to and their demographic, goals, challenges, and motivations.
The ICP is usually agreed upon as a company, but the buyer persona often times doesn't exist or sales has already decided what they think it is, based on who they have found success selling to. The latter is what makes collaboration with marketing so crucial. Marketing needs to learn from what sales has uncovered already so that sales will be open to learning from what marketing finds out in their research.
Sales will often have a good starting point for identifying a target audience that can help marketing focus their efforts. But marketing can also help research, interview current customers, and fill in gaps about their prospects that sales may not know. Combining this information and building out buyer personas will help both departments align on what makes a good lead and help marketing produce higher-quality leads.
Practical Tips:
Have sales meet with marketing to give a download on everything they think makes up their ideal buyer. Then help marketing identify four to six ideal current clients to interview and do further research. Then set another meeting to have marketing discuss their findings and finalize their personas. Repeat this process for each different buyer that is identified in this process. Need a template to get you started? Try out these buyer persona templates.
Grade Yourself:
Does your company have any buyer personas built out?
Do sales and marketing meet consistently to discuss lead quality?
Goals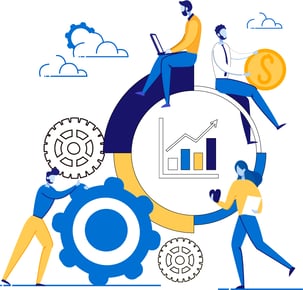 Companies often set overall goals with expectations that each department set their own goals that support them. Marketing might have goals about website, email, and content downloaded statistics, while Sales might have goals around how many meetings or calls they had and how many opportunities they closed.
These are not bad goals, but when they are set only within a department, they make the work done more siloed. At the end of the day, Sales and Marketing might try to work together, but each team ends up pushing its own goals. After all, their paychecks may depend on it.
However, if marketing and sales set their goals together by creating joint key performance indicators (KPIs) then the mindset shifts to helping each other as the goals are tied together. One way to do this is by creating a marketing and sales SLA (Service Level Agreement). According to HubSpot research (see chart below), 65% of marketers whose companies have this type of SLA see higher return on investment from their inbound marketing efforts. To learn more, check out our "3 Ways to Jumpstart Your Marketing & Sales SLA."
Practical Tips:
When creating an SLA between the marketing and sales teams, consider the following outline:
Summary of agreement
Goals of both the marketing and sales teams
What's needed by both teams?
Who are the points of contact?
What happens if goals aren't met?
Under what circumstances will your SLA be terminated?
Download a sales and marketing SLA template to get started.
Grade Yourself:
Do marketing and sales set their goals together?
Do you have an SLA between sales and marketing for accountability?
Content Creation
Depending on the size of your company, content creation varies by who tends to own it. In smaller companies, sales will often create their own content, which sometimes struggles with consistent messaging and branding depending on which salesperson is creating it.
On the flip side, when you look at larger companies where content is primarily done through the marketing department, sales often receive content that feels disconnected or useless. Research from SiriusDecisions shows only 35 percent of content created by B2B organizations is actively used.
So how do you better align content?
Start with a message map. A message map is a simple, visual communications tool that simplifies and streamlines your story by putting everything on one page. It starts with a concise and clear focus on what your brand does to get your audience interested, then scales your story gracefully.
Then create a content strategy that addresses content at each stage of a buyer's journey. This will help uncover gaps in needed content and redundant or useless material that doesn't fit in the journey. Then develop a shared content calendar that plans out content creation with coordinated campaigns so sales and marketing can stay on the same page and work more effectively.
Practical Tips:
Start with getting marketing and sales on the same page on messaging. Nancy Marshall has a podcast episode that does a great job of walking you through a message map with a template you can download. Next, make sure marketing gets buy-in from sales on the content strategy so that the content gets used. Finally, share a content calendar. An editorial content calendar tends to work best, and HubSpot has a free content calendar template that works well.
Grade Yourself:
Does your company have a message map?
Does marketing consult with sales when creating a content strategy?
Does your company have a shared content calendar?
Sales and Marketing Assignments and Meetings
It's important to assign responsibility for tasks and set follow-on meetings to gauge progress. Think about when you have a meeting with a client. If at the end of the call you don't discuss next steps and assignments, then expectations can easily be misconstrued. It is no different for internal meetings. If assignments and responsibilities aren't specified, then nothing gets done.
Be sure to set a regular schedule to meet with sales and marketing and designate a point of contact on each side for accountability. These meetings should focus on shared goals, campaigns coming up, and any new content sales can use. They also give the sales team a chance to give feedback on leads that are being sent over from marketing, which helps marketing continue to dial-in lead scoring and better qualify leads.
Practical tips:
These meetings are a great opportunity to get feedback from sales about conversations they are having with prospects that could spark great ideas for future content needs. Also, consider having marketing team members sit in on sales calls occasionally so that marketing has a better understanding of the sales process and sees prospect objections and pain points firsthand.
Grade Yourself:
Do marketing and sales have regularly scheduled joint meetings?
Does marketing get any feedback from sales on the quality of leads or conversations they are having with prospects?
Does marketing keep sales up to date on all campaigns and new assets that are created?
Reporting and Analytics
Reporting can be difficult without clear company objectives, KPIs, and good data. When marketing and sales are properly aligned, the reporting becomes a lot easier. All the goals will be set and assigned with clear expectations.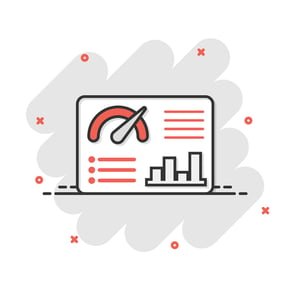 Once you reach this point, it comes down to making sure your data is good. That means that you have an agreed upon source for the analytics that your KPIs are pulling their information from. This keeps reporting consistent and allows for accurate benchmarking. Be sure to share reporting dashboards so everyone can see where they are compared to goals set. Most marketing automation software has this capability, but you might look into other third-party options for more complex solutions.
Remember to set a separate meeting for reporting since it will be focused on where sales and marketing are exceeding and/or where they have room for improvement. Make sure to have conversations around learnings and how to continue to improve based on the metrics. This will help both marketing and sales understand where they need to adjust and where they can better help each other.
Practical Tips:
There are a lot of choices for reporting and analytics software that you can use to track both marketing and sales KPIs. Here are a few that we really like:

Grade Yourself:
Does your current reporting reflect all your goals for the company?
Are reporting and analytics shared between marketing and sales?
Have Fun Together
A study by the University of Warwick's Centre for Competitive Advantage in the Global Economy found that happier employees are up to 20% more productive. A great way to foster a happier workplace is through having fun together with colleagues. Maybe you are already doing this in your department but try including sales and marketing together in your next event.
it's important for marketing and sales team members to get to know each other beyond their job roles. Consider organizing events like going out for drinks or having lunch together. It will be a good reminder that sales and marketing are made up of ordinary people. It might even allow grace to be extended more often when things don't always go as planned.
Practical tips:
Need help thinking of fun things to do for cross-departmental outings? Here is a list of 35 creative ideas for team outings.
Grade Yourself:
Does your company have fun outings/events at least once a quarter?
Do sales and marketing have any outings/events together?
Collaboration Positively Impacts the Company's Bottom Line
Companies that ensure sales and marketing teams align are up to 67% better at closing deals and achieve 39% higher annual revenue growth. Many companies also see 36% higher customer retention.
It's not about if you should align marketing and sales, it's about how well you are currently doing it. Learn more about how Marsden Marketing works with companies to help them align their sales and marketing teams.

Bonus Tip:
Take sales and marketing alignment to the next level with revenue operations (RevOps). It takes sales operations, marketing operations, and customer success operations and combines them into one team to drive predictable revenue. That means closed deals for sales, pipeline growth for marketing, and net dollar retention for post-sales.
Learn how to get started with this infographic "The Rise of Revenue Operations."
---
Time to Check Your Sales and Marketing Alignment Grade
For each question you answered "yes" to at the end of each section, you get one point. Each "no" is zero points.
15 – 16 Points: A

You are a rockstar and should be a co-author for this blog. Please comment and share other ideas on how your company has successfully aligned your marketing and sales teams.
13 – 14 Points: B
Seems like you have good alignment between teams. We hope this blog gave you a few new ideas on how to strengthen your collaboration.
11 – 12 Points: C
You have a starting point. Sometimes getting the conversation going is the hardest part. Share this blog with your team and let it help you get the ball rolling.
0 – 10 Points: F
Maybe you never thought about this before or just let it fall through the cracks because you didn't feel a sense of urgency. We hope this blog has increased that sense of urgency and given you tools to help you better align your sales and marketing teams so that you can experience the positive impacts on your organization and the bottom line.
Interested in How We Can Help You Power Revenue Through Sales and Marketing Alignment?
We Can Help.