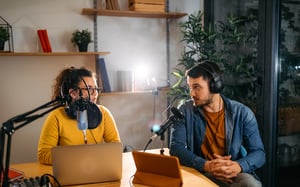 Marketers who are looking to diversify their content strategy should really consider adding podcasts to their content mix. Since 2018, podcast mobile app usage has increased 60 percent, and according to a survey by Adobe Analytics, we can expect this number to grow since 45 percent of respondents plan to listen to more.
While starting your own podcast may require a bit of up-front investment, you can still include podcasts as part of your content strategy by being a podcast guest. Taking this approach is not only great for expanding your brand's reach, but it's also a cost-effective solution that has the potential to fuel your marketing efforts.
Why You Should Be a Podcast Guest
Like a guest blog post, being a guest on a podcast provides you with another avenue to get your brand/content in front of a larger audience. It also allows you to generate leads and position you as a thought leader. However, the number one reason you should consider being a guest is that you're getting direct access to an engaged and often new audience.
Podcast fans listen to an average of seven shows a week, a 40 percent increase when compared to 2017. While most are listening to podcasts to combat the traffic blues after a really long day at work, many are tuning in to stay updated on the latest trends and news in their specific industry. Why? Because audio is much easier to digest than reading a blog or watching a video – but there is a caveat.
To be a guest on a podcast, you have to make sure that the content you're delivering is of true value to the host's audience. If you sound too salesy or you're focusing too much on your services and products when making your pitch to the host, then the likelihood of you getting on a show will be very low. You need to take the time to understand how your content will be helpful to the audience you're trying to reach.


How to Get on Podcasts
If you're just getting started, you might be tempted to go after the most popular and well-known shows, but I advise you to take another approach. For one, the more established shows will ask you for examples of previous podcast engagements, which can be hard to produce at the beginning. Second, starting with smaller shows and building to the larger ones helps you grow credibility and show demand for the content you're putting out.
This is the approach I took when I was working on pitching a client to podcasts to build awareness and drive registration for their event. I was able to get my client on five shows, and we even were able to reuse the content in different formats to generate website traffic and increase SEO rankings for target keywords.
So how exactly do you get your company on podcast shows to yield the same results for your company? Here the five steps I took.
5 Steps to Get on a Podcast
Step 1: Get Organized
The first thing you'll want to do is create a tracking system for yourself. In my case, I used an excel file with two tabs – one for the guest speakers I can pitch and the other one to track the podcasts that are a good fit. You can download a copy of the excel sheet here to make it easier for you.
In the first tab, include the speakers you can pitch, their availability, email, and topic of expertise. This will help guide you in who is the best person to speak to that podcast's audience and help you respond to the host promptly should they accept your pitch.
The second tab is where you'll create a list of podcasts that would be a great fit for your company. You'll want to include the podcast's URL, the hosts' contact information, your pitch date, and the date of your guest interview. The goal in this step is to do as much of the headwork as possible to make your pitches more effective and seamless.


Step 2: Conduct Research
With your podcast pitching system in place, you can move on into the research phase. This is where you'll want to leverage your buyer personas to identify the podcast shows that make the most sense for your business.
As you conduct your research, you'll want to make sure that the podcasts are active. You do this by looking at their publish date and frequency. Another criteria you want to use to filter your podcast search is looking at the topics they cover and their reach.
If you're having trouble finding sources to look for podcast shows use Spotify, iTunes, Podbean, and yes, even Twitter. In fact, I had a lot of success using Twitter. Simply type #podcastguest into the search bar you'll get list of hosts looking for guests. If you see one that works for you, don't wait to reach out to them. You can send a quick tweet like the one I used below. Remember, it's all about the right person and the right time to land an easy win.


Step 3: Build Rapport
One thing I quickly learned is that cold emails don't work. Like journalists, podcast hosts (especially the really popular ones) have plenty of people trying to be a guest on their show. That means that they see a lot of pitches in one day. To stand out, the best approach is to build rapport with them first.
Building rapport takes time, but the results are worth it. It's also a lot easier than you think. If you know the host's social handles, you can start by interacting with them. Share their episodes, comment on their posts, and show them that you're interested in their show and not just in advancing your own interest.
What you're building with this engagement strategy is a cadence of communication that leads to your pitch. Think of it as a buyer's journey. You're trying to nurture the relationship to get to the conversion – in this case, being a guest on the show and potentially being asked for a follow-up appearance. Here are a few examples of how I built rapport with podcasts hosts.


Step 4: Craft Your Pitch
Once you have established rapport, you're ready to make your pitch. If you haven't noticed already, Twitter was extremely instrumental in helping me place my client on shows. Typically, after corresponding with the host, I would make a soft pitch telling that I had a guest that would be perfect for their show (this is where the first tab of the excel comes in handy). If the host was interested, they would then send me a DM with their email. Here's an example of what that looks like: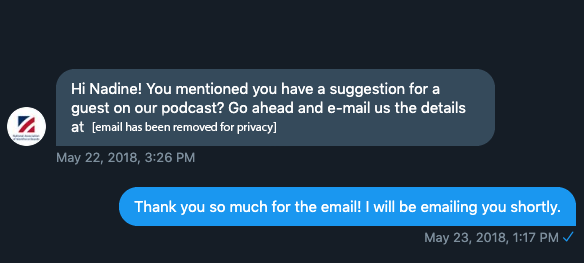 With their email on hand, it's time to start on your pitch. You typically want your pitch to be short and concise, but that's not always the case. Sometimes the work that your client or company does is not easily understood, so you have to find another way to get your point across.
One approach I took was to make my pitch a story. This made it easy on the host to see how they could frame the episode while also detailing the benefits their audience will get by having my client on their show. As a general rule of thumb, you want to apply the same principles of PR pitching here. The idea is to make the host's job easier.
In general, your pitch should include the following:
Topic you will cover or expand on

The benefit to the audience
Examples of previous guest appearances
Speaker bio
Next steps
Here's an example of the pitch I sent. Feel free to modify it as you see fit.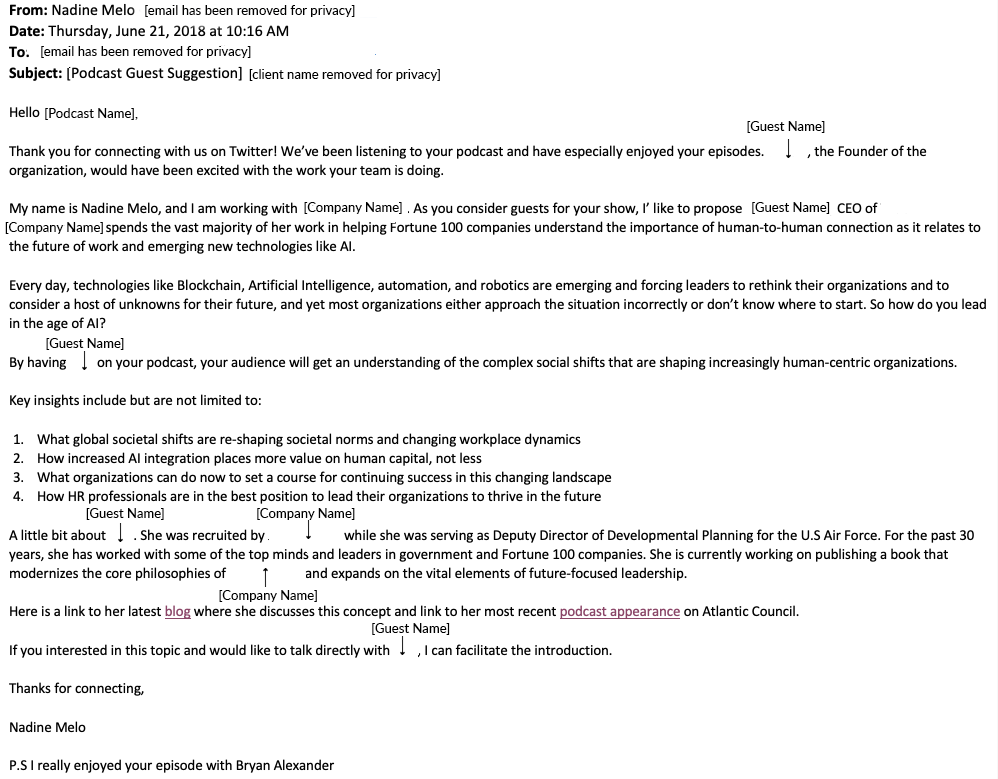 Step 5: Be a Good Guest
After the host has accepted your pitch and you've nailed down the date of your guest appearance, you'll want to work on some guest etiquette. By making it easy for the host to work with you, it increases the chance that you'll get called back for a repeat appearance.
Content Marketing Institute has a great checklist on this, but in general, you'll want to do the following things:
Ask for any questions the host may ask in advance so your speaker can prepare

Set a time for an audio test so that the actual interview will go as smoothly as possible
Make sure to include a CTA that goes back to you without being salesy
Request if you can to re-use this content
Bringing It All Together
With Google now including podcast episodes to its search results, there is no time like the present to factor in podcasts into your content strategy. Not only are podcasts an excellent method to expand your reach, but it's great content you can re-use once you have it.
Want to learn how to get the most out of your content?
Check out this blog on content amplification.