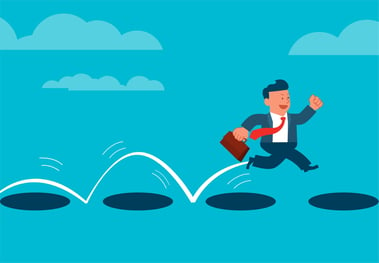 Implementing a Revenue Operations (RevOps) model is an exciting and daunting journey, but the rewards of more predictable revenue and greater potential for revenue growth are worth all the hard work you are putting in to make it happen.
Luckily, RevOps has been in practice long enough that we have seen what works and what doesn't. Today we're sharing a few common mistakes that can occur when starting out with RevOps. These pitfalls can lead to wasted time, missed opportunities, and lost revenue — all things everyone wants to avoid.
Pitfall 1: Not Having a Clear Strategy or Goals
You need a clear RevOps strategy and goals for your new initiative to be successful. Although this seems like a well-known fact, it's still a stumbling block that leads many RevOps endeavors to failure.
Consider this from Gartner: "By 2026, 60% of B2B organizations will fail to create a functioning end-to-end revenue process and revert back to functional silos because they consolidated commercial execution through organizational design alone."
To avoid this RevOps pitfall, start with your company's vision. What specific, measurable goals will support your vision? What strategy are you pursuing to achieve those goals? Be sure these goals and strategies are written out and clear to the teams working on them. Post them around the office or on your company intranet. Mention them at meetings. Encourage people to ask questions.
When everyone on your team knows your destination and the planned path to get there, you are closer to making it a reality.
Pitfall 2: Not Communicating Enough
This one might sound basic but hear me out. If your associates in sales, marketing, and customer success are not accustomed to working collaboratively across departments, this will hinder your RevOps strategy.
Teams that have traditionally worked separately now need to be aligned. When communication is lacking, it creates a disconnect between teams and sometimes within a team.
For example, if sales sees something that isn't working with the current strategy and your SDRs adjust their messaging but don't communicate this to marketing or customer success/support, then you run the risk of increasing customer churn. Potential new clients could receive different messages from marketing or customer service. That would be confusing!
Excellent communication is crucial to Revenue Operations because that alignment between departments is fundamental to success. You want individuals to feel comfortable asking questions when they have them. Then they can recognize potential problems and speak up when specific RevOps activities are not going according to plan.
If you have any doubts about how easily information flows and how comfortably your team is working together, then it's worth planning more team-building activities or more regular all-hands updates so everyone is on the same page.
Pitfall 3: Not Using Your Tech Stack Correctly
If your team members are using technology tools inconsistently or in different ways, your data from those tools will be inaccurate. In the post-pandemic economy, a data-driven strategy is going to drive growth, so accurate data is the key to maximizing your revenue.
For example, if one of your sales reps never enters complete information into your CRM, your data is, at the very least, incomplete. If some of your sales reps enter information into your CRM at a different stage in the process than others do, then your data is still not giving you the full picture you need to make data-driven decisions.
To avoid this RevOps pitfall, be sure that your tools are set up correctly and completely. Then make sure that everyone on your team is trained on how to fully use those tools.
It can be beneficial to offer short refresher training periodically. You want to be clear about how you're using your tech tools, what data you are extracting, and how that data is used to inform strategies that achieve your goals.
Pitfall 4: Not Putting the Customer First
It can be so easy to focus on new processes when starting out with RevOps. It's exciting to think in new ways and find greater synergies within your business. But at the end of the day, you have to put the customer first.
It sounds boring, but auditing your customer experience is key. If you're not removing pain points in the customer journey, then you're probably not able to reap the full rewards of your strategy. More importantly, failing to remove any friction in the customer experience can lead to a high churn rate and impact your annual recurring revenue (ARR).
Overcome this RevOps pitfall early on when building your RevOps model by documenting your customer journey end-to-end. That means working with each team — sales, marketing, and customer success — to understand the typical experience, motivation, and challenges a customer faces as they move across each stage of their journey.
Once you have this down pat, you can then focus on building the ideal customer journey by addressing any gaps in your current customer journey and identifying opportunities to further optimize key stages.
Side Stepping Roadblocks to Accelerate Growth
There is so much to consider when getting started with RevOps, and we hope this quick review of the four most common RevOps pitfalls and how to avoid them is helpful to you. As a B2B marketing agency, Marsden Marketing has been right there with our clients through the rise of revenue operations. If you have a RevOps strategy and are looking for ways to get it back on track, check out our blog on this topic to learn how.