As digital marketers, we urge our clients to use visual storytelling through infographics, images, and video to help prospects understand solutions and put data in context. The same premise applies to keeping our own houses in good order and embracing best practices. Here are 3 infographics that caught our eye that do a great job of explaining best practices for:
Designing landing pages

Using LinkedIn for Lead Generation

Driving more Twitter engagement
Infographic #1: Landing Pages
This infographic from HubSpot lays out in clear detail 7 key design points to remember when designing landing pages. From remembering to fly your "Hey it's us" flag to making sure your Calls-to-Action (CTAs) have enough "pop", use these tips to get your landing pages in the most effective format to convert prospects.
Call-out tip: Love the recommendation on placing Social Proof next to the Social Sharing buttons.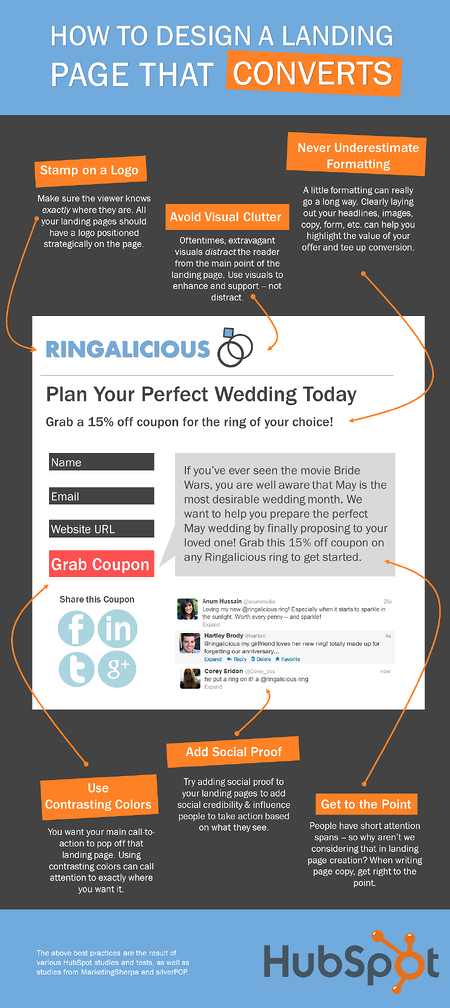 Infographic #2: LinkedIn for B2B Leads
LinkedIn is a powerful tool to drive leads for B2B businesses. This infographic includes specific tips to get the most out of your LinkedIn prospecting.
Call-out tip: The sweet spot for lead conversion on LinkedIn for B2B marketers is 2 p.m.

Infographic #3: Twitter Tips
You think 140 characters is a punishing character limit? Drop it down to 100 and you may see more interaction, according to research on this infographic from Wish Pond. Check out these great tips (more like timely reminders for the super-savvy social media person) to drive more Twitter engagement:
Call-out tip: Asking for the RT (Retweet) drives 12 times more shares. But what is surprising is that spelling out Retweet gets you 23 times more shares.

Quick note: I don't particularly like the layout or graphics of this infographic. But I chose it over a more visually appealing infographic because it had fewer more targeted tips. Sometimes infographics can go awry when they include too much information (might as well write a blog then and insert pictures).
A final comment - best practices for digital marketing can vary depending on industry and your particular prospect community. So start with what the research says, and then track results. Build on what is working and discard "best practices" that don't accelerate progress for your brand.
If you loved this blog, sign up to receive new posts directly to your inbox.