By Becky Carr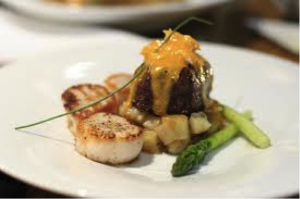 If you've had the pleasure of going behind the scenes in the kitchen of a 'haute cuisine' restaurant, perhaps you were struck like I was by the clarity of role everyone had and the incredible team work it took to deliver a beautiful and delicious four course meal. The head chef, like a maestro, directs the various specialists and ensures the outcome. The fry chef focuses on his station and the pastry chef creates her masterpieces. The sommelier selects the proper pairings. They work in harmony all toward the same goal of delighting their hungry patrons.
Imagine if all marketing organizations were able to achieve the same coordinated and collaborative approach to increase lead generation, brand awareness and customer loyalty. It all comes down to having a well-communicated marketing strategy and clarity of task across all functions.
Marketing organizations come in so many different forms that I daresay there isn't a right or wrong way to organize it. To centralize or decentralized is hotly debated especially in global pursuits. Balancing sales support and true field marketing (lead generation) can be a challenge. Ensuring compliance with country regulations about whom and where data can be accessed needs to be carefully addressed. Assessing what aspects can and should be outsourced requires thoughtful consideration.
The fastest path to failure in a marketing organization is lack of clarity in roles and a breakdown in full knowledge and respect for what each person is accountable for. This is especially important where decentralized marketing organizations are empowered to create their own lead generation campaigns. Ensuring branding and messaging is consistent, leveraging existing collateral and thought leadership materials, maximizing database efficiencies and aggregating measurement tools will yield more positive outcomes and better ROI.
Imagine a scenario where each product silo is responsible for their own marketing campaigns. One product team develops a target list, pushes out materials and invitations to encourage prospects to learn more. They own the web content and set up separate social media campaigns. Their goal is to sell THEIR product. In a Consumer Packaged Goods (CPG) company, this model works well but in the B2B world, they lose the full effect of what they could otherwise accomplish in promoting their brand and entire portfolio of solutions.
Is there such a thing as a best in class marketing organization? Absolutely, but it has less to do with what the org chart looks like and more about how the team works in harmony to deliver on the business objectives. Having governance over the brand, clarity of role and common objectives tied to the business results is what makes a best-in-class marketing organization.