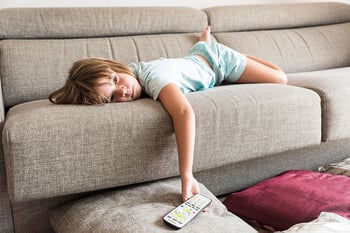 In the age of Netflix, Hulu, and Apple TVs, the way we watch movies and shows has significantly changed. In fact, the way we consume just about all of the content in our lives has changed. But binge-watching is an especially notable method of content consumption that says a lot about the shift that has occurred in how consumers can access, choose, and enjoy digital media. It's also a shift that B2Bs should take note of for their own content marketing strategy. Don't believe me? Turns out 94% of all B2B buyers conduct online research as a part of their decision making, and 90% of online buyers say content has an effect on their end decision.
My guess is most of us are guilty of binge-watching digital content in one way or another, from TV shows, to YouTube videos, or BuzzFeed articles. I have no shame in admitting that I do this all the time (okay, maybe a little shame). However, last year, I went down a particularly dark rabbit hole with a Netflix original called Bloodline. After recovering from my 6-hour binge, I started to think about how Netflix got its hooks into me to the point that I ended up glued to a screen until 2AM on a Tuesday night, and how B2B companies can learn from them. Let me break it down.
Awareness & Personalization:
It started innocently enough with some trailers. With some well-placed, intriguing videos, Netflix peaked my interest and had me on the lookout for their new show. But the show was released and several months passed without me watching. So they brought it to my attention again. See, Netflix is good with personalization. It knows what I've watched before and makes relevant suggestions based on the interests I've indicated. My history of shows like Narcos, Breaking Bad, and House of Cards proved I would probably be into a dark drama along the same lines. Their "Because You Watched X" feature is one of my favorites.
So what does this mean for B2Bs? Getting your content out there to grow awareness of your brand and attract potential customers is your first order of business. Having a presence on social media, guest blogging, and using content syndication are all examples of activities companies can engage in to reach their audience. An even better strategy is to make your content highly relevant. Research and learn about your audience, use marketing automation tools to get more intel about what they want to know about it and deliver that content at each stage of their buying process. Delivering personalized content based on the interests of your audience is a win-win. Your visitors get content they really want, rather than filtering through topics they don't care much about, and you get to nurture your relationship with them, moving them closer towards becoming a customer.
Understand the Buyer's Journey:
I started watching and although I liked the show, I thought the first few episodes moved a little slowly. I watched here and there as I was able but didn't plan dedicated time to watch. But I kept coming back and they kept delivering flashbacks and flash-forwards that teased bits and pieces of the story, and had me yelling, "How did he end up in the seer-sucker suit?!". Then I hit episode 8 and I was a goner. I had to know how the season finished and that's how I ended up watching episodes 8-13, all in one night.
B2Bs have to think about the journey people will take from being a lead to becoming a customer. People are going to want different types of content at different stages. The content they interact with will likely indicate their level of interest. Are they looking at top of the funnel informational pieces or they taking actions on bottom of the funnel items like demo requests? Use workflows to keep the conversation going after a white paper is downloaded and don't bombard with them with too much too soon. Like a good TV series, the content should start light and grow in depth and frequency as they build a connection with your business, products, and services. A connection that you hope will eventually lead to a sale (a.k.a, a multi-hour binge).
Repeat Customers, Cross-sell, and Up-sell:
Now that I watched Season 1, Netflix could be pretty certain I would watch Season 2, and they dropped a few hints when its air date crept closer. So they got my repeat business. By also showing me "Top Picks" based on what I've viewed, including a number of their own, original series, they got me to watch more. Even though I am already a Netflix customer, they continue to offer me value and deepen my engagement with their brand.
For B2Bs, remember that there are still further opportunities with your current customers. Make sure you have resources available that bring helpful knowledge to the people currently using your products or services. You don't want neglected customers to start considering alternatives. Instead, you want happy customers who may become an advocate for your brand. I've told everyone I can about my love for Bloodline and encourage people to watch it - and buy a Netflix subscription if they don't already have one. I dropped cable, which was always an expensive service with nightmare customer service, and am a loyal Netflixer now. Don't you want customers who feel this way about your business?
Want to learn more about content marketing and driving more leads for your business? Download our guide, More is Better: More Content Equals More Leads.