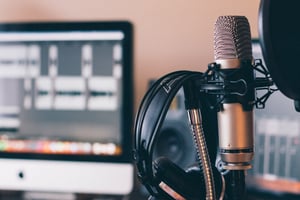 We don't have to tell you how big podcast marketing has become, and it only continues to grow – studies show that 57% of Americans have listened to a podcast and 41% of those listen to podcasts on at least a monthly basis. Podcasts are a great way to tell stories and share information with a wider, always-distracted, always-on-the-go audience.
Late last year, I was contacted by Pathmonk, an organization focused on helping businesses better leverage their data and metrics. I was asked to be a guest on their B2B marketing-focused podcast that delivers actionable insights in bite-sized episodes – all less than twenty minutes. You can check out my entire episode here (or wherever you get your podcasts) and read on for some of the episode's highlights.
What are the key acquisition channels for B2B organizations?
Referrals used to be the bread and butter for B2B companies, no matter their specific vertical. While referrals certainly still hold weight, we're seeing other channels play increasingly important roles in driving growth. The four primary channels we focus on are:
For

almost every business, a well-designed and optimized

website

is one of the most powerful lead generation tools in their toolkit. By

driving visits to your website

and capturing those visitors as leads, you're creating a virtually never-ending stream of new contacts to nurture and convert.

Review sites

like G2 and Clutch are quickly becoming a more popular and powerful way of attracting new leads and prospects. These sites have proliferated across the web and have become the first stop for many prospects using web search to find products and services. Having a solid listing with real client reviews gives you a great source of visibility, increased credibility, and drives high-intent referral traffic. Not to mention, it's a nice little boost for off-site SEO.

Another way to boost the power of your website is by

leveraging any partnerships

you may have with other businesses or vendors. For example, as a HubSpot Platinum Partner, we can showcase our expertise through the use of an official badge on our website, and we appear as a top result in their partner directory, which brings more leads to our site.

And of course,

classic referrals

never go out of style. Happy existing clients are a great source for attracting new ones.
How can a seasoned marketer keep learning and staying on top of marketing trends and best practices?
As a marketing CEO, I have a very cluttered inbox, partly because I've curated a wide range of credible sources of marketing trends and best practices, and also thanks to intent-based marketing that signals to other companies that I am interested in these topics. My best advice is to be a sponge: Be open to everything that lands on your doorstep. Read (or at least scan) the newsletters in your inbox, attend conferences, and create opportunities for other members of your team to share insights they've collected as well.
What advice would you give to marketers just beginning their careers?
Don't be afraid to take risks, and don't take yourself too seriously. This is a journey – don't forget to have fun. It's not only okay to fail - it's essential for growth and constant improvement.
My experience as a guest for the Pathmonk podcast was a lot of fun. I'm grateful for the opportunity to share my expertise and talk about what makes Marsden Marketing a leading marketing partner for B2B organizations.
Stay connected with us to be the first to know the latest marketing trends and insights

.