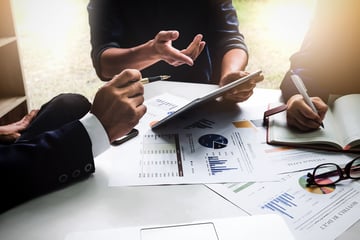 With its promise of more predictable revenue growth and improved efficiencies, it's easy to see why more and more businesses are moving towards a Revenue Operations (RevOps) model.
Because RevOps is still a fairly new concept, there is no standard guide for how to set up a RevOps role or function for any company. The beauty of not having a universal description for a RevOps leader or a Revenue Operations playbook for the function is that it's easier to craft a role/responsibilities that are more uniquely suited to your company.
After all, what works for a 300-person company is distinctly different from what might be needed at a 70-person company. No matter what the organizational structure and goals look like for your business, every RevOps team is responsible for one big goal — driving revenue.
So, what exactly is RevOps responsible for, and how can smaller organizations take this on? Let's take a closer look at the three main RevOps responsibilities.
Key RevOps Responsibilities
1. Aligning Go-to-Market (GTM) Functions
Alignment is a central theme in RevOps. Instead of the old-school organization style where sales, marketing, and customer success/support operate separately with different goals and strategies, RevOps aims to align all those pieces. This means everyone agrees on all aspects of the customer journey, for example, the go-to-market (GTM) processes, metrics, etc.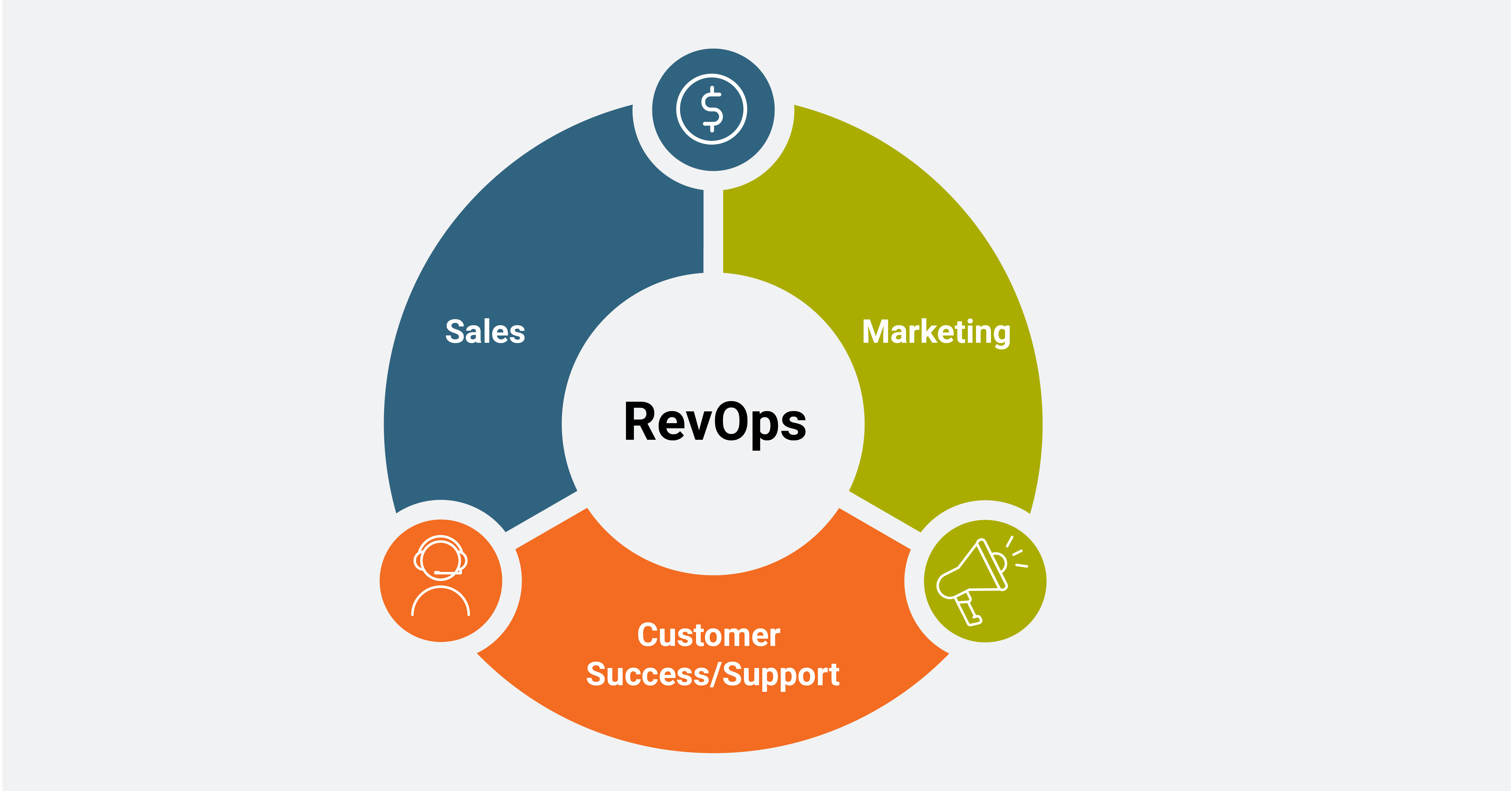 Creating efficiencies for both your internal teams and your customers can have a lot of benefits. Boston Consulting Group reports that B2B companies that implemented RevOps with tighter alignment of GTM functions have seen:
100-200% increases in digital marketing ROI
10-20% increases in sales productivity
30% reduction in expenses related to GTM
Put another way, companies that align technology, processes, and people can see 36% more revenue growth and 28% more profitability, according to Forrester.
If you are in a small company where your RevOps team is a few people — or even just one person — your alignment strategy might look like a short weekly update meeting for all of sales, marketing, and customer success/support.
Another easy-to-accomplish way to keep people informed is with a weekly or bi-weekly email highlighting current news on goals and strategies everyone needs to know. A more in-depth option would be to hold monthly all-hands meetings where teams can discuss strategies and have time to offer feedback or participate in team-building activities.
2. Setting Up the Tech Infrastructure
After aligning team members or functions to focus on your customer journey, the next responsibility for a RevOps professional is to set up the company's technology infrastructure for success. This means making sure tools are integrated to support the new alignment created between sales, marketing, and customer success/support.
For example, information from your CRM should flow seamlessly into your marketing automation tool. Technology is important because it holds all of the customer data you need both to make a sale and to build repeat business.
If your tech tools are not set up correctly, you could be missing information, or information could get lost in the handoff at different points in the customer journey, from sales to marketing or sales to customer service. Slow or inefficient technology can hurt the sales process. Incorrectly using tech tools could also lead to inaccurate data, which can lead to incorrect insights about your customers.
Gartner estimates that poor data quality costs companies an average of $12.9 million annually. Be sure to test and evaluate the tools regularly so any errors can be corrected before they have a significant impact on revenue.
This responsibility might be the biggest challenge for smaller companies where RevOps is the duty of one person or a couple of people. Determine your foundational tools —marketing automation, customer relationship management, and sales platform — and ensure they're set up to be easy for everyone to use. Information from each tool should flow seamlessly into the others so no data is lost along the customer journey.
3. Leveraging Data & Analytics to Make Strategic Decisions
Now that teams or functions have been aligned and the technology has been structured to streamline processes, you can use the data you've gathered to make better-informed decisions. Remember that the overarching goal of RevOps is to maximize revenue. What better way to increase revenue than to use the information on current and potential customers for better message targeting and increased engagement?
Consolidating data makes it easier to make informed decisions when devising your RevOps strategy. Just like your teams/functions are aligned on goals and strategies, data should be aligned as well. Being able to see your data in an easy-to-grasp dashboard makes it easier for your employees to spot trends or aberrations in the customer journey.
Aggregating your data in one place makes spotting growth opportunities easier. According to a Forrester survey for WNS, 82% of businesses using advanced analytics saw year-over-year revenue growth.
If you're starting small, you'll want to focus on automating and then using data visualization tools for your revenue reports. With your overarching goal in mind, determine what data you need to track, who your audience is for reports, and how you can display the data visually.
Getting Started With RevOps
Revenue Operations may look slightly different from one company to the next, and the RevOps role/function is constantly changing. What remains valid for all RevOps roles are the responsibilities for aligning teams, setting up tech infrastructure, and leveraging data and analytics.
Want more specific on the skill sets needed to be successful in this role and function? Check out the next blog in our series to learn more.