We're a boutique B2B marketing agency (read small and targeted), and more than 50% of our prospects come from our digital inbound marketing programs. That means that we frequently get prospects who've spent enough time on our website and reading our materials to think we might be able to help them grow their business - but they aren't sure.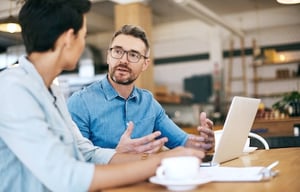 I've learned that our most successful client relationships are built not around selling these prospects a service or a package. Rather our best clients are the result of us helping them do three things:
Get clear on their goals
Understand and explore the range of approaches that can meet those goals (within the context of their business and budget)
Establish up front the metrics we'll jointly use to track ROI
Prospects are so much more informed today than they were even a few years ago. Access to information—from vendors, service providers, review sites, influencers, etc.—is staggering. But all that information can be overwhelming, leading to confusion and overload. Opinions get formed, and expectations start to get set around how easy (or hard), fast (or complicated), inexpensive (or overpriced) any of the options might be. What's often missing is real-world understanding of how each option could or would work within the prospect's business.
That's where helpful sales professionals come in.
Most B2B sales professionals long ago ditched selling product feature/function in favor of "solutions sales" to address prospects' perceived problems. Then Brent Adamson, Matt Dixon, and Nicholas Toman taught us how to leverage the Challenger Sale to get prospects to consider issues that impact their profitability or growth in new and different ways.
Regardless of which sales methodology you embrace, one thing is truer today than ever before– how a salesperson sells has more to do with their success than what they are selling.
And every successful "How" these days centers on helping prospects identify their needs, evaluating the options to address the needs, and orchestrating the decision and implementation processes across their organization.
So how to be helpful without being a pushover? Here are three pro tips to hone your "Helping" skills, while increasing your sales success. (Disclosure: these tips aren't mine, I learned them from master helper and Sales Lion, David Weinhaus, at Hubspot.)


Pro Tip #1: Go Deeper
All of us ask questions of our prospects: to understand what they think they need, options they're considering, what their budget and timing are for making a decision. Those questions are likely to help you qualify the prospect, but don't necessarily help the prospect make better decisions.
Going deeper means to keep probing, seek to understand not just the need/problem, but the why behind it. Here are a few questions to help you uncover their why:
What does it mean for the company—and for the buyer personally

—

to meet the goal or solve the problem?
What are the specific goals to solve the problem? (i.e. 10% revenue growth.)
Why those goals?
What are the financial impacts (positive and negative) of meeting the goal?
Why do they need to solve it now?
What have they tried already that didn't work?
What have they considered but ruled out

—

and why?
With so many questions, it may seem like information overload. To keep you organized and guiding the conversation, apply Pro Tip#2.


Pro Tip #2: Find the Gap
The purpose of all your questions is to understand and assess the true need. As David Weinhaus recommended, think of this as the discovery phase. Like a doctor talking with a patient before making a diagnosis.
You need to understand 3 things:
Current situation
Timing and goals
Plans and challenges to reach the goal
If the prospect doesn't have answers to these question, then you can help to better define them (or save yourself from wasting time with a "tire-kicker").


Pro Tip #3: Be a Curious Listener
Listening to help means you aren't just listening for buying signals or for clues to position whatever you have to sell.
"Most people do not listen with the intent to understand; they listen with the intent to reply."
 — Stephen R Covey
A curious listener really wants to understand the full picture instead of jumping in to sell their solution. The downside of the latter is that it's easy to start talking tactics to solve specific challenges, rather than fully understanding the environment and then proposing a more strategic approach. It's a bit like the old feature/functionality trap as we start describing how certain components work, without having positioned the value of the entire solution.
Top sales performers talk less than their prospects. According to SalesLoft and their partner Gong.io, research of 50,000 discovery sales calls found that the ideal talk/listen ration is 46:54, salesperson to prospect.
Being a curious listener, focused on the prospect and their needs, will help develop trust and guide you to offer more valuable, relevant solutions.


Bonus Tip: Don't Confuse Helping with being in the Passenger Seat
The most successful helpers are guiding the sales process and discussions. They've mapped what they need to uncover in the discovery and exploratory conversations. They lead the conversations to be productive and useful, and they set and manage expectations along the way. By leading the process, they are demonstrating their knowledge and adding value. They are earning trust and deepening relationships.
Bonus Tip #2: Don't Confuse Guiding with Talk Time
Refer to Pro Tip #3.



Looking to Accelerate Revenue Growth with better Sales and Marketing coordination? Read our Blog on Marketing and Sales Alignment to Achieve the Results you Want.