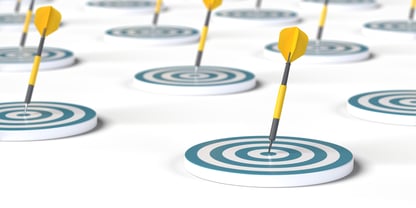 Ah, Revenue Operations. You jumped on the bandwagon, didn't you? And why wouldn't you? The promise of streamlining operations and boosting revenue is nothing short of enticing. But let's face the music: 60% of B2B organizations will fail to create a functioning end-to-end revenue process and revert back to functional silos.
So now, you're scratching your head, wondering why the results are not quite what you had in mind. We feel you. There's nothing more harrowing than spending time building momentum and buy-in for a new initiative and not seeing the desired results. Fear not! We've got your back.
At Marsden Marketing, we've seen our fair share of clients in a RevOps pickle. In this blog, we'll share tips for getting your RevOps strategy back on track and what to look out for to ensure the health of your program.
Tip 1: Assess Your Current State
First, let's take a deep breath and assess the situation. Is your RevOps strategy aligned with your company's goals? Sometimes, a simple realignment can work wonders. One of our clients realized their Revenue Operations strategy was not synced with their sales targets. A few brainstorming sessions later, they were on the road to success. According to SiriusDecisions, organizations with tightly aligned sales and marketing operations achieve 24% faster three-year revenue growth.
Tip 2: Optimize Data and Communication Flow
Data, data, data! We can't emphasize this enough. Your RevOps strategy needs seamless data and communication flow. A breakdown in either can be fatal. We had a client whose data was scattered across various platforms. By implementing a centralized data management system and ensuring transparent communication between departments, they saw a significant upswing in their strategy's effectiveness. A study by McKinsey found that companies that put data at the center of their marketing and sales decisions improve their marketing ROI by 15-20%.
Tip 3: Keep an Eye on Customer Engagement
RevOps is not just about internal processes; it's also about the customer. Keeping your customers engaged can breathe life into your RevOps strategy. According to Gallup, fully engaged customers represent a 23% premium in terms of wallet share, profitability, and revenue. Implement customer feedback loops and ensure your RevOps strategy is customer-centric.
Tip 4: Technology Integration
Ensure that your technology stack is integrated and aligned with your RevOps goals. Evaluate the tools you use and ensure they contribute positively to your RevOps strategy.
Tip 5: Engage an Experienced Partner
Sometimes, two heads are better than one. Don't shy away from seeking external expertise. At Marsden Marketing, we've seen clients whose programs flatlined and, with a little outside perspective, they managed to turn things around. Our experience in the RevOps domain helped them pinpoint and tackle the issues head-on.
The Health of Your RevOps Strategy Matters
So, you've implemented these tips. But how do you make sure your RevOps program stays healthy? Keep an eye out for trends in your data and engage with your team with frequent feedback loops and check-ins. You'll also want to see if they are engaged in this check-in. If they're not aligned with the RevOps goals, recalibrate and ensure they are.
Remember that people are the driving force behind any strategy. Invest in training and ensure your team has the skills and knowledge to contribute effectively to your RevOps strategy.
Take Control of Your RevOps Strategy
Implementing a RevOps Strategy is more than just a one-and-done deal. It's a continuous process that requires attention, assessment, and action. If you're still struggling to get things back on track, remember that Marsden Marketing is here to lend a helping hand. Don't let your hard work go by the wayside.
So, what next? Well, this is where you need to be relentless. Regularly review your metrics, such as customer churn, cost-per-acquisition, average contract value, and more. Engage in continuous learning; don't be afraid to pivot when necessary. Your Revenue Operations Strategy should be a living, breathing entity that adapts to the ever-changing business landscape.
Learn how to set your RevOps strategy up for success with our comprehensive guide.