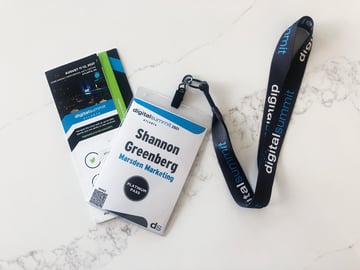 Didn't make it to Digital Summit's in-person conference this year? Don't worry, we have a roundup of how you can continue to improve your website.
Your website is your number one salesperson. It promotes your brand 24 hours a day, 7 days a week, and every single holiday. No matter how strong your sales team is, you'll never have an employee that's more dedicated to your brand than your website.
At Digital Summit 2021, we noticed a trend that many sessions revolved around website health. Whether it's through SEO, analytics, or sales alignment, all signs pointed back to having a strong website.
After attending numerous sessions, we highlighted the top takeaways to help you improve your website — and the tools to get it done.

Strengthen Your SEO with Keyword Research
When it comes to SEO, keyword research is the foundation upon which you build your house. A strong keyword research process informs your content strategy and gives insight into your competition.
There are many keyword research tools out there, but here are a few we're excited to put into practice:
Get to Know Your Audience
Before you can embark on your digital marketing/demand generation journey, you must first identify who you're marketing to. Knowing your audience will make it easier to deliver powerful, relevant content to your ideal buyers.
Check In on Your Website Health
Knowing what's going on with the backend of your website is just as important as measuring clicks and conversions. After all, the health of your website has a direct effect on those numbers as well. If a page is taking more than a few seconds to load, you will lose that visitor. Having a process for checking the health of your website will not only improve your SEO but also ensure there aren't any backend issues that could be hurting your digital marketing efforts.
Take a Deeper Look at Website Insights
Prove the value of your marketing and SEO efforts by evaluating insights and user data from your website. Whether you're creating a pillar page to rank first for a specific keyword or running a PPC campaign, it's important to understand all of the traffic coming to your site. There are many different ways to analyze your web traffic and a growing number of tools to help you do so. With so many tools out there, you'll want to find the one that tracks best for your specific needs. Google Analytics 4 and Semrush are two great base tools to help you create benchmarks for your website.
Optimize Every Image and Video
When using photos and videos on your website (as you should), it's important that they are optimized as much as your written content. That means resizing or compressing large images and implementing proper schema markup on your page.
[

Bonus Tip!

]
Integrate Scheduling Apps into Your Website and Forms
Although we believe your website is your best salesperson, for a lot of products and services, talking to sales reps from the organization is necessary to complete the sale. When someone submits a contact us form, the likelihood of them scheduling time to meet and actually showing up goes down every second you wait to book the meeting.
Studies show that if you give a lead the opportunity to book their meeting time immediately after filling out a form, they are much more likely to show up for the meeting.
Returning to an in-person conference – safely! – was a welcome change after a year and a half of Zoom fatigue. Thanks to Digital Summit for keeping conference-goer health at the forefront of their event, and thanks to all of the amazing presenters for sharing their time and knowledge. See you next year!
Written by Shannon Greenberg & Kaleigh Blessard
Learn a practical foundational strategy for demand generation

with tips on how to get started.