According to Google, a digital marketing internship looks a lot like this:
Conducting industry research
Assessing social media trends
Compiling data
Developing client content calendars
While these tasks are a part of what I do daily, it's far from a complete day in the life of a Marsden Marketing intern. One thing I learned in my first week is that no day is ever the same. But to give you a glimpse of what it's like, here's a quick breakdown of my typical 8-5.
Morning: Setting the Tone for the Day
8:00 – Emails.
As soon as I walk in the office, I start up my laptop and check my emails for any upcoming team meetings, events, and tasks. After I write up an overarching plan for my day, I check up on client social schedules and upcoming blog posts for the week.
8:30 – Coffee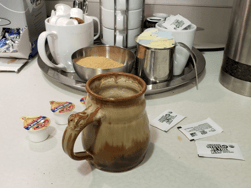 At this point, I usually make my way over to the kitchen. An added bonus of working at Marsden Marketing is that the kitchen is fully stocked with breakfast biscuits and snacks. There are also three different ways to make yourself a cup of coffee throughout the day. Cream or sugar? No, I'll take three… each.
9:00 – Touch base
As an intern, there's always something to do, so prioritization is key! I make sure to catch up with my CSM, Jeffrey, to make sure I'm completing tasks efficiently and staying updated on any projects.

For example, I'm currently working on a case study project for one of our clients. Instead of laying out a case study as a typical long scroll webpage, I'm tasked with making the content more engaging. To accomplish this goal, I'm learning how to use CEROS, an interactive content creation platform, to make the case studies more impactful.

One of my favorite things about Marsden Marketing is getting to learn new tools such as CEROS. It's an open and collaborative environment, so I always feel comfortable raising my hand and asking for help or advice on assignments such as this.
11:00 – Bachelorette
Something I used to roll my eyes at has quickly turned into a guilty pleasure thanks to my best friend, Katie. Now I use it as an excuse to distract my co-worker Amanda by asking what she thought of the recent episode. Her response is always, "Yes, Chris, Luke P. is still the crazy one." We then go on to discuss which practically-perfect man will be eliminated next week and which guy we think Hannah B. will end up with in the end. I guess we're both a little hooked.
Afternoon: Completing Tasks and Planning Ahead
11:30 – Food time
After a morning of writing blogs or editing landing pages, someone in my general vicinity will probably ask, "food time?" The proper response is always, "Yep, it's food time." I'm still learning how to meal prep, but thus far I've made some top-notch (read: mediocre) pasta and sandwiches that I've been pretty proud of. Amanda has been incredibly insightful into the world of an aspiring young professional and has given me countless ideas on meals to prep that will last me a week.
12:30 - Back to Business
Upon returning from lunch, I'm ready to buckle down and knock out some more work. The internship is built to give you an overarching view into the varied world of B2B digital marketing, and you're exposed to many different topics and disciplines like SEO, ABM, and the HubSpot platform.

Before Marsden Marketing, I had no idea how much work went into optimizing a webpage or choosing a blog title. Even in just a month, my perspective of digital marketing has widened tremendously. All of the tactics, strategies, and tools I'm learning about are creating a solid digital marketing foundation that I know I will be able to use going forward.
1:57 – Play with Dogs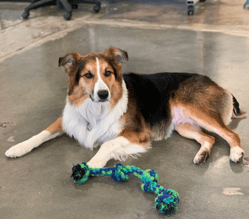 Play with dogs. Our office is usually full of fluffy friends on most days. By this point in the day, I take a few minutes to play with the pups. They help relieve stress and provide ample entertainment when they get rambunctious. I won't pick a favorite, but I sure do love Louis and not just because he's Amanda's dog. I like him because he's quite demanding about getting his daily dosage of pat-pats and love, which I find endearing.
2:35 – Be A Sponge
Learn everything. Around this time, I've probably been assigned a large concept to read up on, completely understand, and digest by EOD Friday. The last big assignment I worked on required me to become familiar with ABM to create a playbook that we can use with our clients.

I will admit, I was a bit nervous at first because I didn't know what ABM was or where to start, but Anne was able to give me some direction and information on where to start. I have quickly learned that not knowing what to do or how to do it is okay because I have a reliable support system to help me along the way. Everyone at Marsden Marketing truly wants you to succeed, and I couldn't be more grateful for this invaluable quality in the workplace.
3:50 – Brain break
After a long day of working on projects, scheduling tweets, and learning as much as I can about digital marketing, I usually take a quick break. This is typically when Amanda, Laura, Nadine, and I chat about anything from living in Atlanta to which high school clubs we were involved in.
4:07 – Song roulette
While I'm working on my last task or two of the day, either curating a social schedule or helping write up bios for a client's webpage, it's common to hear Laura ask me, "Hey Chris, who is this song by?" Listen, I've definitely heard it in a retail store, but I wasn't even born when it came out. I just can't quite place the artist … or the song title. Needless to say, I'm getting a very well-rounded education, and soon enough people will think I was born in the '80s.

When I'm not getting a history from my co-workers, you can find me planning my activities for the next day. Since every day is different, it's important to always have a clear idea of what you have on your agenda and to check in with the team on any outstanding projects.

Other funny and random things that occur throughout the day include listening to Brian talk to himself, intermittently giving the dogs more pat-pats, and exchanging quick slack messages between co-workers. I'm thoroughly enjoying my time as a digital marketing intern and labeling this a great opportunity would be an understatement. I'm looking forward to learning more, diving further into digital marketing, and making the most out of this experience.
Interested in becoming a digital marketing intern yourself?

Head over to our career page to find out how.