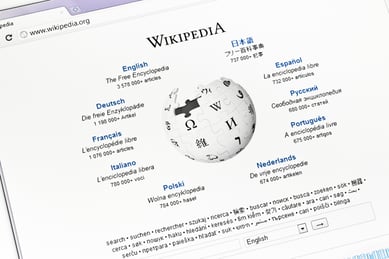 Creating a Wikipedia page may seem like a no-brainer. You just go in, create a page, and paste in your content.
Nailed It!
Actually, taking the time to create a Wikipedia page is a lot harder than one would think. Now you may be asking yourself, why even bother creating a Wikipedia page in the first place?
More often than not, Wikipedia pages are among the highest-ranked pages in search. Furthermore, they're often what Google will use as a snippet to answer questions for users, which can be a great advantage for thought leadership.
Having a Wikipedia page is akin to having a large billboard on the interstate. It's a surefire way to generate interest and to give your company instant exposure due to Wikipedia's strong domain authority.
If you're still on the fence about creating a Wikipedia page for your company, here are few reasons why you should reconsider:
Wikipedia boasts an average of 18B pages views, so you know B2B buyers must have landed on there at least once during their buying journey (via Pew Research Center)

Wikipedia is the 5th most used website in the world (via world economic forum)

More than 114M domains link back to Wikipedia (via ahrefs.com)
Proceed with Caution
Actively participating on Wikipedia means that you have to abide by the rules of the community. It means partaking in the site's mission to be a source of non-biased, factual, and neutral information based on collaborative articles.
If you think this is just another channel where you can control the information published about your company, I advise you to rethink your purpose for having a Wikipedia page. Remember, Wikipedia is an online encyclopedia not another channel for your company.
Creating a Wikipedia Page
If you made it this far, then it means you are ready to deal with the trials and tribulations of generating a company page. So, let's get started.
Step 1: Actively conduct research

I wish it could be as easy as copy and paste, but it isn't. Before you even get started on building your page, do some research to see if your company qualifies for having the page. Wikipedia bases its acceptance of pages on notability.
Notability is defined by the number of published articles from reliable secondary sources. The sources need not be linked in the article at the time of it getting posted, but it would definitely help you if they were. More on notability here to help you navigate those murky waters.
Step 2: Create an account
I know. You're probably not excited about the prospect of creating yet another account, much less keeping track of another password. But having a registered account not only gives you more credibility, but it helps Wikipedia gain trust the content that you're submitting.

While you don't necessarily need an account to make changes, as you can easily request a change from the Wikipedia community, having an account does provide you with a bit more control over the content. Particularly, on how it gets written. Also, having an account becomes useful later on when you have to make any updates or changes to your company entry. When creating your Wikipedia account, make sure to use your real name and email address.

Step 3: Refuse the temptation to jump right in
You might be tempted to create your page without stopping to strategize, but this will only backfire on you. As mentioned, Wikipedia prides itself in creating a non-biased environment. Actively seeking out areas where your company is mentioned and editing the entry to represent your company in favorable light signals to Wikipedia that you have a personal stake and flags the edit(s) for deletion.
To show Wikipedia that you're an active member of their community that complies with their rules, start small to earn their trust. You can do this by making small objective edits to published entries. You only need about 10-12 to achieve the autoconfirmed user status.
What does this mean?
Autoconfirmed user status is a permission given to you that allows you to perform previously restricted functions such as uploading images and moving pages without being overly reviewed.
Step 4: Start gathering your content
While you're out building your reputation by being a good Wikipedia citizen, take the time to start gathering content for your company's page. Everything you have on this page has to be verified! It must also be credible, factual, and unbiased.
Here are some of the sources you should be compiling
Printed materials such as books and articles in magazines

Website articles

Videos
When selecting images, make sure to use only your images and not to source any that are subject to copyright infringements. Remember, you're trying not to give Wikipedia any cause for taking down or rejecting your page.
Step 5: List your competitors
You're also going to have to include information about your competitors and their products and solutions.
Why?
Because part of being non-biased and factual requires you being honest about who your competitors are. Refer back to the importance of notability and Wikipedia's mission statement.
Secondary sources will let Wikipedia know that your company is worthy of an entry and being honest about your competitors helps with being transparent, fair, and factual.
This may make you tilt your head a bit since the last thing you want to do is create exposure for your competition on a page that is supposed to be about you, but stick with me. By being upfront about all the industry information available, you can avoid having something like this appear on your page:

Step 6: Start working on your page
Once you've gathered all your information, you're ready to get started on writing your company page. You can use any platform to write your entry, even going directly into Wikipedia's article wizard.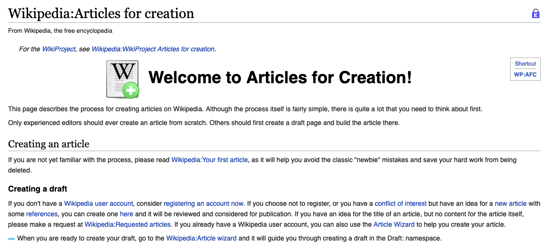 It's much easier to copy and paste your content into their article builder, as using their platform will require a bit of HTML knowledge to format your entry correctly. Here's more information on how to deal with Wiki's Code.
Step 7: Submit your page for review
Now that you've got your page set up, it's time to submit! The submission process can take a few days or a few weeks, depending on how many other entries there are at the time of submission. If you pass Wikipedia's notability test, your article will be accepted as an official Wikipedia page. There will likely be minor edits to make, but overall you will have accomplished the feat of creating your company page.
Step 8: Keep an eye on your page
As with most things on the Internet, your page isn't something you can simply set and forget. Establish a cadence for reviewing and updating your page. Even though you can't be the only source of information once your page is live, you do want to keep an eye out on any potential edits that don't make sense and deal with them accordingly.
And there you have it folks, the ABCs of creating a Wikipedia page.