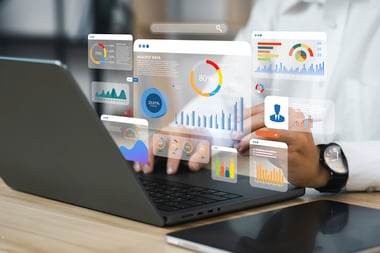 Today's companies acknowledge the pivotal role of Revenue Operations (RevOps) in driving business growth. RevOps integrates marketing, sales, and customer success to streamline operations and boost business growth. A robust RevOps tech stack is the foundation for this alignment, ensuring each department can collaboratively and efficiently drive revenue. It's also one of several Revenue Operations best practices.
Selecting the right RevOps tools calls for a keen balance of functionality, ease of implementation, and system integration. However, with the various RevOps software available today, navigating all the RevOps software options can take time and effort. Finding the right fit involves weighing software capabilities against your specific business needs and goals, understanding their integration potential with your existing systems, and assessing their long-term benefits.
This is where the value of a knowledgeable partner comes into play. Over the years, we've helped several clients audit, implement, optimize, and streamline their tech stack to maximize their investment returns. In this blog, we'll provide the seven tools you need to build your RevOps foundation and the best Revenue Operations software out in the market today to support your RevOps strategy and goals.
CRM Platform
A Customer Relationship Management (CRM) platform is simply a must-have, whether you are setting up a RevOps function or not. For Revenue Operations specifically, it is the backbone of your RevOps strategy. It centralizes customer data, making it easier to manage customer interactions, streamline processes, and enhance customer success/support — all vital for driving revenue growth. Think of it as your single source of truth for all customer data.
For your CRM platform to live up to its expectations as a single source of truth, you must explore integrations with other vital tools in your RevOps tech stack to capture the necessary information. If you're in the market for a new CRM platform, here are some of the top tools to look into:
Revenue Attribution Tools
Understanding which marketing efforts drive revenue is fundamental for RevOps. Revenue attribution tools help track the performance of your marketing efforts by attributing revenue to specific channels, campaigns, or customer touchpoints. Here are some leading revenue attribution tools to consider.
Sales Enablement Platform
For a RevOps team focused on enhancing sales performance, it's essential to arm sales teams with tools to improve efficiency. Sales enablement platforms empower sales teams with the tools, content, and information needed to sell more effectively. They also provide additional insights into the efficacy of sales strategies and how to improve them to drive optimal results. Some tools that stand out in this arena are Showpad and Seismic. Get a closer look below to see why.
Business Intelligence (BI) Analytics Tools
Data is king when it comes to RevOps. It will ultimately enable your team to make informed decisions that generate revenue. BI tools are essential for transforming raw data into meaningful insights. Some of the best BI tools in the market you'll want to look into include:
Marketing Automation Platform (MAP)
Efficiency in marketing processes directly impacts revenue, making automation critical for RevOps success. MAPs help automate repetitive marketing tasks, freeing time and resources while increasing efficiency and campaign success rates. HubSpot and Market Engage are great MAPs to explore, and here's why:
Customer Success/Support Management Platform
Maintaining customer satisfaction and ensuring success is a revenue-driving strategy that must be addressed under the RevOps model. These platforms track customer interactions and satisfaction to improve customer retention, a crucial factor for steady revenue growth. Consider the following customer success management platforms for your operations:
Data Integration Tools
Data hygiene, consistency, and accessibility across platforms are crucial to a unified operation. Data integration tools facilitate data sharing between different software systems, enhancing operational efficiency and data accuracy. Here's a list of reliable data integration tools to help bridge your software systems to create that unified view of your customers:
Project Management Software
To ensure alignment and collaboration across functions, it's wise to consider a project management tool. A project management solution can help create a centralized place for teams to work cross-functionally to achieve specific goals. It also makes it easier to plan and organize initiatives. Some tools to consider include:
Selecting the Right RevOps Tools: What to Consider
Finding the right tools comes with its challenges. Before getting started, you'll first want to evaluate your current tech infrastructure to determine how suitable they are in helping you achieve your goal, whether or not it enables you to gain a clear view of the customer, and how easy it is to integrate with other tools to ensure you are building an effective RevOps tech stack.
This step will provide insights into what tools you need and what you can consolidate to reduce tool bloat. As you build your RevOps tech stack, remember the importance of aligning your tool selection with your business objectives.
Each Revenue Operations software you evaluate should serve a defined purpose and offer value to your Revenue Operations. Also, integration capabilities across your tech stack should be a priority to ensure data flow and process alignment across different areas of your operations (sales, marketing, and customer success/support).
But the most critical consideration is your team's ability to use these tools effectively. The best RevOps tool in the world won't deliver value if your team struggles to use it or doesn't match your business's operational style. This is where training and support play vital roles.
Given the complexity and strategic importance of building the right RevOps tech stack, leveraging the expertise of a partner like Marsden Marketing can be invaluable. As a B2B marketing agency with a deep understanding of RevOps, we bring years of experience helping businesses like yours choose the right tools, streamline tech stacks, and maximize ROI.
Want to learn more about RevOps? Check out our guide on Revenue Operations best practices to learn more.