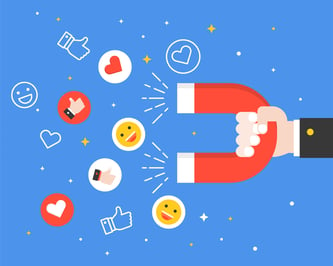 Quick! Your team needs the next round of digital ads launched by lunchtime, and you don't know where to start, much less recall the ad dimensions for each platform.
But with more and more budget allocated to digital ad spend year-over-year, nailing the right image specs for your digital ad can make the difference between your prospects ignoring your offer altogether or meeting your marketing conversion goals for the month.
Don't let your downfall be something you can Google. To make it easy for you, we've created an extensive guide with the ad size and dimensions for each platform. We suggest bookmarking this page to make sure you hit the mark on digital ads every time.
LinkedIn Ads
If LinkedIn isn't a part of your B2B marketing arsenal, then you're doing it wrong. LinkedIn is the world's largest global network for professionals, accounting for more than 580 million users. It's also been cited by Business Insider as the most trusted social platform, so you can identify the incentive for B2Bs to advertise on LinkedIn, getting front and center of their target audience.
LinkedIn offers multiple ways to target your audience, but here are the most commonly used ad specs and sizes.
Sponsored Content
Sponsored content looks like your typical post and appears as part of your news feed, making it easy for users to like, share, and comment. It also appears on your company page as a page update. To nail down these posts, follow these image dimensions:
Thumbnail Dimensions: 1200x627
File Size: 2MB max
File Types: JPG, GIF, PNG (animated GIF not supported)
Sponsored InMail
We typically advise against sending InMail to prospects because it can come across as spammy. But, one area we've seen great success in is advertising events. If you're going this route, make sure your message is personalized and tailored to that prospect. Here are the specs you need for an InMail ad:
Subject Line: 60 characters max.
Summary: 60 characters max.
Body Copy: 1,500 characters max
Banner Ad Dimensions: 300x500px
Banner Ad File Types: GIF, JPG, PNG (animation not supported/flash not supported)
Banner File Size: 40KB
Display Ads
Unlike sponsored content and InMail, you can use animation and videos to delight and attract your target audience's eyes to the offer. Follow these specs, and let your creativity fly:
Dimensions: 300x250
Max File Size: 40KB, HTML5: 200KB
File Types: JPG, GIF, PNG, HTML5: Must be 3rd party served
Animation Length: 30 secs/ 15 secs autoplay
Dynamic Ads
Dynamics ads are great for getting extremely personalized and targeted with your marketing messages. Check out the spec's below to get started on yours:
Company Name: 25 characters max
Company Logo Dimensions: 100x100px
CTA: 50 characters max
Google Ads
Everyone knows about Google, so there's no need to tell you why you should consider investing in Google Ads. However, if you still need some convincing, consider this: approximately $95.4 billion is spent globally on search ads per year. Need we say more? Here are some of the more popular ad specs you should be aware of, especially if you're a B2B.
Search Ads
Search ads are those that are usually hard to identify as an ad because it looks like a typical search result. To tell the difference, look for the word "Ad" in the green outlined box. That's what usually sets them apart. These ads are text-based, and what you're paying for here is the keyword.
Usually, the most popular and seemingly easy keywords are already taken by larger brands, which means you have to get creative with long-tail keywords to rank on top of Google's search results. Google has recently added machine learning to search ads, allowing you to load multiple marketing messages while using AI to learn which ads perform best and serving those up accordingly.
Talk about A/B testing on the go. Here are some general rules you'll want to follow for maximum impact:
Headline 1: 30 characters
Headline 2: 30 characters
Description: 80 characters
Lightbox Ads
This ad format operates much like a pop-up. It responds to the user's action on the page, such as hovering, clicking, or tapping. Once activated, the hosting screen dims, and your ad is displayed prominently. Interested in creating your own lightbox ads? Check out these specs to get started:
Logo Dimensions: 50x50px
Logo Size: 200KB max
Logo File Types: GIF, JPG, PNG (must be static)
Header Image Dimensions: 350x75px, 900x125px, 1200x150px
Image Dimensions: 1024x1050 max (up to 10 images galleries with 10 images max in each)
Image File Types: GIF, JPG, PNG
Image File Size: 200KB max
Video Ratio: 15:9
Video Length: 4 mins max
Video Cover File Types: GIF, JPG, PNG
Video Size: 200KB
Call Only Ads
Call ads are only available for mobile use, making it a nice to have, considering that approximately 48% of customers start their search on mobile. To get started with yours, use these specs:
Business Name: 25 characters
Phone Number: No limit
Display URL: 35 characters
Facebook Ads
Facebook use may have dropped recently, but don't let it fool you. As of June 30, 2019, the social media network still boats more than 2.41B monthly active users, making it a must-have in your digital advertising strategy. Helpful Hint: To make your digital advertising efforts impactful, make sure to leverage private groups to connect and engage your prospects. Here are the top ad specs and sizes to use.

Carousel
Like its namesake, the Facebook carousel ad option allows you to display up to 10 images or videos to your intended audience. Each image or video can have its own dedicated link, making it great if your B2B has multiple products or services.
Cards: 2 min, 10 max
Dimensions: 400x150 px
Image Size: 30MB
File Types: JPEG, PNG
Video Ratio: 1:1
Video Size: 4GB
Video Length: 240 mins max
Images
Images are the most commonly used format on Facebook. To make sure your ad doesn't get lost in the shuffle, make sure to use high-rez photography and that's true to it's brand. The last thing you want is for your ad to be ignored because it wasn't easily identifiable. Here are the specs to use in your next ad project:
Characters: 125 min
Dimensions: 400x150px
File Types: JPEG, PNG
Video
Approximately 85% of the U.S population watches videos online — and rightly so. It's much easier to watch a video then it is to read about an offer, not to mention that it instantly catches the attention of your audience. Make sure to follow these best practices for your video ads:
Size: 4GB Max
Ratio: 16:9 or 1:1
Length: 5 to 15 secs
Twitter Ads
It's perfectly fine to not know when twitter updates their specs off the top of your head, but taking advantage of the collapse function (when you click on a picture and it either expands or collapse the tweet) will benefit you if it's used correctly. Mind how many characters you use when writing your copy, and you'll be on your way to the approval stage. Here are a couple of formats to consider:


Plain Text Tweet
Most twitter users are scrolling their timelines on their phones to pass the time. To make sure they aren't passing your post in disgust, get your characters together. Helpful Hint: create space in between wordy posts to increase its legibility. Best practices to follow:
Characters: 280 max
Shorten URL Links
Keep copy short and snappy
Images
When you pair a relevant image with your content offer, people retain 65% of the information three days later. You'll see how effective the right image can be when used for your digital marketing efforts. Follow specs to help your ad cut through the clutter effectively:
Characters: 256 max
Dimensions: 800x400px or 800x800
Size: 3MB max
File Types: JPEG, PNG (BMP and TIFF not supported)
Video
With 82% of Twitter users watching video content on Twitter, making sure your video is up to par is of importance. Grab your audience's attention with moving images that have purpose. Some users have autoplay and others like to press play. Whatever your preference, make sure to follow these rules:
File Type: MP4 or MOV
Size: 1GB Max
Ratio: 16:9 or 1:1
Frame Rate: 29.97 FPS or 30 FPS
Having trouble creating your B2B digital ads?
Check out this blog on free online design tools to jumpstart your efforts.