The only constant in life and business is change. As Benjamin Franklin said, "When you're finished changing, you're finished."
Business, in particular, has evolved at warp speed over the last decade, spurred on not only by the macroeconomic environment but the digital revolution. As we look towards the next decade, the over-abundance of technology to assist businesses is shifting the challenge from staying on top of what's new to staying on top of what's right.
To remain competitive, businesses must continuously re-calibrate and re-invent themselves, whether it's innovating the next product, taking customer intimacy to new heights, or driving operational efficiencies. In every situation, the front-line sales organization needs to embrace the brand tenets and deliver on the strategic imperatives. Sales professionals are the face to the customer or prospect. They are the brand ambassadors who create immense shareholder value and advocacy.
Transforming a sales organization takes more than just a few training classes, new marketing materials, or new technology tools. It starts with having clearly articulated objectives that align with the business plan, a compensation plan, incentives that reward the targeted behavior, and the right tools and resources available in a variety of mediums that allow salespeople to maximize their time in front of customers. As you start to approach implementing your sales transformation, consider these six tips.
Six Tips to Transforming Your Sales Organization:
1. Rome wasn't built in a day

.
It's easy to jump the gun when you're excited about starting a new initiative, but before you get lost in the weeds, it's important to start off with a plan. While taking this route requires more time, the end results will be well worth the wait. By auditing where you are, where you want to go, and how you can best get there, it'll be easier to establish common ground, vocabulary, and goals across the sales organization and with marketing.
When you set about transforming a sales organization without a playbook to help guide you, you're opening yourself up to risks that could have been prevented had you taken the time to develop your plan of attack first.
2. Reporting: New objectives mean new analytics. Provide transparency and publish frequently.
It's crucial to understand what success looks like not just for your department but as an organization. These metrics should've been agreed upon during planning, so now the goal is to provide greater visibility across the organization for forecasts, sales pipeline, deals, and revenue projection, for sales reps and marketing. Keeping data as current as possible is crucial to measuring effectiveness and making continual adjustments that empower future improvements.
3. "Just in Time" tools. Succinct, focused and powerful resources that sales can digest whenever and wherever.
Having content and a set of technology tools is paramount in helping any sales professional succeed, but for this to be accomplished, sales needs to be in touch with marketing. In Hubspot's latest State of Inbound Marketing report, 39 percent of salespeople with a service level agreement referred to marketing as the top generator of leads. When your sales and marketing teams are tightly aligned and have agreed-upon language and targets, you're able to go forward faster and stronger. Read more on creating sales and marketing alignment here.
4. Best practice sharing. Sparks the competitive juices and promotes confidence

.
Sharing information is the fuel that sparks creativity and innovation. Having a company resource page, for example, is a great way to share best practices and to ensure that organizational alignment is achieved and maintained. When everyone is working towards the same goal, it reduces interdepartmental friction by creating transparency and promoting collaboration. When you build a culture of sharing, you're arming your people with the ability to make the right decisions, become more efficient at solving and responding to issues, and opening up space for the exchange of ideas.
5. Compensation & incentives tied to transformation initiatives.
As stated on Xactly, starting your sales transformation begins with your compensation plan. Your compensation plan is essentially the blueprint for how your organization operates. It makes sense to benchmark and align pay and incentives with the overarching business strategy through your compensation plan. You'd be surprised by how people can adapt and change when allotted the right pay and incentives at the right time.
6. Brand "air cover." The market has to know and believe in the company's ability to deliver on their brand promise.
Air cover refers to a type of management that encourages, supports, and promotes the undertaking of risky and forward-thinking initiatives, which may not be accepted by a more rational and conservative approach. But if it works, it will change the way the world works. The best example of this type of leadership is Steve Jobs, who supported his team to think outside of the proverbial box and produced one of the products that changed the way we use phones today. There will be times where ideas won't be supported because they present the most risk, but you have to support and push back because it's these times that encourage break-through ideas.
Change can get a bad reputation, but it's mostly bad if it catches you off guard. Continuous iteration allows for continuous improvement. A successful sales transformation will open new markets, increase customer and employee loyalty, and deliver profitable business results.
Want to learn how to use marketing and sales alignment to boost your sales transformation? Check out this blog.
Guest Author Becky Carr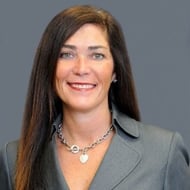 A true modern marketer, Becky thrives in developing lead generation campaigns that contribute substantially to net new sales. Her passion is mining data and applying predictive analytics to uncover market opportunities and then develop creative content and campaigns that are hyper targeted to a specific persona or prospect. Becky is a change agent who builds best in class marketing organizations, aligns with sales, and uses innovative digital and traditional tactics to propel businesses forward. Connect with her on LinkedIn.
This blog was originally posted in 2011. We've updated it with relevant examples for today's sales organizations.