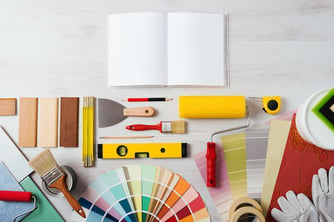 Your company's brand style guide keeps the look and feel of some of your most important assets unique, relevant, recognizable, and likeable. It often includes your logo, brand colors, and brand fonts.
Some companies take these guidelines a lot further, adding rules on how to handle different situations and tips on how to best showcase the brand.
I've searched through a stack of style guides from different companies to gain insights from others' efforts. By the end, I found several gems of branding information that are often not considered for most B2B brand guidelines. Adding these five pages to your company's brand guidelines will give your brand an edge and make your audience's experience richer and more compelling.


1: Colors with Percentage of Use
One thing that is already in everyone's style guide is a palette of brand colors. These colors were selected to look good together and possibly contrast with one another. These colors define a large portion of how your brand looks to its audience.
What you won't find in most brand guidelines, however, are percentages to go along with those colors that tell a designer how much of a color to use in relation to another. For example, your brand colors might be green and blue. These colors can tell a very different story depending on what color is used more. You may want blue to be dominant and used 80% of the time and green to be an accent color that is used 20% of the time. Or you may want white and grey to be used 80% of the time, with green and blue each being used 10% of the time. Do you want large sections of your website to be colored blue? Maybe just a few dots and lines of blue is right for the brand.
Getting specific about the percentage of each color that should be used in relation to the others will help lock in your brand's unique identity and help your audience remember and recognize your branded materials even faster.
2: UX
UX stands for User Experience. It's the practices and principles that help us create things to be used by an audience in an easy, efficient, and intuitive way. Designing a CTA button to be a bright color so it's easy to find and recognizable is an example of UX design. In fact, most B2B companies already have branded UX elements all over their website: navigation menus, form fields, interactive elements, etc.
That being the case, we rarely take the step to put these elements into our style guides. Doing so will ensure that your marketing materials, such as infographics and eBooks, will use interactive elements that are on brand. Your audience will appreciate the thoughtful approach to the elements that they are supposed to interact with.
3: Iconography
Every company uses icons. They help organize information and get key ideas across quickly so the audience can get the big picture and get to where they want to go. While a web designer may put a lot of time into choosing the right icons for your company's website, they often don't make it into the style guide. Giving the icon style its own place in the style guide will help all of your future marketing materials to be consistently on brand.
4: Photography
Choosing the best photography to showcase your business is hard. That is why it is so important to put thought into exactly the kinds of artwork that will do this best. A company that has no direction in their photography will end up looking uninspired and unprofessional. On the other hand, companies that have a page in their style guides for photography or other artwork always lay down rules on how to avoid cheesy boring pictures, and how to choose images that tell your brand's message in a way that engages the audience.
The difference in how these companies present themselves is remarkable. Photography selection rules are a must-have for a brand that wants to attract and engage.
5: Moodboard
Moodboards are collections of various pieces of artwork that, when taken as a whole, convey the intended look and feel of a design project. They can also be used to convey your company's brand. These should include photography, colors, effects, treatments, decorations, and typography that give a complete picture of how your brand should come to life in your marketing materials. While moodboards are often overlooked when putting together a style guide, the companies that make sure thought goes into this aspect of brand identity will look twice as good as those that don't. Don't shortchange your brand. Create purpose and direction with a moodboard that shows your brand's potential.
These five items are important to every brand not just B2B, but they are often not considered essential when creating a brand style guide and are left out. If you really believe your brand deserves to stand out and create great experiences for customers, dig a little deeper with your style guide. Your marketing materials and brand will be at the level your customers are looking for.
Looking for more ways to grow your B2B leads? Take a look at this Marketing Survival Guide to set yourself up for success in 2020.