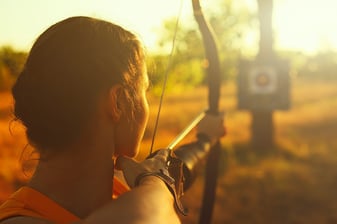 In the first blog of this series you got a rundown of the basic ins and outs of account-based marketing. Now that you know what it is and its benefits, it's time to get down to the nitty-gritty. In Part 2, we'll cover how you determine who you should be targeting.
How do you implement ABM? Start with who you want to target.
The first step in kicking off your own account-based marketing program is to develop a well-defined list of who you want to target. You may want to focus on a few large accounts, but big fish aren't the only thing you should go after with ABM.Consider accounts that meet some of the following criteria:
Will yield a high-revenue
Have a clear business need for your product or service
Offer a quick win with a short sales cycle due to their size or structure
Provide strategic importance for your business
Are clients of a competitor
Do some research.
You don't have to start from scratch to develop a list of target accounts. There are resources within your company that you can (and should) draw from to begin identifying who you want to go after. Here are some places to turn to for information:
Talk to your sales teams. Find out who they are trying to woo. Ask about clients that offer good opportunities for cross or up-selling. Get their input on the kinds of accounts that they want to see more of.
Review your company's CRM history. Look at who have been your top clients in the past and determine what they have in common. Think about the decision makers that had to be reached to convert those leads into clients and develop buyer personas for the titles and positions of the people you need involved in the buying process. There may be some accounts hiding right under your nose that have engaged with you in the past and could become quick wins with a targeted ABM campaign.
Do some digging into your competitors and their client base. Where do they show up online (events, webinars, PR, etc.)? Who do they work with? Your sales team can probably provide some insight here, too – like who they go up against to win business and hear about in the field.
Finalize your list.
Now that you've spent some time figuring out who your potential buyers are, whittle down your list. There are some varying recommendations floating around for initiating ABM, but many sources suggest starting small with just 2-5 accounts. You can test and refine your strategies as you move through the account-based marketing implementation but you want the focus, time, and energy you are investing into your plan to payoff and be effective.
Along with a strong understanding of the accounts you should pursue, it is important to identify who the actual decision-makers are that are key for your marketing efforts to reach. Develop detailed personas and know the titles and roles of the people who will be involved in purchase decisions. This will allow you to get the right kind of content in front of the right people throughout their customer journey.
Stay tuned for the rest of this account-based marketing series to get the scoop on campaigns, content planning, and measuring performance.
Wondering how you can breathe some life back into your inbound marketing program? Download our guide on 10 Steps to Get More Leads.