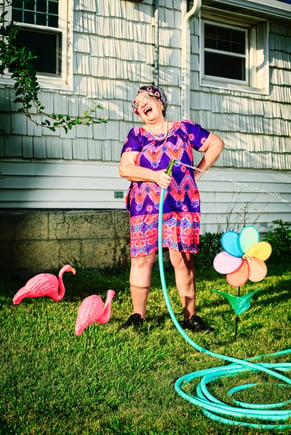 Grandma always used to make the best landing pages. It turns out, a trip to her house for dinner introduced you to all the fundamentals of landing page design. She knew how to get what she wanted: quality time with you – her wonderful grandbaby. Let's take a trip down memory lane and analyze her brilliant win-win strategies.

Let the visitor know they're going to get what they came for.

You know that Grandma is cookin' her famous biscuits, tonight.

She won't play with your heart. The first topic of conversation when you walk through the door is those biscuits. We can do the same thing on our landing pages by creating a strong, obvious headline. Tell the visitor in plain ol' English what they'll get. It's the first piece of information the visitor receives on the landing page, so it should confirm their hopes of fantastic things to come
Provide the visitor with a tantalizing overview of your goods.
You walk into the kitchen. The smell of biscuits fills the air. That smell describes what's to come, and it's irresistible. We can't make our landing pages smell like Grandma's cookin', but we can give a mouth-watering description of whatever it is we're offering and delight our visitors in the process.
Have a conversation before you appease appetites.
This is Grandma's favorite part of the evening. She gets to find out what her grandbaby has been up to. We, too, would like to know more about our visitors, so we ask them to fill out a form with a few key details. Just like Grandma, our form won't pry too deep. Ask for the basics: First name, last name, company name, email, and maybe another detail that's relevant to the business or the offer itself.
Take away the distractions.
No friends. No TV. Just Grandma. She knows in order to spend quality time with you, that she'll have to limit your distractions. On a landing page, we accomplish this by taking out the website navigation menu on that page. We want our visitors to focus on their quality time with us before we ring the dinner bell.
Show the way back home.
After dinner, Grandma knows you can't stay forever. Amidst hugs and kisses, you start the journey back to the folk's place. On our landing pages, the way home should always be there in the form of the company's logo at the top, which links back to home. Although we took steps to create fewer distractions during their stay, we want our visitor to be able to go back to our home page when their landing page visit has come to an end.
Hopefully, it won't be too long before our visitor thinks of something else they're looking for. And we'll be right there to cook it up for them … after a little catching up, of course.
Thanks, Grandma, for your marvelous biscuits and your marketing brilliance.
Want more posts like this sent directly to your inbox? Become a subscriber to receive weekly insights from our digital marketing blog.