The digital marketing landscape thrives on finding new ways to draw people in and offer what they want. In fact, when you think about it, the struggle is a lot like first dates.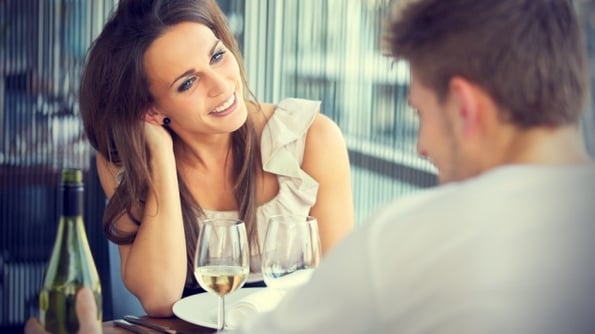 Before we open Pandora's box of prospect "dating", let's take a look at some stats from Missouri University of Science and Technology's Eye-Tracking Study on how quickly first impressions form on the web:
2.6% of people who see your website will stay after 10 seconds

Visitors will find a reason to bounce or stay in only 2.6 seconds

First impressions are 94% design related
Five-to-ten seconds is a generous amount of time to initiate eye contact and convert a smile into a conversation. The best website designers understand that there is a science behind generating enough interest to make a solid impression.
At the end of the day – intimately or professionally – they're all prospects who might want what you are offering, so lets break this down.
The Fundamentals
Communicating your value proposition effectively is the golden egg of making a good first impression. Remember the last time you saw a man or woman with a partner seemingly way out of their league? They clearly knew how to sell themselves – how to distinguish themselves from competitors. The Nielson Norman Group found that when visitors had above-the-fold access to your value proposition and could find it in less than 10 seconds, those visitors stayed for two minutes or more.
Let's say that you're at a bar and the brunette in the little black dress (we all have a type) is your perfect persona. You catch her checking you out, so you smile and before you know it you are talking with her. Apply this to your website. Once all of that hard SEO work pays off and you have the prospect on your page, what next? Chicks … ahem, prospects appreciate a clever and original one-liner, but for the love of HubSpot, don't be shallow.
Now tread lightly, Fabio, because the words you choose from here will be the difference between a bounce and a downloaded asset. The key to articulating your value proposition is creating brand singularity. What sets you apart and makes you better than the next guy? It's the level of charisma your business projects – you know what you're doing and you do it with confidence. Firing off with a competitive advantage is critical.
Say just enough about who you are and more about how you can be a solution, or should I say "the one." Let her navigate and feel you out; calculating how to display the right degree of transparency is vital.
Remember: you're being judged on the relevancy of your material to suit her needs because, all jokes aside, she's considering forming a relationship with you.
First Impressions
According to Kiss Metrics, only 1-4% of website visitors make a buying decision the first time they visit a website.
Be endearing – perhaps by talking about something nice you recently did for someone else. A client's testimonial is a perfect example. Prospects are feeling you out to see if who you are and what you do are the right catalysts to fostering a compatible relationship. If your website's design is visually appealing, but not sensory overload, they'll often be happy to hear you (briefly) talk about yourself.
Key Offers
The offers you make available in certain places on your website (or in conversation) give you the leverage you need to keep them coming back for more. The more content and resources offered on your website, the better chance you have of providing the right resources for that buyer's stage in the funnel. Just like in a relationship, you can't give too much away too soon – never get complacent. You want her to think "there's much more here than meets the eye."
Keep in mind; you can scare them away with too much research and data if they're not quite ready. The real trick is making the right offers in the right places so they can decide that you're worthy of a second date.
The stages of a buyer's process are relatively similar to choosing an eligible partner. If you're out on a first date, you've already created awareness, but that's still a process. And now they're considering if you're right for them. If you can give them a good reason to decide that you're "the one" then you're doing something most people can't.
Just don't ask us about self-defense against overprotective fathers.
If you're interested in reading more about creating the perfect website design for converting first-time visitors, download our free website design infographic.