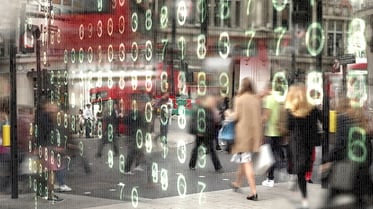 Traffic to your website is one of the most important analytics you should track. Unfortunately, not all traffic is created equal. In website traffic there is just traffic, which can be a significant number, and then there is relevant traffic, which is the more important number. But what does this all mean?
Picture having a physical location for your business. During your day, you will see people who browse around, people who want to sell you something, vendors, possibly even the postmaster, and customers. Not all foot traffic is potential leads or existing customers, which is how you make money. Your B2B website works the same. Not all traffic to your site will end in a sale. This is why it's important to focus on relevant traffic when building your customer base.
Let's begin with how to find the numbers. If you've never viewed analytics reports for your website, you need to now. A good place to start is Google Analytics. It provides information that will allow you to track not only visitors to your website, but where they came from, how they got there and the actions they took while they were there. This information allows you to dive deep and pull out the "relevant" traffic numbers.
How do you determine what is relevant traffic?
In order to sort through the numbers, you need to start diving deeper into your analytics report. The important factors in determining relevant traffic are the following:
Pageviews
Average Session Duration
Bounce Rate
Repeat Users
Contact Pageviews
Pageviews:
The number of pages a user viewed during a session is important. The more pages they viewed the more interested they are in what you have to say and your business.
The average number of pageviews in one session for business to business websites is 2.99. You can see from the above example that this website has an average of approximately 1.63 pages viewed per session.
Average Session Duration:
The amount of time users spend on your site. Same as above. The more time they spend, the more interested they are in your content.
In the example above, the users are spending an average of 1:17 minutes on the website before either bouncing or moving to the next page. The average number would range from 2 to 5 minutes for a site that is getting good relevant traffic.
Bounce Rate:
This number reflects the percentage of visits that resulted in a user leaving the website after only viewing one page. If the bounce rate is high on a landing page, it is a good indicator that the information on that page is not what they were wanting or it is low quality.
Bounce rate = Number of Unique Users who only visit one page / Total Number of Users who enter the website on this page.
You can see from the image above that 74.54% of the visitors left the website after only visiting the one page on the website. This number is an average of the bounce rates for each page of the website. You can find out which pages are least helpful or have less stickiness if you dive deeper into the page-by-page analysis. In this example, approximately 319 of the users were relevant and engaged with the website. Using the example above you can see that 2,346 users left the website after visiting only the home page. The relevant traffic visited more pages on the website to find out more information.
Repeat Users:
Do you have repeat visitors to the site? They are more likely to be return visitors, because they were interested in what they found. Relevant traffic is more likely to be your repeat visitors, so keep this number in your analysis.
From this example 306 sessions were repeat visitors, which is pretty consistent with the bounce rate numbers.
Contact Pageviews:
In addition to the overall view of traffic, I will narrow down my research to my specific pages that someone truly interested in my company would visit. These visits only happen when someone wants to get in touch with your business.

This example shows that 137 unique users wanted to know how to contact this company.
Don't be so concerned with the bounce rate on your contact page. It's likely to be a page users enter and leave without visiting other pages on the site. They have one purpose for visiting this type of page and that is to find out how to get in contact or locate your offices.
Don't be alarmed at a drop in numbers from overall to more relevant traffic. Relevant traffic is going to be the users who are interested in your business and can help spread the word of your brand. If you are doing things right, your relevant traffic are the ones that count.
Download our Infographic, The Essential SEO Checklist for Websites in 2017, to help you optimize your website for lead generation this year.