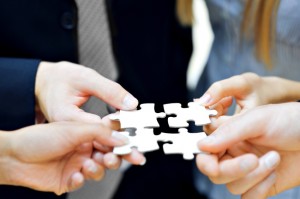 Small footprint, big impact: that is the hallmark of a thriving virtual company. Despite our small size when measuring number of employees, we are in fact a mighty machine that launches brands, creates and manages highly complex integrated marketing campaigns, generates leads, drives social media presence, and increases revenues for a number of clients.
How? How is it possible to design sophisticated solutions and achieve successful outcomes with such a small in-house staff? The answer is that our micro company is actually a hub, the epicenter of alliances with over 20 individuals and companies that work together to design, develop, manage, and measure our clients' marketing programs. From graphics designers to program managers, videographers to programmers, writers to social media mavens, our Association includes just about every discipline required to meet the needs - and the budgets - of our diverse clientele. We're able to draw on the best resources for each project no matter where they are located to deliver best in class solutions. And we can do so at costs well below traditional agencies with similar breadth of capabilities.
Running lean allows us to handpick personnel for each assignment so that we may bring exactly the right mix to each assignment. But you may wonder, how does such a virtual company work from a coordination and management standpoint? And how can it be financially viable for clients and Associates like?
Here are the 3 keys to selecting a winning virtual organization:
1. Relationships.
It all begins with the relationships you build and manage over time. Consider it a benefit of age.... Marsden's associates have, on average, over 4 years experience working with us, and many are much longer alliances. This tenure means that we already know the skill sets and sweet spots of each associate (whether a person or an organization). We've developed a level of trust and understanding that makes it easy and efficient to work together and is invaluable when the unexpected bump in the road comes along. Relationships aren't static. Associates come and go just like employees in a traditional company. New capabilities and offerings are added as we identify and leverage emerging marketing trends and technologies. It's our job to continuously evaluate, update and integrate associates over time. The result is ultimate flexibility and a keen ability to respond to the needs, timeframes and budgets of our clients.
Virtual organizations can only operate effectively when they have the structures and tools to enable communications, collaboration and financial management. Web-based applications have dramatically empowered geographically dispersed groups to work together. From program management in BaseCamp, to file sharing in DropBox, to on-line collaboration with Join Me and GoToMeeting, the options have exploded.
The challenge is no longer can you work together virtually, but how to weave together the people and tools for optimum productivity. That doesn't happen overnight, but is key to operational success, internally and with clients.
3. Financial Models.
While it may be obvious that there needs to be a win-win-win cost model - for clients, the virtual organization and its associates, reaching a consensus on what that model should be is not always so obvious.
Some companies worry they might pay an un-necessary mark-up to the virtual organization, on top of the cost for the underlying services. What these companies may not see at first blush are the savings realized by the lower overheads of a virtual organization, and the additional discounts that have been secured in the relationship between the virtual company and its suppliers. Also overlooked is the cost savings companies get for not having to source, set up and support additional vendors. Finding, vetting, and negotiating with multiple vendors is time consuming and have real costs. And in many cases, larger companies' liability insurance requirements and extended payment terms present hardships for small firm and individuals. A virtual organization - like ours, assumes those costs and risks, providing a single contractual relationship.
There is no one size fits all financial model. A successful virtual organization needs a range of pricing and support structures for its associates that enable the team to profitably deliver the service - at a price that also delivers value to the client.
Conclusion: Virtual organizations are emerging across a range of industries, including Marketing Services, but it's a relatively new business structure. Companies are smart to consider virtual companies that may be better positioned to deliver best in breed solutions at highly cost effective rates. At the same time, companies are cautioned to do their due diligence and ensure the virtual team has the right relationships, structures and financial models in place to deliver seamlessly. For a successful relationship, these three components need to be in place BEFORE the client engagement.