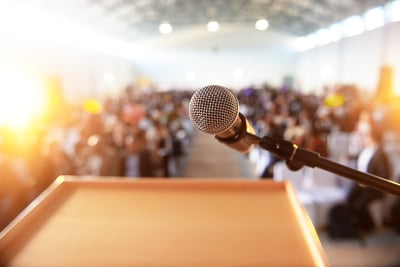 Last week, we talked about pre-event marketing via the web, email, and social. This week's blog discusses marketing strategies during and after your event to increase engagement and keep the excitement – and connection with potential new clients – alive after you fold up your tent.
During the Event
While the event is happening, don't let your strategy stagnate. Live events are a great opportunity to utilize social media.


Social
During the event, have someone take over your Twitter feed. If your event is week-long, then consider having a different person do a take-over each day. You can introduce the person taking over and pin that tweet to the top until they are done. Encourage them to take a lot of candid pictures and post quick interviews with speakers or interesting attendees. Be sure that they know to use the common hashtag for the event in every tweet.
Some other great ideas to consider during the event:


Create a game with a hashtag people can engage with, such as a photo scavenger hunt.
Run a contest for posting a photo of the most creative activity at a booth.
Ask people to create a funny meme from a candid shot taken at the event.

If you can spare the manpower, have someone monitor the hashtag to see if there are any issues or opportunities to interact with participants.

Post-Event
A major problem with events is how often the excitement created before and during them fizzles out. Done right, though, the post-event period is a great time to continue the conversation with prospects and nurture leads.


Web Strategy
Keep your event page updated and create a media page with photos from the event. Be sure to make each photo shareable on social media. Are there any assets that can be created from the event? Maybe some of the breakout sessions were captured on video. It wouldn't take much effort to edit them into standalone pieces that you could gate for lead generation. Finally, be sure not to delete your signup form from the pre-event stage; use it to get people to register for updates for next year's event.


Email
If you haven't already done so, now's the time to create a separate email list for those who signed up during the event. Make sure to send a thank-you email to everyone who came and invite them to look at the photos you've posted. Encourage them to share them with friends and colleagues.


Now is also a good time to create a drip campaign with the new content that was created after the event. Send those who attended emails that encourage them to download assets. Don't be afraid to ask if they would like a consultation or to continue a conversation. For more tips on creating interesting emails, read how emails engage and convert.

Social
Take note of what aspects of your social media strategy worked and what didn't. Did your videos take off? How can you create more throughout the year? Which tweets did people engage with the most? What could you do differently?


Once you start figuring out what was successful and what wasn't, create a new social media calendar loaded with content similar to what worked for you. It doesn't have to all be original. But make sure that whatever you retweet or repost is something your target audience will enjoy reading. Your content calendar and posts will be different for everyone, but if you keep your audience in mind, you'll start to see followers and engagement grow.
One Last Word
Whatever you choose to do to market your event, you must execute flawlessly. One of the great things about events is the human element; in a world where so much of what we do is electronic, you get to meet people and talk face-to-face. But afterward, what you send your new contacts needs to be engaging and on target, with top-notch content, or you risk an "unsubscribe" when you could have been moving them down the sales funnel.

Remember the hard work we mentioned in the first blog? If you choose and implement your tactics well, it will all be worth it in the end, after you've managed and marketed an event that everyone will still be talking about the next time around.
Did you miss Part One of this post? Read how to promote your event with pre-event activities.