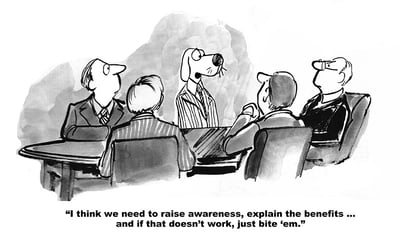 In what may be one of the greatest understatements ever, B2B events are a lot of work. Those who have managed events already know this; if you're joining their ranks, you're going to learn it fast.
Event logistics are often top-of-mind, but effective promotion should be done hand-in-hand with your planning. All your efforts to design a great event will be wasted if no one attends. Digital marketing tools can get the buzz out into the public much faster and more easily than many other forms of communication, and are cost-effective, too.
Because the topic is as large as the amount of work involved in holding a show, conference, or benefit, this post will talk about pre-event marketing via the web, email, and social. Part two of this series will discuss marketing strategies during and after your event. All are designed to expand awareness of, interest in, and engagement with your event and help to make it a success.
Pre-Event Marketing
Depending on the size of your event, you'll likely begin planning six months to a year beforehand. During that time, you'll identify content, speakers, sponsors, volunteers, entertainment, and finalize venue space. Your digital marketing strategy should dovetail with that process.


Web Content
If you don't already have an event website, here is a great infographic on the Anatomy of an Effective Event Website to help you get started.
If you do have a site, it's important that you consider your audience and optimize your site for SEO. When developing copy for your pages, do a keyword search to determine what people are searching for that would be relevant to your event. If you are new to keyword planning, read "Should You Consider the Buyer's Journey When Choosing Keywords?"
Lastly, make it easy for people to register for updates. You want to start building that list of interested prospects early. Have a CTA or pop-up on your site that will allow people to quickly give their email address to stay in the loop. GetSiteControl is one of my favorites because it's least invasive.


Email
If you don't have an email marketing platform by now, it's time to get one. There are many options out there, but for ease of use I'd suggest HubSpot. It has a great CRM, sales platform, reporting, and analytics to keep track of all the leads you're going to get.
Let's assume you already have a platform. The next thing to do is create an email content calendar for weekly emails. Sending out an email each week might sound like a lot, but if they're interesting, people will enjoy and might even look forward to them. Ideas to get you started include:


Create a contest that people can sign up for (get bonus entries for referring friends and posting to social media)
Offer early bird rates for registering
Reveal behind-the-scenes planning and activities (make it feel like VIP access)
Gamify the mailings by creating a series of emails with clues that lead to a special prize or discount
Use ViewedIt to quickly record a personal message to thank someone for registering for the event. You can use your webcam on your computer and send it over email.


The sky's the limit. Just remember that the goal is to generate leads, so make sure that you always include a CTA telling people what you want them to do next.


Social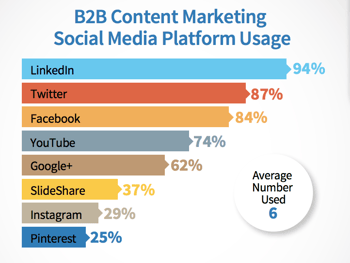 In the B2B world, LinkedIn and Twitter are most popular, but Facebook and YouTube aren't far behind. Social media is a great way to market events, but before you start sharing, be sure to understand which platforms your target audience is using. Then utilize each platform uniquely, but tie them together by creating and using a consistent hashtag across all platforms whenever you're posting event-related content.
LinkedIn: Create content for your company page that promotes your event and explains more details about it. Leverage this content to generate interest and push your audience to your event website. Have each of your employees write about why they would attend and share it on LinkedIn. When it gets closer to the event, consider placing LinkedIn Ads.
Twitter: Create visual elements and schedule them to go out a few times a day. Here are a few ideas:


If you have good images from a previous event, share photos, particularly those of people enjoying themselves.
Post short (45 second to one minute) videos of testimonials.
Create a series of short videos that promote your event. They could each discuss a different topic or include conference dos and don'ts.
Do a visual countdown that changes every day.
Host Twitter interviews for those that have questions about coming.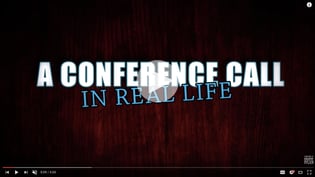 YouTube: Create a series of funny videos that will promote your event. A great example is "A Conference Call in Real Life," which was produced to promote a leadership conference. It's hilarious, relatable, and makes you want to share it with friends. Of course you don't have to be funny, but if you're interested in promoting your event through a video, think about your audience and what would make them want to share it.


These social media ideas should get your wheels turning so you can see a number of possibilities for promoting your event.
Up next: Keeping the excitement level high during and after your event – or, don't let the sizzle you've created fizzle.