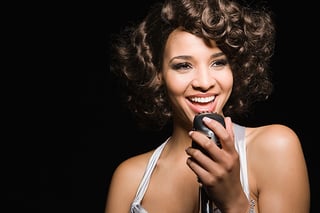 I am sitting in my big, red chair. I'd like to think I'm Pharrell Williams, but more likely I'm Christina Aguilera after another tabloid post about weight gain. You come on stage and the audition starts. Will you make me turn my chair? It's all up to you now, and, of course, your voice.

This competition goes on every day, although the big, red chairs are more likely your everyday, run-of-the mill desk chairs.

As B2B companies we are constantly on a stage where our voices are being judged. Websites, emails, sales collateral, press releases and client presentations are all part of the big stage on which you present yourself.

With buyers going through more and more of the sales cycle digitally, your voice plays an increasingly important role. A company's voice is about being consistent, relatable, and creating authority.

So if you want those desk chairs spinning around to say "I WANT YOU," keep these 10 "judgments" in mind when finding your voice.

"You've got soul…"
As B2B companies we know our voice and tone is very different than if we were B2C. We often think B2C has all the fun. They get to be edgier, wittier or more creative. But having that mindset is a disservice to your company. Just because you are B2B doesn't mean you are creating a non-human voice. Yes, it may be more professional, but it should still show signs of life. Remember: people like to deal with people. Create a voice for your company that has a soul to it, where your audience will always feel the human touch.
"I love your outfit…"
In reality competitions this can be the death knell. It's often the only compliment the "nice" judge can come up with when the performance tanks. However, for B2B companies, it doesn't have to be such a negative. When we discuss voice, clearly it means the words we use; however, we should always keep in mind what our "visual voice" is also relaying. Just as we want content with strong words, the visuals that accompany those words should also convey meaning and tone.

"I just don't know who you are yet…"
Are you a little bit country and a little bit rock 'n roll? For those in the competition being able to define who they are is an important part of staying around week after week. Defining your company's voice is just as important. In order to do this, develop a few words that describe your company's style then add descriptors for each word. Your organization should use these guidelines to judge your content. As you write and edit, think about your approach and ask yourself if it falls into these guidelines. Once you have honed your identity, set down the do's and don'ts for the team and curate examples to help keep everyone on track.

"I'm not sure that was the right choice…"
Song choice is everything in the competition. The right song choice connects with the audience, getting them on their feet and going wild. The wrong one often means you are sent back home to your less glamorous job at the Dairy Queen. For B2B companies, this has the same effect. If you make the right word choice you speak your audience's language and make a connection, while the wrong one makes you drop in your audience's polls.
"You have such a unique tone…"
When it comes down to it, your voice must stand out for you to get noticed. This begins of course with having a unique value proposition, but how you deliver that message is just as important. Your value proposition is just facts and conveys what you do. However, your tone tells your audience who you are and what you will be like to work with. Are you too wordy or too pointed? Are you very rigid or slightly quirky? The tone of your delivery will convey much more than just the hard facts.
"I'm just not feeling it…"
Now that you have discovered your voice and know what tone to use, the next challenge is to understand how to pull the facts and the tone together to create a message that is compelling. Your voice must resonate beyond just the words and create an emotional connection. This should not be confused with being the same as good writing or strong messaging, but about understanding what must be conveyed to get a reaction.

"You have such good control…"
One of the most important aspects of creating a voice for a B2B organization is exuding a sense of authority. We all know confidence is attractive and this holds true in the B2B arena as well. Companies want to make their audience feel as if they are experts and thought leaders. This is not the time for your voice to be shaky.
"That was a little pitchy…"
Now that you know how to come across as an authority, remember not to fall into to the trap of the sales pitch. Yes, a sales pitch becomes part of the process. You have to close the contract after all, but that doesn't mean your company's voice should waiver in the process. Marketing and sales must agree on the "corporate tone" and implement it throughout all interactions for a seamless process.
"That came across flat…"
In today's digital age, a company's voice is primarily its written word, and no one wants to read something that's a total snooze. Your content must show personality. Simple edits such as using strong active verbs, a more-descriptive adjective or wit can punch up your voice's personality and keep it from coming across as flat. Now that you've done all this work to develop your voice, don't silence the personality.
"You need to mix it up more…"
On The Voice you wouldn't sing another country song that sounded like the one you performed the week before. Similarly, a company should not be afraid to alter its voice for the occasion. This isn't to say there should be a major shift in your tone and personality, but that it should be tailored to the audience. For example, if you're a B2B organization that speaks to both IT departments and marketing departments, your voice and message should be consistent with both; however, don't be afraid to dig in deep and speak tech if IT requires it.

With organizations churning out an increased volume of content, it is of the upmost importance to have a clear voice that can resonate from the crowd and connect with its audience. When a company's voice is done right, it makes it a lot easier for your organization to hear "and the winner is…" from your pipeline/funnel.
Use our Brand Development Methodology Infographic to asses your current brand, and create a strategy for a winning, lasting brand identity.