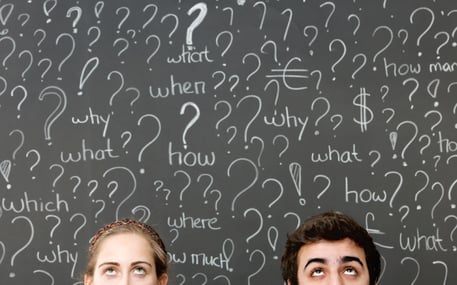 Ever have one of those conversations that goes completely off track, because you misunderstood what someone was trying to say to you?
Take this example:
You are having a conversation with a significant other and he or she asks the question "Date?" Now I am sure you are wondering. What does that mean?
Do they want to know today's date?
Am I being asked to go on a date?
Are they asking me if I have a date tonight?
Take this same example and apply it to the keyword choices for your website. When choosing the right keywords, you need to understand the intent of your users. Without the insight and understanding of your users, how are you supposed to understand their intent?
Now let's take the above example again: Your significant other intended to take you to Paris for a romantic getaway. Unfortunately they didn't give you the whole picture with their simple word question, so you assumed they wanted to know today's date.
See how easy the wrong information can change the course of the conversation? This happens all of the time with websites who focus on the wrong keywords. Users who come to a website that doesn't provide the information they want will immediately jump to another site. You don't want to be the one they leave, but how are you supposed to read someone's mind? Especially the mind of your user?
Lucky for you, Google has done a lot of the "mind reading" for you. They have spent a lot of hours and money on figuring out the intent of users. They track the patterns of users; what sites they visit, what they click on and how often, what terms they use to find information and so much more. And you can harness this information to optimize your website.
Understanding Your Ideal User
Stop and think about your ideal user. Who do you want to come to your site and what do you want them to do? These questions will build a profile to start understanding your user's intent.
Users fall into three basic categories.
Researcher – They want information on a product or service. They use generic keywords and terms like – "tips", "help", "advice", and "best".

Shopper – This group is researching options, "window shopping". They will use terms like – "reviews", "compare", "demo" and even searches based on company names or brand names.

Buyer – These people are ready to make a purchase. They will use terms like – "buy", "purchase", "sign up", or "contact".
Many times users who start out as researchers will turn into buyers, so this is where Inbound Marketing is important to keep in mind. SEO is a great tool to get users to your website, but that is just the beginning.
How to Harness Google's Tools
Google's Keyword Planner is a great place to start for a list of potential keywords you can use to determine intent of a large majority of searchers. It will suggest keyword phrases and examples of other similar keywords.
Use the identified keywords from keyword planner to type into your browser's search bar. Study the results returned for each keyword or phrase, because Google's search results are perhaps the most finely tuned, tested and optimized pages online today. These results are a strong indicator of what people are looking for because they reflect the content in which people engage.
Determine questions that your users would want to ask. Type them into the search bar. Intelligent searchers today are not just typing in one or two word phrases. They are asking questions in the search bar. Knowing those questions will help you provide those answers.
Look Close to Home
Some of the information you are seeking about keyword research and selection is right at your own front door. Here are a few tips to get you started:
Review your Google Analytics under Acquisitions, All Traffic, Channels and then Organic. How are users getting to your website? What terms are they typing in to find you?

If you have a help center on your website, woo hoo. Great job for thinking ahead. What questions are users typing into the search? What information are they searching?

What pages get the most traffic and have the longest view times on your site. This content is really being digested and used by your ideal customer. What are your customers asking and saying about you? What information do they want to know?

Survey your current customer base. User intent has changed the landscape of SEO. It is no longer about finding that one keyword and stuffing it all of your site in hopes of being found by Google. It is time to listen to your customers, read their minds and deliver!
So next time someone asks you "Date?" figuring out their intent might just have you headed to Paris, if you answer the question correctly.
Want more information like this?
Subscribe to our blog to receive weekly updates directly to your inbox.