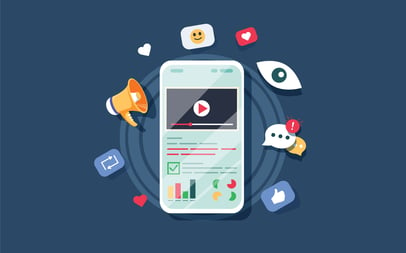 By now you no longer need to be convinced that video should be a part of your marketing strategy. We've all been bombarded with statistics that drive home this point.
For example, HubSpot found that 90 percent of customers say video helps them make buying decisions and 64 percent of customers say seeing a video makes them more likely to buy. Or how about this statistic, social video generates 1,200 percent more shares than text and image content combined.
Most PPC platforms offer ways for you to create video ads and it currently makes up 35 percent of total online ad spend. Many of these platforms, like LinkedIn, are favoring video ads more just so people will try it out. This will not last long, of course, as more and more people start using video ads. Emarketer.com says social ad spend will grow 44 percent by 2021 which shows where this trend is heading.
So, what is the best way to maximize your company's potential with video ads before the market gets overcrowded? Well, you've come to the right place. We'll look at the different ad platforms offering video as an option, helping you feel confident in moving forward.
Google Responsive Display Video Ads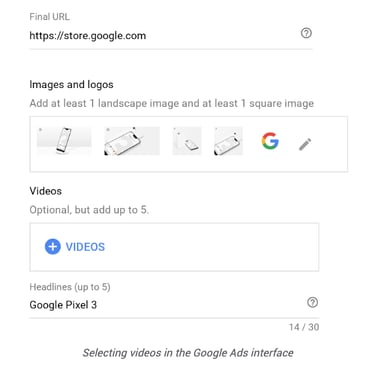 First, let's talk about the newest option on the market, Google's responsive display ads. You now have the option to add up to five videos that will rotate based on Google's AI machine learning, which determines what it thinks will best get someone to engage.
Unfortunately, this is less controllable because you have to rely on Google to mix your ad with the different text, images, and videos that you include. It's also currently in the beta stage, but I've noticed that these ads get more impressions over traditional text-only ads, making it a great brand awareness strategy. However, if you require more control over the exact content in each ad shown, then this is not a good option for you.
Good For: B2B companies already using Google's Responsive Display Ads and/or companies running a brand awareness campaign
LinkedIn Video Ads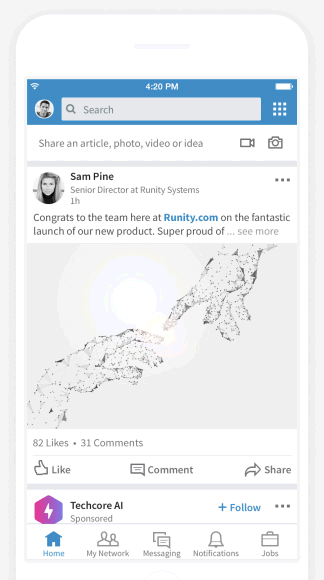 LinkedIn Ads have already proven to be successful for B2B companies for lead generation. If you need help navigating their platform check out 3 LinkedIn Advertising Tips for B2B Demand Generation. LinkedIn has taken it up a notch with video. This is the one social platform that B2B companies should not overlook for advertising. Why? Because most B2B audiences are there, and it's easy to segment. The cost-per-click is generally higher, but the cost-per-conversion is often lower than Google Ads.
Snag, the largest platform for hourly work, ran a video ad campaign in LinkedIn. They saw a 165 percent higher lead form completion rate and a 65 percent lower cost-per-lead than their previous image campaign.
Good For: All stages of the buyer journey, but best video ad platform for lead generation
"Sometimes people look at media as expensive versus inexpensive. I think there's a value equation there that's more nuanced and it needs to be factored in,"

Ema Gantcheva, Senior Director of Demand Generation, Snag
Instagram Video Ads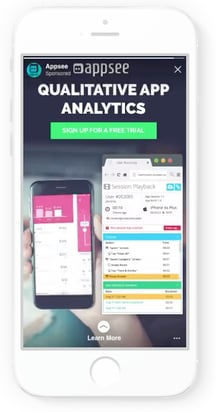 Instagram's gain in popularity has gotten the attention of B2B companies, but many are unsure of how best to take advantage of this platform. If your company has decided that this is a great place to reach your target audience, then there are two places now that you can place video ads. The most popular placement is in the Instagram feed, but you can also add video ads to the Stories section.
Appsee, an analytics company, was able to increase brand awareness, website traffic, and interest from potential customers. They had already been using image ads in Instagram's feed and decided to use retargeting by running video ads showing its product features and dashboard in the Stories section to the group they had already reached through previous ads in Instagram's feed. This move increased click-through-rate by 3.4x, decreased cost-per-click by 2x, and lowered its cost-per-qualified-lead by 25 percent.
Good For: Photogenic ads showcasing product or services – especially with retargeting
Twitter Video Ads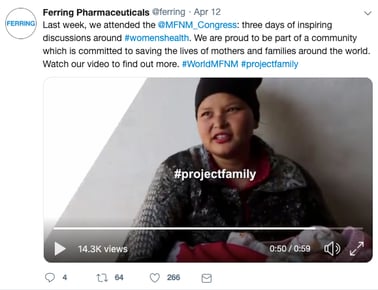 Twitter gives you two options for using video in its ad platform. The first is the In-Stream Video Ads, and the other is Video Website Cards. In-Stream lets you run an ad before a publisher's video on Twitter, while a Video Website Card shows up as a tweet on a feed.
Twitter is known for spreading awareness which makes it a great tool to expand your brand's reach. Ferring, a research-driven biopharmaceutical group, leveraged this capability. They wanted to engage with thought leaders about the latest therapeutic breakthroughs at an industry event. Through video, they were able to target high-quality audiences to optimize engagement and achieved a 48.06 percent view rate.
Good For: Brand awareness and event targeting
"Twitter Ads is an efficient marketing tool that enables us to boost our awareness worldwide, to reach specific audiences and to interact with our community."

-Haider Alleg, Global Head of Digital Marketing, Ferring
Facebook Video Ads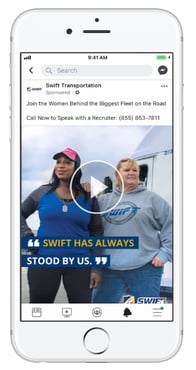 Facebook is usually not an ad platform B2B companies spend too much time utilizing, but there are opportunities where it can work. Facebook for businesses can often look like a glorified yellow page, but the median amount of time spent on Facebook by business decision makers each day is 74 percent higher than other people on the platform.
Swift Transportation, a trucking company, used Facebook ads to find new drivers and achieved a 4x increase in leads. They used photos and videos in a carousel format, showing a diverse group of drivers expressing great job satisfaction. Their five-month campaign also saw a 37 percent lower cost-per-lead and a 2x increase in conversions from their previous campaign.
Good For: Company culture awareness and attracting talent
A few things to remember when you're planning on using video ads:
Looking to grow revenue this year?


Learn how you can better understand your buyers, develop a message that resonates, and prioritize which marketing channels to invest in.