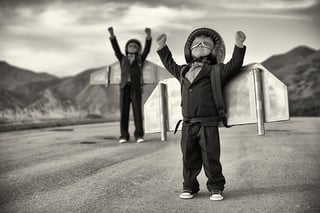 No matter how you roll the dice, pay-per-click is advertising (and typically considered an outbound method), but it can be spun to effectively strengthen any inbound marketing and SEO strategy. As inbound marketing rewrites the handbook of marketing in today's digital world, PPC can be used with an inbound approach to keep your target audience engaged. In this blog, we're going to use Google AdWords Search Network as our platform. Let's take a look at how PPC fits in to any knock-out inbound marketing strategy.
Quality Score
When I first started using AdWords, I quickly learned that few things are more important to improve your overall PPC performance than Quality Score: Google's grade of your keywords in relation to your ad copy and landing pages. Quality Score is calculated based on the relationship of those three things, and how they function together to bring the searcher a highly relevant ad. It's important that Google understands how the keywords on your landing page are relevant to your ad copy and, furthermore, the keywords you're bidding on in AdWords. Just as PPC isn't just about keyword choice, inbound marketing isn't just about SEO or content; both efforts are focused on attracting AND converting qualified leads, not just generating clicks.
Quality Score is an important metric to look at for two reasons. First, the higher your Quality Score, the lower your cost-per-click for that keyword will be. Secondly, the better your Quality Score is, the higher your overall ad position will be when it displays in search results. As a guideline, keywords should have a quality score of 5 or higher. If this number is below 5, you'll be paying a premium CPC for that keyword. If it's above 5, you'll be getting a better value CPC for that keyword.
CTRs and CROs
Click-through-rate is the next most important metric to look at when optimizing your PPC ads, but should be closely monitored in relation to the conversion rate of your landing pages. While many online ads are often disruptive or use deceptive tactics to generate clicks, inbound PPC ads are designed to present real solutions to your target marget. Similarly, a good inbound marketing strategy is also focused on optimizing all your owned properties and program components (like email campaigns, website pages, and content offers) for maximum conversions.
Google AdWords gives the advertiser many tools to optimize CTRs, most notably ad extensions. Ad extensions are free real estate to put on your ads. This includes your choice of up to four sitelinks that appear below your ad, callout extensions, which give you more than 60 characters of customizable text about your business, call extensions that let mobile users call directly from a mobile device, and more.
On the other hand, if your visitors are clicking on your ad but aren't converting into leads, there's a problem with the quality of the landing page. I recommend taking a step back to assess the quality of your traffic and focus on conversion-rate-optimization (CRO). Conversions can be monitored and tracked through AdWords by adding a snippet to the webpages you'd like to monitor for certain visitor actions, like a sale or a form submission. To improve your conversions, make sure AdWords traffic is viewing the webpage that would be most helpful for accomplishing their query intent. After 15 or more conversions in 30 days, you can begin using the Adwords Conversion Optimizer to make bid adjustments when a conversion is more likely.
Keywords
In the AdWords campaigns, I monitor keyword performance and search terms closely. By selecting which keywords will power your campaigns, you can effectively choose what traffic your ads will generate based on targeting on your website, in your content (blogs, white papers, eGuides, etc.), on your landing pages, and any other inbound tactic you're using to attract leads. There is a heavy amount of research that goes into keywords, and I advise using Google's Keyword Planner or third party tools like Ahrefs for proper keyword research.
Negative Keywords
The keywords you don't want to render your ads are just as effective in generating high-quality, true inbound traffic. I monitor the search terms of my traffic frequently, and scrutinize their performance closely. Just as lead scoring is an important step in qualifying the leads your inbound efforts produce, adding negative keywords to campaigns (or ad groups) is important in qualifying your ad's traffic. For example, a CRM software company that targets "sales pipeline management" may want to steer away from using "pipeline" as a keyword, and consider adding "oil pipeline" as a negative keyword in their campaign to avoid turning up in unrelated search results. This will help you nail down the searcher's intent, display your ads to the most qualified searchers and drive the most relevant traffic to your website.
The Real Mission: Matching User's Intent
When it comes to AdWords, Google has a strict protocol for evaluating the ads you create (and the keywords associated with it) in order to ensure it meets their best practices quality guidelines. The inbound marketing methodology is also focused on upholding standards for quality and aligining the content you create with the needs of your target buyers. While PPC can negatively impact your inbound efforts if done incorrectly, good PPC practices can empower marketers to attract visitors, convert leads, close customers, and delight promoters.