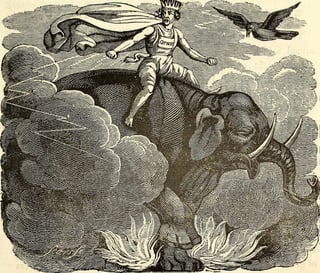 The images you choose for your blog often enhance the reader's experience. Sometimes, however, a blog will end up tethered to a picture that actually detracts from an otherwise awesome post. If you're an avid blog reader you may develop an eye for detecting those sites that use average, run-of-the-mill stock photos. Since your blog content should be shared across multiple platforms to extend your reach (on the blog page itself, across your social media channels, in emails, syndicated on other sites), choosing media that stands out can be extremely important.
Here are a few tips to help you find blog images that connect more deeply with the reader. Are you ready to take your blog imagery to the next level?
Tell a story
A picture that tells a story pulls in the imagination and can add depth of meaning to your blog. So, how do you find one? During your search, pay attention to images that make you genuinely curious about the possible events surrounding the scene. You may find yourself wondering about a certain person's day or a particular object's past. This process is a bit subjective, so feel free to be yourself while looking for a story - it's another great chance to let your personality shine through in the blog.
Use other image search sites to help find unique ideas
A common tactic for choosing a blog picture is finding an image that illustrates a key concept, like "Power" or "Victory." You will probably discover that using such a broad, generic word as your stock photo search term will yield equally broad, generic results. To find something unique and visually engaging, first do a search for your concept elsewhere. Google (sometimes), Flickr, or other image search sites may give you a fresh perspective on your concept by showing you different objects and events that it can be associated with. These things, in turn, can be used as search terms on your stock photo site.
Bring out your blog's mood with color
If you are trying to communicate a certain mood in your blog, think about what colors effectively communicate that mood. Take your blog imagery to the next level by finding a picture that mostly contains that color. For example, if you want to express calmness, you might imagine lavender and light blue. To express a tense situation, you may picture reds. While there isn't really a right or wrong answer to the colors your intuition conjures, you will want to find an image that exudes whatever color you choose to take full advantage of this strategy.
Talk like a pro
Using professional photography terms in your search can often yield cool-looking and extra-expressive alternatives to the normal lot. One of my favorites is "macro," which simply describes a specific type of camera lens. Adding this to your search will give you very close up shots of some common objects, offering an unusual perspective. Another great one to try out is "depth of field." This is about the distance at which objects in the picture are in focus, and adding it to your search will often turn up images with a specific point of interest – a powerful way to ensure that the picture is engaging.
Travel off the beaten path
Dare to explore options other than stock photos. A picture snapped on your smartphone with an Instagram filter may supply the personality and intimacy that your blog's been missing. Try making it black and white to give it a classy edge. Another interesting source of pictures is a collection of photos with no copyright restrictions, such as Flickr's "The Commons" section. These are mostly very old pictures whose copyright ran out a while back, so your findings will most assuredly have a vintage feel. Although the search capability here is more limited than a stock photo site, searching basic terms like "Dog" and "City" will yield some very satisfying results.
Have fun playing with these tips, and there's no need to worry about finding the perfect image. An image you enjoy is, more often than not, an image your reader will enjoy. Happy searching!
Want more tips on how to improve your blog and utilize graphics for your marketing campaign? Read more of our posts on graphic design here.