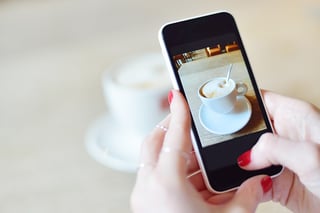 While you're scrolling through your Instagram feed, you pause on a picture of your favorite baking blogger promoting a brand of cake pans she always uses. With just a few words and a beautifully staged picture, this brand has gotten into your head.
This is an example of an influencer marketing tactic that B2C companies have taken and run with. B2B companies have yet to catch up, with only 11% of B2B organizations managing ongoing influencer marketing programs, compared to 48% of B2C companies.
But influencer marketing doesn't have to primarily be a B2C thing. B2B companies can connect with influencers to build awareness, generate leads, and acquire more customers. It works because, in the end, B2B companies are still selling to people, just as B2C companies do.
And because we're talking about people, we're talking about building relationships. In fact, working with influencers is a lot like dating in the online world, where Google and Twitter stand in for OK Cupid, initial outreach is the equivalent of meeting for coffee, and greater commitment happens only after you spend a fair amount of time in each other's company.
Let's talk about the first step in sparking this relationship: figuring out which influencers are a match for your business.
Finding the one
Discovering B2B influencers can be a little challenging. They often occupy a smaller niche and may be harder to identify than your typical consumer blogger. You will invest time in research, no matter how you decide to do it, but the better your targets, the more effective your outreach and eventual influencer marketing will be.
Not every influencer is the same, and you shouldn't base how good they might be for your business because they have the most followers. For authenticity and effectiveness, an influencer's point of view should overlap with the message you want to deliver. Influencers are, in many respects, a surrogate for your organization, so choosing wisely is important. They should have a reasonably large following and post and engage regularly.
To connect with the right influencers for your company, first you:
Research and rank them. You can do this for free, by paying for a tool, or with a combination of both.
Google search keywords related to your industry. Find individuals and then navigate to their social media accounts and blogs to further investigate their content and following. Also, use Google search to review various published lists of influencers.
Twitter search topics and industries for popular terms and accounts to explore.
If you're not ready to invest, try the free options offered by some influencer analysis tools. BuzzSumo will show the top 10 results in a keyword search for bloggers and influencers, for example.
If you are ready to invest, search online for tools you might want to try. This PC Magazine article is a good place to start.
(How do we research influencers at Marsden Marketing, you might ask? A combination of Google and Twitter search and a media and influencer database we subscribe to. We find that the combined search gives us the greatest influencer universe to explore and refine.)
Only then do you make your next move: reaching out.
Getting to know each other

Your mother probably told you that it's smart to take it slow in relationships, and the same is true with influencers.

Once you've identified who you want to pursue, read their websites, blogs, social sites and press mentions. You need to make sure that an influencer's expertise and reputation lines up with and will be helpful to your company. You also want to make it clear that you know the influencer's work. Nothing dooms a budding relationship faster than showing you don't really understand an influencer.
Next, start to create a relationship by actively engaging with social and/or blog posts. Like, comment and retweet away – frequently, but organically. You don't want to stalk; you want to capture an influencer's attention in a positive way. Only then do you approach an influencer with a clear proposal on how you'd like him or her to work with you.
Getting together
B2C businesses often give products to influencers to use and review. This strategy isn't always available to a B2B business, though some are getting more creative and trying it. But content still generally is the way to a B2B influencer's heart. You can:
Write content that they share or quote. Send an influencer a link to your latest blog, article or white paper to see if it interests him or her.
Develop content that they post. Offer to write a guest blog or article.
Collaborate on content. Develop a co-hosted webinar or write an e-book together.
If you're really lucky, you'll meet IRL and make a presentation or moderate a panel together – the ultimate success in influencer relationships.
Remember that 11% statistic for B2B companies with influencer marketing programs? Well, many sources say that such efforts are expected to explode in the coming year. That means many prospective partners might be snapped up by the time you're ready to get in the game. Influencer marketing takes work and time, and it might not be for every B2B organization. Just be very sure of that before you opt out of the dating pool.