If you're thinking about repurposing content, you've probably ended up here for two main reasons:
You need new content but don't have the resources (time, team, money) to push something out
It's crunch time, you have a lead generation goal you need to hit and you're looking for a quick way to get more out of investments you've already made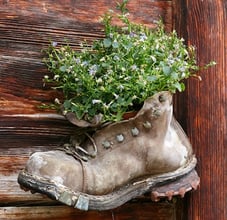 You're in luck! The Marsden Marketing team strongly believes in repurposing and reusing content to extend its life and maximize the effectiveness of your lead generation programs. There are many benefits, including saving time, increasing return on existing content, and creating breadth of assets across a topic (which helps improve SEO and user experiences).
We have some impactful proof points that show it, too, having recently repurposed an SEO checklist into a downloadable asset. It took less time updating this asset than we would have spent on creating a new one and, as a result, generated five times as many views and many new leads.
Interested in learning more? Let's dive in.
Steps to Repurposing Your Existing Content and Getting More Leads
Step 1: Identify the lucky asset to be given new life
Choosing which asset to invest in can be approached from a few different ways. A good bet is to take a look at what pieces of content are getting good traffic. If you have one asset that consistently drives visits or conversions, then an updated version is likely to increase its relevance for your current prospects and visitors.
When choosing a piece of content to repurpose, consider whether or not it's still relevant or can be made relevant again. Devoting additional time and money to a tired topic is never a good plan.


Step 2: Decide on the new format for the repurposed asset.
Often times, marketers painstakingly generate high quality content that, for some reason, just doesn't seem to land with their intended audiences. If you can confirm the topic is of interest to your audience and the research supporting your content is accurate, then perhaps the presentation of the content just wasn't right.
For the SEO checklist, we decided it was in a compelling, easy-to-use format for our target audience. We chose to keep the format the same but refreshed the design of its landing page and downloadable file, along with updating the actual items in the checklist to reflect changes in SEO best practices.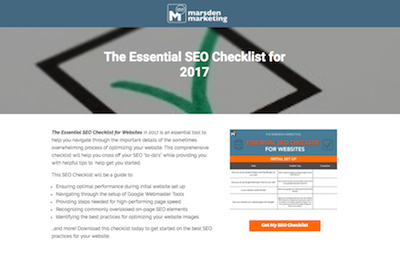 Before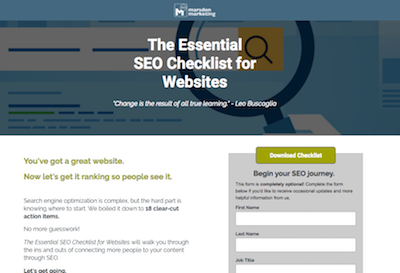 After
Step 3: Re-launch and promote your "new" asset
Spread the word! With a metaphorical fresh coat of paint and a new-found outlook on life, get your repurposed asset out for your followers, subscribers, and visitors to see. Just because someone may have seen your LinkedIn post for this asset a year ago, doesn't mean they remember or couldn't benefit from the fresh information you've added. For launch of your lead generation program, consider creating promotion plans for a few key audiences outlined below.
Promote Your Asset to These Four Audiences
Existing visitors/followers/subscribers
Showcase the repurposed asset on your digital channels just as you would an asset created from scratch. The new design, title, or format deserves the red-carpet treatment. Your existing audience is likely interested in this content (as your analysis in step one should have confirmed).
New audience members
Consider paying to promote your repurposed content. You should have chosen a piece that has a history of high performance, so paid posts on LinkedIn or Facebook are more likely to attract new visitors and leads. If you've repurposed your content into an eBook or checklist, use in-feed lead capturing forms to make converting even easier. If you've repurposed your content into a slick new video or infographic, use a paid post to create custom audiences that can be retargeted with a gated asset later. These tactics are great when thinking of ways to spruce up your lead generation programs.
People who viewed/downloaded previously but have become disengaged
Showing someone there's something new is a great way to re-engage cold leads. Consider emailing an ungated version of the asset to cold leads, highlighting the new info they missed out on the last time they viewed the asset. This doesn't technically generate new leads, but could help generate new SQLs or opportunities.
Current prospects and opportunities
Be sure to circulate the repurposed content internally so sales team members or account managers can share with people in the sales funnel. It's a great opportunity to show added value to potential clients, especially if your asset addresses one of their primary pain points. Once the deal closes, you're sure to get a high five from the rep (or maybe not, but you'll know you helped).
Our repurposed checklist became one of the top performing blogs that we posted in the summer.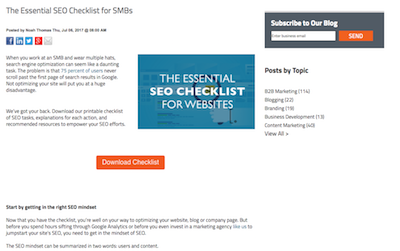 The Results of Repurposing Content
One more mention of the Essential SEO Checklist I've mentioned throughout this post. In short, repurposing this piece of content has been a win. The first version of the checklist showcased on landing pages and blogs and was live for 21 months, averaging 30 views per month. Since it was an ungated asset, it didn't generate any leads.
After updating the checklist and landing page with new information and a new design, the blogs and landing pages featuring the checklist average 170 views per month. The new version is also a gated asset with a conversion rate of 3.27 percent, which means we're generating leads that we previously would have lost out on.
Now get out there and (re-)create! And if you're interested in more marketing tips, tricks, and trends, subscribe to this blog for weekly updates from the Marsden Marketing team!