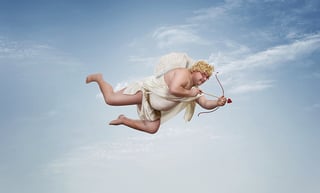 "Marriage is a wonderful institution, but who wants to live in an institution?" — Groucho Marx
You court each other. You pitch a little woo. We all know first comes love, then comes marriage … then comes your marketing agency proposing a branding campaign that you don't want anything to do with. Like sands through an hourglass, these are the agencies of your demise.

Signing the agreement and locking in your marketing plan can often feel like a marriage, bringing two parties together for better or worse.

So how do you avoid the worse and keep things better? By creating a strong foundation in these five areas, you can create a relationship that is happily ever after.


Trust
You've been through stuff. You've got baggage. However, that doesn't mean you can't open yourself up to another agency to market once again.

Trust should be cultivated in the early stages of the relationship. You've played the field and found the one. So how do you build trust with your agency?



• Discuss your needs. Can they talk the talk?

• View their work. Does it fit what you are looking for?

• Check references. Do they have a good reputation?

• Examine their capabilities. Are they leaders that can truly guide your marketing efforts?


However, once you make that leap, trust often boils down to one thing: execution. Is your agency establishing promises (goals and deadlines) and living up to them? As in all relationships, actions speak louder than words, and broken promises only end in heartache. It's not always easy to let go and market again, especially after you've been burned before, but remember your agency wants you to succeed as much as you do.

Communication
In the romantic masterpiece "The Little Mermaid" we learn the importance of using our words after Ariel signs away her voice.

While communication doesn't mean you have to email or call every hour (hello, stalker), you will need to take a few steps to keep your relationship alive. However, communication shouldn't feel like work; it should feel like two parties are equally engaged in the process. To create a solid stream of communication with your agency, take a vow to:

• Establish the best tools to communicate with everyone.

• Set clearly stated goals.

• Determine a regular meeting schedule.

• Agree on a process for reviews, evaluation and deadlines.


Collaboration
Just like grandma used to say, stop worrying about who wears the pants in the relationship since a relationship works best when no one wears pants. A relationship is all about give and take. Your agency should push you, but in return, you should push them as well.

The best relationships are ones in which the agency is your partner, your collaborator or, as the kids say nowadays, your Bae. To create this spirit of collaboration, you should:

• Brainstorm: Plan regular sessions where you bounce any and all ideas off each other. Make sure to have an eye-roll check at the door.

• Set expectations: Everyone should have a role and be able to openly communicate what is working and what isn't.

• Actively listen: Stop pretending to listen when you are only waiting to respond. Also, your smartphone can do a lot, but engaging face to face is not one of them. Put it down.

• Inspire: Collaboration is about keeping it positive. Congratulate someone on a good job and don't poopoo an idea because it wasn't yours.


Also remember that every relationship has its ups and downs. You won't always see eye to eye. If we always agreed with you, that would make two of us who were wrong. However, part of a good relationship should mean that we can rationally talk through an approach and come to a common understanding.

Feedback
I know we should all respect opinions, but sometimes idiots happen. Thanks to the election and social media, the rise of opinions is up 537%, according to Fake News, and everyone has something to say.

This, however, is not the kind of feedback that you or your marketing agency need to create a successful relationship. To give constructive feedback, remember:

• Timing is everything: Share your feedback in the proper environment at an appropriate time with the right person.

• Use facts: Don't focus on the actual person. Use facts to make your point about the project. Even with today's alternative facts, real facts still carry more weight.

• Make it a conversation: You are sharing your side, so make sure you listen to the other side as well. You may not have all the facts yourself.

• Use your words: Show some kindness and empathy in your word choice if it's a tough issue, but talking around the point only prolongs the agony.


Commitment
Now we need to address the scary C word: c-c-commitment. You have proven you are loyal: you have checked your AOL email at least twice a day since 1989.

Commitment with your agency isn't about the retainer or contract. It means that you are all in when it comes to working together to deliver the best program possible. To show your commitment:

• Be responsive: Timely communication and support from both sides is key to a healthy relationship.

• Meet deadlines: Just as you wouldn't want your agency to miss a deadline, you don't want to be the one holding it up either. Deadlines move projects along.

• Seek improvement: Reporting, data and metrics should drive whatever you are doing. Analyze the information you have to make the program better.

• Focus on quality matters: Quality is about showing respect to what you are producing, instead of just knocking it out to get it completed.


While people may say there are plenty of marketers in the sea, finding the right one to partner with is not always easy. But when you do, take the time to commit to making it work. Commitment is about building a relationship with your agency in good times and bad until 5:30 p.m. do we part.