Companies decide to redesign their website for a number of different reasons; to generate more leads, to reflect a new business focus, or simply to adapt with new design trends. Whatever the goal may be, a well-designed website can be a company's most effective tool for growing their business.
Redesigning can seem like a huge undertaking, especially for those who may lack extensive expertise internally. And even if your'e considering a "refresh" rather than going back to the digital drawing board, it can still be daunting. No matter what prompted a redesign project, it's important that companies start the process by asking the right questions to ensure maximum impact and benefit for their business.
In this infographic, The 10-Step Checklist For Your Next Website Redesign, you'll find a helpful list of the most critical business questions. This checklist is a must-have tool to help navigate you through the important elements your website redesign, regardless of complexity. It addresses fundamentals such as:
How to determine clear goals for your website
Why you should create a Unique Value Proposition
How to design your website to attract your ideal buyer personas
Optimizing your website for search
Plus - tips for creating an ongoing content strategy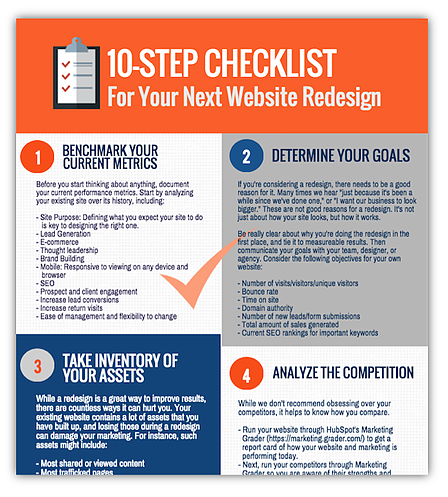 Looking for a team to guide you through your next website redesign?