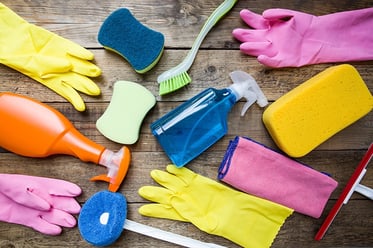 Email can be a great tool for B2B marketing. In fact, email is 40 times more effective at acquiring new customers than Facebook or Twitter (Campaign Monitor). It's a proven way for your business to attract new customers, gain exposure, and build relationships with your customers and prospects. However, old or purchased email or database lists can have a lot of problems associated with them.
In a recent blog post, we told you how to create web forms to capture better data from your visitors. Once your forms are optimized, the next step is to create a process for monitoring, refining, and segmenting your data. Utilize these best practices to help clean out and maintain your lists for better email marketing, reporting, and overall database management.
Why You Need to Clean Your Lists
The first step for any marketing campaign is making sure you have a strong list of contacts to send your information or offer to. However, too many spam marks, bounces, and unsubscribes from your emails can lead to suspensions from your email platform, blacklisting of your email domain, and an unsuccessful email campaign overall.
Most email platforms will remove unsubscribes and spam requests from your list automatically, but you can't rely on it to do everything for you. The best way to increase the successfulness of your email campaign is to monitor and clean it out frequently to insure you have the most up to date, active, and targeted subscribers as possible.
How to Clean Your Lists
Cleaning out your lists can be very tedious and time consuming, but it will bring about rewarding results in the end. It can be done manually or through email verification tools, such as BriteVerify. BriteVerify allows you to input a list of email addresses and then it quickly scans for invalid and unknown email addresses to help you lower your bounce rates. Even if you use a tool, you will still need to go in manually to check for misspellings, unsubscribes, and inactive subscribers.
If you choose to not use a tool, you need to first check for misspellings, errors, and distribution accounts (i.e. sales@company.com). Next check your bounce rates. There are two types of bounce rates: hard and soft bounces. A hard bounce means there is no chance the email will be delivered, while a soft bounce means there is a temporary problem with the email server; the server could be temporarily full or down, or you may have gotten caught in their spam filter. Next, check for inactive subscribers, or people who have continuously not interacted with your emails over the last few months. If your CRM or marketing automation platform allows for lead scoring, you can easily set up parameters to score your database contacts based on demographic, interests, and activities (or lack thereof) to determine who your dormant or "dead" contacts might be. You might want to try a reengagement email campaign before permanently removing them. Lastly, remove any spam or unsubscribe requests. Most email services will remove these automatically, but if not, this can hurt your sender reputation in the future.
Proven Results
Email marketing can be a powerful tool, if you utilize it correctly. The best way to increase open and click through rates in the future is to ensure you are sending relevant, useful content to your target market through personalized emails. In fact, Campaign Monitor found personalization increases open rates by 26%. By cleaning and maintaining your lists, it will ensure you have removed unwanted and incorrect emails, and are only marketing to those contacts that are active and engaged.
Not only do you need to clean out unsubscribes, misspellings, fake addresses, and bounced emails, you also need to segment your lists in order to send more targeted emails. This will also aid in open and click through rates and help to decrease opt-outs for future campaigns. A well-maintained list will lead to lower email costs, more active subscribers, higher open rates, and a better lead generation program.
Looking Forward
In order to not have to start this whole process over again from the beginning, follow these tips to maintain the cleanliness of your list in the future. You should first build a company policy around list management and decide how often you will review and clean out your lists. Then you can add in gated content to your website for content like whitepapers, demo requests, or webinars. This will help to increase conversions and continue to build your email contacts.
Adding in an opt-in or subscription form for blog subscribers will also help you add email contacts and signal that your contacts are interested in your products and services. In addition to adding opt-ins, you need to make it easy for contacts to unsubscribe from your emails to deter them from marking them as spam. Lastly, don't purchase lists! The contacts you acquire from purchased lists are most likely not in your target market and do not want to hear from you. They haven't opted-in to receive information from you and will most likely mark your emails as spam, thus, hurting you in the future.
In the end, it is not about how many subscribers or contacts you have, but the quality of these subscribers. You should not measure the success of your email campaign by the number of emails you send out, but by how your subscribers react to your campaign.
Now that you have an immaculate email list, it's time to start sending out effective emails to your contacts. Check out our eGuide for useful tips.