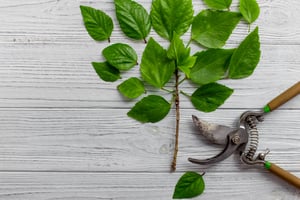 Welcome to the second installment of our series. Last week we showed you how to clean up your website, today we're going to tackle SEO.
Over the years, "SEO experts" have tried to find shortcuts to influence search engine rankings. Examples include hiding keywords in the background of websites and hiring hourly workers to create new backlinks.
Each time a new scheme is developed, search engine algorithms are updated to punish offenders. The most dangerous SEO shortcuts often result in bad backlinks. Search engines penalize websites for bad backlinks to encourage the creation of useful, reliable content.
Even if you're not engaging in link schemes, bad backlinks can occur by mistake. Without proper monitoring, they can accumulate like dust. If that's the case, it's time to grab a feather duster and get to cleaning.
Follow along!
Identify Bad Backlinks
Before getting into the bad, let's focus on the good. Good backlinks are those from trusted sites. For instance, a mention in the Harvard Business Review citing your recent study on improving supply chains is a great backlink.
Why? Because the Harvard Business Review is a trusted, known entity for business intelligence. Having your study mentioned means that they, in turn, trust your information.
Now for bad backlinks.
Bad backlinks are those that come from unrelated and untrusted sources that have violated Google's webmaster guidelines. These type of links can wreak havoc on your domain authority (how you rank on search engines for relevance regarding a specific subject area or industry) and should be monitored, identified, and removed when possible.
To start, you need to choose a tool to identify and organize the backlinks your site has accrued. Depending on the level of information and analytics required, you can choose tools like Ahrefs, Monitor Backlinks, and Majestic SEO.
After choosing the right tool for your company, one that aligns with your goals and budget, the next step is to delve into the data.
Here are a few quick ways to get started:
Sort your results by domain quality. Most backlink tools will provide a way to rank the domains that are linking to your website (sometimes called a domain rating or domain authority). Any domain with a score lower than your own site might be pulling down your rating. Sort based on this criterion to determine backlinks that are not providing value and ideally aim for anything above 40. If your tool doesn't offer this capability, you can decide if a backlink is good or not by looking at each URL or visiting the site (Tip: Be careful about visiting URLs that you're not familiar with).

Check the country of origin by looking at top-level domains (TLDs). The legitimacy of these backlinks will vary based on the nature of your business, but let's assume, for instance, that you're running an ice cream shop in San Diego, California. It would stand to reason that any backlink from Antarctica (TLD - .aq) might be a bit out of the ordinary and need further review.

Identify links from blog comments or others that seem out of place. There may be instances where the link comes from a quality domain but doesn't make sense for your company. These, too, should be prioritized for cleaning.
Request Removal
After you've identified the backlinks you'd like removed, having the links taken down comes next. Because the links exist on web properties that you do not control, the path becomes a bit thornier. You may not be able to remove all your bad backlinks (you can and should, however, disavow any bad backlinks, which we will cover in the next section).
You'll need to contact the webmaster of each of the sites where you have a negative backlink. Be specific about the link you want removed. This will save the webmaster time and increase your chances of having it taken down. Finding webmaster contact information may be another roadblock, but free services such as ICANN and WHOIS can enable your search for registered domain owners.
Allow some time for the webmasters to respond to your request. As you can imagine, it might not be at the top of their to-do list. If they respond with a request for payment in exchange for removing the link, move on and mark that one to be disavowed. Never pay someone to remove a bad backlink. Requesting removal of backlinks is a lot of work (and in the end, you may only get between 10-20 percent of the links removed). The process, however, is necessary for cleaning up your site. One last step to removing stubborn backlinks is creating a disavow report for Google.Think of it as dusting those hard-to-reach areas behind the refrigerator.
Disavow Bad Backlinks
The Google disavow tool is a way for webmasters to tell Google which links are good and bad. It should be used after all other steps are taken to remove unwanted backlinks.
As Google notes:
This is an advanced feature and should only be used with caution. If used incorrectly, this feature can potentially harm your site's performance in Google's search results. We recommend that you disavow backlinks only if you believe you have a considerable number of spammy, artificial, or low-quality links pointing to your site, and if you are confident that the links are causing issues for you. In most cases, Google can assess which links to trust without additional guidance, so most normal or typical sites will not need to use this tool.
To use the tool correctly, you'll need to create a text file containing only the links you want to disavow. You can also renounce entire domains if you've tried to remove multiple links from a single source.
Now that you have a clean backlink profile, it's important to continue using a tool to monitor new links to your site on a more regular basis. Develop a process and cadence that is easy to repeat to keep your backlink profile dust-free.
Ready for the next installment?
Subscribe to our blog and stay tuned for part 3 of this Spring Cleaning Series.