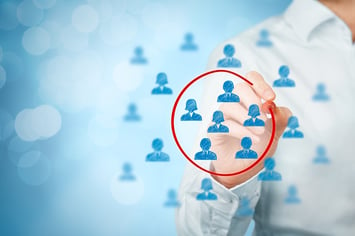 Creating leads is only part of the challenge. Creating the right kind of leads is often a much more complex issue. According to Hubspot's "Not Another State of Marketing Report 2020," the top priority for marketers in 2020 is generating leads, while a primary driver for optimizing performance remains audience targeting.
This is especially difficult when you are a B2B with a narrow audience that has a critical need of which they are often unaware. It's a needle in the haystack search for marketers to be able to not only locate and create awareness among the niche audience, but also generate true demand for the offering. It's about having the right combination of planning, implementing, and optimizing.


Background
With property taxes on businesses an almost $300 billion market, Real Property Tax Advisors (RPTA) helps enterprises uncover the actual valuation of their properties, which includes real estate, machinery, equipment, and inventory. The majority of enterprises manage property taxes as an expense and rarely include them in their strategic planning, viewing them as an unpredictable operating cost dictated by fair market value and local and state laws. RPTA estimates that about 90% of commercial property is over assessed resulting in higher property tax, but most organizations lack the internal resources, knowledge, and expertise to address this issue. Yet it remains their largest cost of occupancy.


The Challenge — Creating Awareness and Demand
RPTA began their marketing efforts with a solid database — existing clients and qualified prospects. RPTA was experiencing slow but steady growth through their existing client base, referrals, and nurturing the existing prospects. However, to accelerate the agency's growth meant reaching a whole new audience with the message of property tax savings and appeals.
But there were a lot of challenges to solve to reach those net new leads:
How do you target an enterprise that isn't aware it is overpaying in property tax?
How do you target an audience that isn't aware it can actually create a plan to manage valuations?
How do you create demand for the property tax appeal process when it has such a negative connotation?
And how do you communicate all of this to the enterprise level CFOs managing the appropriate property and equipment footprint, especially those hit by external obsolescence factors such as changes in consumer demand or technology disruption?


The Marsden Approach
Everything begins with headwork before footwork. A successful demand generation program blends strategy, research, tools, and data to create the most effective approach for the unique opportunities that lie ahead. For RPTA this meant we had to answer a series of questions to develop the strategy:
What are the ideal targets? (industries, company sizes, locations, specific accounts)
Who are the decision makers and influencers? (buying groups, titles, pain points)
Where do they get their information?
Do we have a realistic budget to reach them via these channels?
What type of content do they interact with?
What is the follow up?
With a clear picture of who RPTA was trying to reach and the message that best resonated with them, Marsden then began the process of evaluating content syndication and paid channels to better understand where RPTA could most effectively address its very specific target audience while staying within budget.


Content Syndication
The goal was to be where RPTA's prospects were, and from our buyer personas we knew that this audience, in particular, relied heavily on industry specific media outlets to continue to provide relevant updates and thought leadership. After an exhaustive review of outlets and programs, we found the strongest opportunity was a webinar with CFO.com. Through this, we were able to limit the promotion to the very specific target audience.
But we also knew that it wasn't enough to just generate leads, we had to up level this audience's education on the issue while generating demand for RPTA's services at the same time. To achieve this, we created an educational webinar that walks through the leading reasons for over assessing through storytelling, using each of the main target industries as examples. Because it was educational and not self-promoting, we were able to offer Continuing Professional Education (CPE) credits as an added value for those attending.
All new contacts were brought into RPTA's database. Over half of the contacts from the webinar were ready to pass to sales, while the rest were added to an automated email nurture with lead scoring monitoring their progress.


Paid Advertising
Developing an ad strategy based on your audience data is the critical first step in defining a digital advertising program. However, using the data gathered from the campaign itself to optimize the channel becomes the critical step that will dictate its ongoing success.
For RPTA, research had proven that for the target audience LinkedIn was the primary social channel and search wasn't as viable because of a lack of awareness around the key terms. For our buildout, we began by targeting key accounts with a variety of materials such as whitepapers, case studies, and ebooks. By focusing on these key accounts, we were able to market to a known audience while testing what they would most engage with and where that placed them in the funnel.
Over time, it became obvious that promoted assets focused on specific pain points with clear keywords such as "due diligence" and "risk management" were top performers. With that knowledge at hand, these assets were rolled out to larger audiences, targeting by title and company size as well as group memberships.
For ongoing net new leads, LinkedIn paid programming proved to be the strongest channel for RPTA's demand generation program.


The Results
The approach for content syndication proved to be a success with the audience. The webinar produced 177 qualified leads with 93 of those being sales ready. Post-survey results from attendees actually had 100% answer yes to the learning objectives being met as well as the program materials being relevant.
For the paid advertising program, the average cost per click has been optimized to be a quarter of the original costs, with cost per leads hovering well under half of their original costs.
As a business, RPTA has seen steady growth of 5 to 10% year over year; however, RPTA forecasts that they will double profits for 2020 by tapping into these new leads.


The Impact
"Marsden crafted and delivered a demand generation program that got us more qualified leads in the first 3 months than we'd seen the past 3 years."
Anne Sheehan
Real Property Tax Advisors
Are you looking for help with generating quality leads?

Let us take that off your plate so you can focus on closing sales.