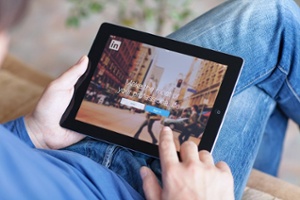 B2B companies must be hyper focused on connecting with their target audience in the right channels. The number of people involved in B2B purchases decisions is 6.8 people on average (CEB), and they each spend their time in a variety of places consuming various kinds of content.
However, LinkedIn offers a meeting ground for all professionals — not just for those seeking new business or new roles. LinkedIn is the world's largest global professional community with more than 580 million users. Additionally, it's been cited as the most trusted social platform by Business Insider. While members of your target buying groups may have different demographics and behaviors, they are most likely a part of this community.
LinkedIn should be a component of every B2B company's growth strategy. It's a powerful tool to get in front of new audiences, engage with your existing lead and customer databases, and position yourself for success. The rest of this article will focus on introducing you to some of the core content features of LinkedIn and provide best practices for your LinkedIn page and ad campaigns.
LinkedIn's Core Features
As to be expected with social networks, the primary vehicle for content consumption on LinkedIn is the feed. This is the timeline of news and posts from a user's network of connections. Within the feed, users see posts from their connections, when their connections were mentioned in the news, content that connections have interacted with, and sponsored content.
Content within the LinkedIn feed can be text posts, images, videos, and links. LinkedIn recommends using a variety of content types, from informational posts and videos to gated eBooks and webinar promotions.
Hashtags can also be a component of each post. Users can follow hashtags and businesses can associate their pages and posts with topics via hashtags. While not quite as ubiquitous on LinkedIn as on other social networks, hashtag adoption is growing and will be a key component of audience targeting in the near future.
The best way to create content that stands out is to use compelling imagery. When sharing links to lead generation assets or in-platform posts, always use a custom image. Quotes, statistics, or graphics are great and easy to create on an ad-hoc basis with basic graphic design tools. If you really want to step up your game, use custom stock images. Get the office together once a year with a photographer and snap several versatile shots.
Best Practices for LinkedIn Pages
LinkedIn pages for companies are the core of an organic strategy on LinkedIn. Pages serve as one of your primary digital locations, validating your business's credentials and providing credibility. At a minimum, pages for B2B companies need to be complete and show activity every 30 days.
Minimum Requirements for Successful LinkedIn Pages
A complete profile with company logo, tagline, description, and industry

Posting cadence of at least one post every 30 days (once a week is even better)

Have at least 150 followers
The most difficult part of building a new page is probably gaining at least 150 followers — it's the one aspect that's not solely up to the page admin. However, this is the most critical. LinkedIn's data shows that once pages reach that threshold, they see five times more page views, eleven times more clicks per follower, and seven times more impressions per follower. If you're launching a new page or don't have 150 followers, do whatever it takes to get there. Make sure all company employees like the page, ask your friends and family, and continue promoting your page through posts with a call-to-action to like the page.
Best Practices for LinkedIn Ads
After establishing a baseline level of organic activity through pages, many B2Bs turn to LinkedIn for advertising. LinkedIn is an incredibly powerful advertising platform as it allows you to create narrow segments based on information related directly to business buyer personas— job title, company size, seniority, location, interests, and more.
There are a few advertising products available on the platform, but the most commonly used is sponsored posts. Sponsored posts appear in users' feeds just like organic posts. They can be used for targeting new audiences as well as previous website visitors or existing contacts.
As with all advertising creative, it's critical to stand out from the crowd and break through the noise. LinkedIn recommends using quotes and statistics as one way of doing so, but consider your own buyer personas and what may pique their interest.
Tips for Creating Sponsored Posts
Be creative with imagery (again no stock images)

Use a strong call-to-action

A/B test varying formats over time

As previously mentioned, there are many ways you can segment LinkedIn users to serve them ads. While you can create narrow audiences, with maybe only a few thousand users, LinkedIn recommends keeping audiences of at least 300,000 users.
Most B2B companies have ideal customer profiles that can be leveraged to create ad audiences, so definitely start with that information if you have it documented. At a minimum, ad audiences should limit impressions to users of desired function (ex. finance) and seniority (ex. CXO) OR job titles (Chief Financial Officer). Feel like taking it up a notch? Test two campaigns, one targeting CXOs in finance and another targeting CFOs.
Along with targeting individuals, it's a great idea to limit your ads to companies that are within your target industries and sizes — provided it doesn't make the audience drop below 300,000 users. This level of targeting allows you to provide more tailored content for your posts, much like an industry page would do on your website.
Targeting Ideas for Sponsored Posts
Keep a minimum audience of 300,000 users

Use function and seniority OR job titles (or test both)

Add in company segmentation if possible

Tailor posts to selected segments

Budgets for LinkedIn sponsored posts operate on a pay-per-click (PPC) basis. You are able to set a cost per click bid (or have it automated), set daily spend budgets, and overall campaign budgets. For the highest level of engagement, spend at least $100 per day. Many B2B companies can expect a $150 cost-per-conversion, although we have several clients that outperform this benchmark.
Conclusion
LinkedIn has become the go-to social channel for B2B companies and it's clear why. As you prepare to get started or optimize your company's LinkedIn presence, use this checklist to set a solid foundation upon which you can test and grow.
Need help planning other tactics and channels to leverage for your growth plan this year? Check out our new guide.