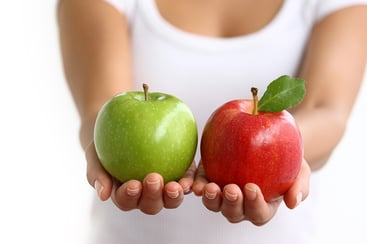 Whether you're trying to win an argument with your boss or test a new idea, the best way to prove your results is to test different theories and measure which performs best. A/B testing answers all your lingering questions about design, colors, fonts, copy, photos, and more. Utilize A/B testing in your B2B marketing campaigns to increase your conversions and optimize your content by understanding what your target market is most drawn to.
What is A/B testing?
A/B testing is when you compare results from one item (version A) against a similar version of the same item (version B) with one major difference. After a designated period of time, measure your results and choose the element that performed the best. A/B testing is the best way to test your hypothesis and determine what is most important to your target audience. Ultimately, you can always think outside the box and test just about everything, but keep in mind best practices of inbound graphic design as you go.
What to test
The better question is what not to test? You never know what will work the best until you try!
Email
Getting your customers to not only open, but also read your emails can be a real challenge. Test different subject lines, sent "from" email addresses, times of day, and preview texts. Measure the success of these elements by looking for higher open rates. Inside the email, measure success by click-through rates and test different types of formats (images, bullets, and checklists), personalization in the greeting, and CTAs.
Website
Your website is what your customers see first, so make sure to leave a good first impression and convince them to look around. Play around with the look and feel of your site by testing elements like the images on your home page, the color of hyperlinked text, CTA placement, or the order of items on your navigation bar. You can also test the messaging, offers, and testimonials available on your website to make sure they resonate with your buyer persona.
Headlines
Headlines on your landing pages, content, blog pages, websites, emails and more are where your visitors' eye are immediately drawn. Make sure to put the most important information there. You can test font size and color, text alignment, and tons of variations on the wording of your titles including length, positive vs. negative language, or incorporating numbers (for example, "5 Ways to A/B Test Your Emails").
Calls to Action
Calls to Action (CTAs) should be placed throughout your emails, landing pages, and website. Try experimenting with color, placement, length of text, font style and size, and wording. HubSpot also allows you to experiment with slides in CTAs.
Landing pages
Your landing pages should drive your customers to a specific offer or piece of content. Test the content of the landing page, from the copywriting (length, style, font, use of bullets, personalization) to the offer (length, type, style) to the CTAs and form (number of form fields, smart forms, required fields, CTA, color, location on the landing page, etc.).
Pay Per Click
With Pay Per Click (PPC), it is very important to closely monitor and make changes since you are paying for every click. Within the ad, experiment with the headline (capitalization, punctuation, and length), description lines, URL, offers and ad extensions. Also, test keywords, bids, and Dynamic Search Ads, which automatically generate your ad copy and keywords based on the content on your landing page. You can also try different types of Google AdWords campaigns

,

such as retargeting, search campaigns, display campaigns, video, and shopping to see what works best to reach your target audience. Lastly, continuously test the landing page to insure you are getting a high quality score.
Tools
Certain tools can help measure your efforts and make A/B testing easier.
A/B testing can bring real value to your organization and should become an integral part of your inbound marketing process. A/B testing is a continuous process and you should never stop testing and improving. For more ideas stay up-to-date on what your competitors and market leaders are doing and what is working for them.
Considering redesigning your website? Read our infographic, The 10-Step Checklist for Your Next Website Redesign.