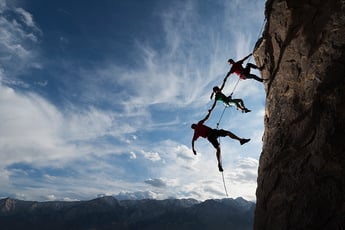 AUTOMATION. The denotation of the word is "the technique of making an apparatus, a process, or a system operate automatically." (Merriam-Webster) Translation: The EASY button. The purpose of Marketing Automation is to take tactics that typically require a lot of individual effort and attention and streamline them into a one-stop shop.
Marketing Automation (MA) is a big, fancy word for a big, fancy thing. It is very difficult to consolidate all of its greatness into one box, so here are a few of our favorite definitions:
Marketing automation is a category of software that streamlines, automates, and measures marketing tasks and workflows so that companies like yours can increase operational efficiency and grow revenue faster. – Marketo
Marketing Automation is a subset of customer relationship management (CRM) that focuses on the definition, scheduling, segmentation and tracking of marketing campaigns. The use of marketing automation makes processes that would otherwise have been performed manually much more efficient and makes new processes possible. – Marketing Automation Times
Consolidating all of the individual time spent into one software package is one of the most blatant ways that Marketing Automation can make your team more efficient, "but that's not all" (*infomercial voice*); within every Marketing Automation platform are tools that amplify the efficiency even further. If used properly, these MA tools will help to make both your Marketing and Sales teams function more efficiently.
Real Time Sales Alerts
One of the most time-consuming parts of the Marketing and Sales cycle is the watch and wait. Tracking individual leads as they navigate your content and deciding whether they are "sales-ready" can take a substantial amount of time, multiple technologies, and utilize quite a few human resources. MA software provides real-time alerts to sales based on parameters that are set within the program. That means no more watching the grass grow; just a ping when it's time to mow.
Lead Scoring and Lead Nurturing
Lead Scoring
Lead scoring is a tactic used by marketing and sales to grade potential customers and their "sales-readiness." These scores are based on a customer's active interest in a product or service. Lead scoring has a direct impact on efficiency, allowing the sales team to focus efforts on prospects that are more likely prepared to quickly transition into customers versus chasing down contacts that might not be really interested, much less, ready to buy.
Integrating your MA software with your CRM will help your team identify and qualify leads by documenting patterns and managing lead scores. Delegating that work to an automated system not only frees your team from doing the work, but increasing the likelihood that you and your team are impacting the right people, in the right way, at the right time.
Lead Nurturing
Once your marketing and sales teams are able to establish and agree on an ideal customer profile, most of the hard work is done. Another way that MA amplifies the efficiency of your team is by clearly defining who is responsible for said leads based on their score and stage in the buyer's journey.
"Lead nurturing prevents your sales reps from wasting time talking to and persuading prospects who aren't sales ready. By "dripping" marketing content and 1:1 messaging to your prospects over time, you stay top of mind throughout the length of the sales cycle — and you free up valuable marketing and sales resources to focus on your hotter leads." (Pardot)
Once these expectations have been set, and your leads have been profiled - sales can focus on closing sales-qualified leads instead of expending effort trying to chase and secure buyers who might not be ready to make that leap. On the other side, Marketing can focus on nurturing unique leads that might not be "sales-ready" -- preventing latent prospects from becoming trapped in the marketing/sales spin cycle.
Smarketing
Smarketing is where Sales meets Marketing. An unfortunate reality of many businesses is that the sales and marketing teams operate in silos versus being aligned when it comes to goals and tasks. Marketing automation helps to close the gap between Sales and Marketing in a few ways:
Setup
Although Marketing Automation can function as the well-oiled machine, it doesn't get there without a little elbow grease. Setting up an efficient and effective MA program requires crossing the thresholds of your cubicles and corner offices and communicating. Sharing information about customers and sales goals, working together to define what constitutes a "Sales" versus "Marketing" Qualified Lead, and having a plan of action (re: follow-ups and nurturing) are all conversations that will lend to a more efficient MA Program, and thus, team.
Clear communication is a fundamental part of establishing efficiency in any workplace, and although it seems simple, not always something that happens in the Marketing/Sales world.
Closed-Loop Reporting
Closed looped reporting is another benefit of Marketing Automation that helps to reinforce clear and transparent communication between Marketing and Sales, and serves as a way to identify the success or failure of the program and hold each other accountable. When you are able to identify problems in your processes, then it becomes easier to tweak and reconcile them. Consistently improving your program will generate more efficiency by optimizing both sales and marketing to function at the highest effectiveness.
Despite the multiple definitions for "Marketing Automation" there is one common descriptor that seems to streamlines them all – efficiency. With that said, we would like to propose a new definition for the books:
Mar·ket·ing Au·to·ma·tion (noun) -A tool that can be leveraged to make your marketing and sales teams more efficient.
Still questioning whether you team really needs Marketing Automation? We have the answer.