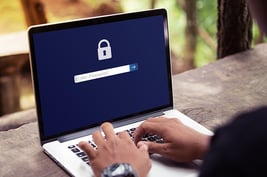 Google announced at the beginning of the year that having an unsecured HTTP website (vs HTTPS) will negatively affect your site's search results ranking. Google keeps its promises. Just this month, the company sent out another warning to webmasters that HTTP sites with forms or input fields will be considered "not secure" in October.
Eventually, all HTTP websites will be denoted "not secure," which means businesses large and small will be impacted if they haven't converted to HTTPS. With the pros far outranking the cons (if there even are any of those), it's time for businesses to switch to HTTPS. Here's why.




Putting the "S" in HTTPS
If you're not a computer expert, you may be wondering what HTTPS means, so let's dive a little deeper into the lingo:
HTTP stands for Hypertext Transfer Protocol, an application layer protocol designed to transfer and receive information over the internet.
The "S" in HTTPS stands for Secure Sockets Layer (SSL). This technology encrypts your website's connection and prevents hackers from collecting your data and your customers' data.
HTTPS is secured via Transport Layer Security (TLS) protocol, which provides three layers of protection: encryption, data integrity, and authentication.

The bottom line? Switching to HTTPS grants significant security benefits to your website, which can make users trust you more and encourage them to visit and share information with you.

You might have heard in the past that switching to HTTPS is costly, difficult to do, and slows down your website. That was true a few years ago. Now, due to better optimization and the prioritization of website security, it's easier and cheaper than ever before.

In fact, you can purchase a SSL certificate to enable HTTPS for your site from a trusted certificate provider for as low as $4.99. After purchasing and activating the certificate, it can usually be installed in less than an hour but could take up to 72 hours to propagate on your site.
Why make the switch?
In addition to better security, three words: huge SEO benefits.

Google, like many businesses, wants to create a secure user experience for its customers. With that goal in mind, Google made the decision to prioritize security in 2017 and favor sites that incorporate encryption and HTTPS. As a result, HTTPS sites win big in the SEO sweepstakes:


Better ranking - If two websites are equal in all respects beside using HTTPS, Google will rank the website using HTTPS higher than the one not using HTTPS. Google's algorithm prefers HTTPS because it wants to prioritize security.



Referral data - If you're looking at Google analytics traffic for your website, you can see the sources your traffic is coming from (i.e. social, referral, direct, organic, or paid). However, when website traffic passes through an HTTP site, referral traffic appears as direct traffic. In contrast, when your traffic passes through an HTTPS site, the referral information is preserved and will appear as referral traffic. That's an important analytics benefit.


Faster browsing – Google offers better rankings to websites that load quicker. HTTPS allows faster browsing speeds and will improve the user experience for your visitors.


Mobile - Google is giving websites with HTTPS on mobile an even larger SEO boost. Also, to convert webpages to AMP (Accelerated Mobile Pages), Google requires websites to have SSL. AMP was created by Google to load mobile sites faster on mobile devices.
And better SEO rankings can lead to higher traffic and, in turn, more conversions.
Our recommendation: adopt HTTPS now
Google will label sites that require any input information, like credit card numbers or passwords, as "not secure" in October.

In the future, Google plans to roll out that label to all unsecured sites, whether or not they ask users to input information. For the time being, sites that don't ask for user information will continue to be labeled with an "i" with a circle. When you click on it, it will tell you that the website is not secure.

Our recommendation: No organization should wait for Google to roll out these new features. Bring security and peace of mind to your users and SEO benefits to your organization by adding HTTPS to your site now. It's easier than ever.
If you haven't made the switch, check out guides from Google for technical tips on how to convert.
If you've already switched to HTTPS, use this SSL checker tool to make sure there are no problems with your SSL certificate. You can verify the SSL certificate on your web server to make sure it is correctly installed, valid, trusted, and doesn't give any errors to any of your users.
Want more great tips like this? Our blog keeps you in the know.