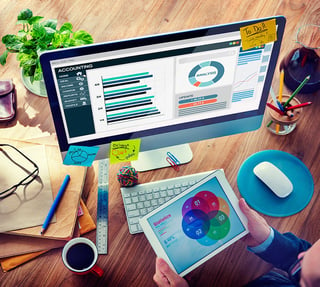 PR's responsibility is to get the word out about your company, but how can your team accomplish this without using technology? In today's digital age, you can't if you want a competitive advantage. PR professionals have to know what happens first when it comes to opportunities for your company, which is why technology is so critical. However, it's less about implementing lots of new software and applications, and more about leveraging specific applications the right way.
As in all other industries, technology has been instrumental in reshaping the face of PR, helping PR professionals save time, money, and manpower. The Internet offers countless PR tools to aid you in your efforts, but not all applications are created equal, which is why it is important to understand what your organization needs help with before you begin your research. Now that everything takes place online, (research, buying decisions, brand awareness, advertising, etc.), it's time to bring your PR strategy into the 21st century. Utilize these online tools to help strengthen your PR presence and efforts.
1. Reputation Management
In order to maintain your brand's reputation, you need to monitor review sites, social media and web content to stay up-to-date with what your customers, clients, and other companies are saying about you. Google Alerts allows you to input specific search queries you are interested in monitoring and get alerts when these queries appear across the web.
Mention is another great tool for reputation management. Even though it isn't free like Google Alerts, it does offer more features and benefits. It allows you to track social media for any parameters you specify, (like mentions of your company), as well as news sites, blogs, and web content.
2. News
Every PR and marketing professional should have their finger on the pulse of the latest industry news. Subscribing to industry blogs and news sites are great ways to stay on top of the latest alerts and trends. Buzzsumo is a useful website that allows you to input a topic, keyword, or web domain and search for the most shared or trending content around your query. You can also use this tool for analytics, monitoring, amplification and more, if you switch to a pro account.
Google Trends is a free alternative that allows you to search for trending topics, as well as see how popular certain keywords are. Utilize this website when creating SEO-driven blog posts, content titles, social media posts.
3. Tradeshows/ Speakers/ Awards
It's important for your PR team to be on the lookout for ways to publicize your company. Attending tradeshows and events, booking speaking engagements, and submitting applications for awards are great ways to get your company's message heard by a wider audience. Doing basic research and searching for events, awards, tradeshows, and speaking engagements is necessary, as is subscribing and joining relevant groups and organizations. Social media will also be helpful for this, especially on sites like LinkedIn where you can join and engage with relevant industry groups. You can also use tools like Cision, a PR software application, to search for conferences, trade shows and other PR-related opportunities.
4. Social Media
Social media websites such as Twitter, Facebook, and LinkedIn are excellent free tools for B2B organizations to utilize to stay up-to-date with current trends, build brand awareness, engage with prospects, customers, industry peers, and influencers, and share their content.
Applications like Klear and Cision will help you find influencers to follow on social media. Both tools allow you to input different criteria to find and build relationships with influencers specific to your industry. Utilizing Twitter lists on Twitter can help you keep track of your influencers and help you search for influencers on Twitter itself.
Other social media tools such as HubSpot's Social Monitoring feature and Zapier allow for social media monitoring (likes, comments, retweets, etc.), posting content, automatic replies to specific actions, and more.
5. Amplification: Engagement and Distribution
Part of PR is putting your company's brand and message in front of industry professionals and your target market. An easy way to do this is through distributing your content, whether by guest blogging, syndicating your blog on other websites, or distributing press releases. Guest blogging involves creating content for websites looking for guest posts that align with their theme or editorial calendar. Blog syndication allows your content to be distributed directly onto a third party site, often as part of a paid subscription.
The best way to search for guest blogging opportunities is through a Google search. The best way to search for guest blogging opportunities is through a Google search, or through a PR tool like Cision that allows you to view editorial calendars. Outbrain and Taboola publish your blog on their network of different sites. This allows your content to be seen by a wider audience and increases traffic to your site in the long run. These tools also allow you to target specific audiences and locations to optimize who is seeing your content and increase your ROI.
Writing and releasing press releases are a big part of PR's responsibility. Leveraging technology and different programs will help make this process easier and distribute your content to a wider audience. Cision is a great application for distributing press releases through PRWeb and MarketWired, or you can distribute directly through PRWeb, Business Wire, and MarketWired. These sites allow you to target specific audiences, connect with brand influencers and track your performance.
6. Monitoring your Success
As with implementing any new technology, it is crucial to measure the ROI of your PR activities to ensure your investment is paying off. Most of the tools mentioned above have their own analytics and reporting tools. Facebook and Twitter have analytics tools built in to measure your social media reach and engagement.
Google Analytics is another great reporting tool to measure your website and web presence. Measuring the organic and referral-based web traffic and conversions generated by your PR activities is a good way to measure the impact of your efforts.
Implementing all of these applications is not necessary for PR success. It is important to evaluate your company's individual needs and determine which programs will bring the most value to your organization. Some tools, such as Cision, are all-inclusive, whereas other tools are more focused and only specialize in specific areas. It is important to have the proper processes and training in place to insure the technology is working to the best of its abilities. Creativity and building personal and professional relationships are still required in PR, but technology will help to deliver these results more quickly and more cost efficiently.
Subscribe to our blog to stay up to date with the latest trends and topics in PR and inbound marketing.