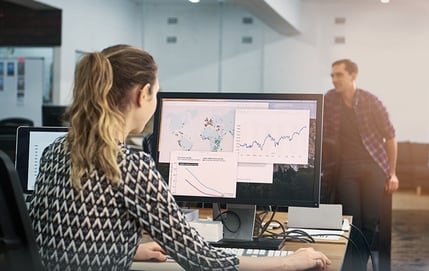 Inbound marketing has quickly become the standard for SaaS marketing strategy. Software as a service businesses are constantly under pressure to grow new sales and reduce the costs of acquisition. Inbound marketing helps SaaS companies meet aggressive goals by offering a scalable solution for generating leads at lower costs. In fact, a report by HubSpot shows that inbound practices provide the highest quality leads. HubSpot's basics of inbound and seven strategies for SaaS inbound marketing blogs offer a wealth of tips for those just learning how inbound can enable marketing teams. However, the real challenge facing SaaS marketers is applying those tactics in practice.

Where do I begin?
Inbound marketing in SaaS organizations requires a deep understanding of your client base and buyer personas. Once you've gained executive buy-in for your inbound program, start by getting a better understanding of people who comprise your buyer groups. Depending on discovery techniques you employ, this task can seem daunting. You may not have many established clients to interview or the budget to purchase necessary tools for data collection. The great news is your internal team probably has more than enough information to get some basic details together on key buyer personas. Ask your sales team about the roles they typically contact, common characteristics of those people, and the challenges that most often arise in their conversations. Your support team will be able to speak to problems of your existing clients and ways they use your software to meet business goals.
It takes a village to start a blog.
SaaS companies in the middle of aggressive growth cycles often find that they don't have enough marketing resources to create the amount of content they need for effective inbound marketing. HubSpot research shows that companies who blog 11 or more times per month see explosive additional traffic relative to companies who blog less often. A startup SaaS company's marketing team may only be one or two people. A small team would need to devote almost all its time to content generation. Therefore, the inbound marketing strategy for SaaS companies should include a content calendar that leverages the knowledge and time of other teams. Incorporate posts into your content calendar that can be assigned to sales, support, and leadership members who can write one blog post every few months. It takes a village to create a blog.
Optimize smarter, not harder.
You should be using paid and organic search with your content, and you should be doing it as efficiently as possible. Your intuition may tell you to go after the whales of search queries, but there are plenty of smaller fish in the sea that are just as enticing. Let's say you have a marketing automation solution. Instead of focusing on generic terms such as "marketing automation software," go for verticals: "marketing automation software for healthcare," for example. By using long tail keywords, you will reduce costs, improve CTR, and attract more qualified traffic. Also, target keywords focused on buyer persona pains such as "create more efficient email campaigns." Optimize smarter to see better results and maintain good ROI.
Ensure that the conversion helps to close.
Once you finally nurture contacts to MQLs, make sure the sales team has the information needed to effectively meet the needs of the lead. Your landing page and contact forms for conversions should ask for the meaty details sales reps need to adequately prepare for demos and calls. Always collect the basics like name, company, and contact info, but also try to silo the MQLs into your established buyer personas. Have required fields for users to choose common pain points, enter their titles, and disclose their companies' sizes. Set up sales to close.

SaaS companies applying inbound marketing can't do it overnight. It takes time to grow a mature inbound marketing strategy. Leverage the existing strengths of your current team to make the transition process effective and efficient.
To learn more about how inbound marketing could benefit your SaaS company, download our Inbound Marketing guide below!