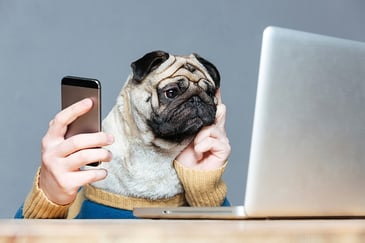 You've heard it before: you need great content to be engaging on social media. Luckily, you already have great original content. You've got an unbeatable content marketing plan in place. But what do you do when times get tough, and you're struggling to figure out what to post next?
Part of having a well-rounded B2B social media strategy is not only having original content, but sharing and curating outsourced content as well. When you're always posting about your business, services or products, your social media becomes boring and too self-promotional. You can talk about yourself as much as you want, but when you're not engaging to your audience you lose value in your brand.
Here at Marsden Marketing, our philosophy is that your social media content should be:
60% curated/outsourced content
30% owned or branded content
10% promotional content
Not talking about yourself or your business 60% of the time may seem scary. Don't be afraid; your audience will still know who you are. But where will your outsider content come from? What is going to bring the most value to your business?
The key is to look at your industry and the audience you're trying to engage. The social community in your industry is where you should look to find the content that would be most appealing to your audience. It also keeps you relevant and gives you more credibility through your involvement in the industry.
From there, you'll also see what type of content is most engaging to your audience. What is the most informative, entertaining, interesting content being shared amongst your audience? Is it highly visual? Is it mostly in blog format? Are videos, images, or SlideShares being incorporated? When you see what type of content is being shared, it will be easier to determine what articles you should share.
You don't have to spend all your time searching the Internet for this great content. There are many ways to save time and find the best articles to share.
For HubSpot users, the platform has a built-in tool called Social Monitoring. Use Social Monitoring to create "streams" (or targeted lists) to find out what your leads are talking about. You can add keywords to find related conversations to monitor.
Identify thought leaders and key influencers in your industry and group them into a list on Twitter. It's an easy way to monitor what and when they're posting, who they're engaging with, and how. Be sure you're looking for influencers that best reflect your brand, ethics, and identity, otherwise you risk going off target with your goals.
Set up Google Alerts for certain keywords related to your industry so you can get the most up-to-date and trending articles straight to your inbox. You can also use it to find websites that you can bookmark and come back to later.
Subscribe to industry-relevant blogs and newsletters, (like this one!)

.

S

imilar

to Google Alerts, having the content delivered straight to your inbox is an easy way to get fresh content.
Once you have added outsourced content to your social media, don't forget to measure. Did your audience find certain topics more interesting than others? What articles got more likes/retweets/shares? Be sure to analyze and use the data to adjust your sharing as necessary.
Adding outsourced or curated content will add more value and greater engagement with your social media and content strategy. By doing your research and using these tips, you'll be able to set up a system that makes it easy to not only find shareable content quickly but the most engaging content for your audience as well.
Need more tips on how to enhance your social media strategy? Read more from our blog here: