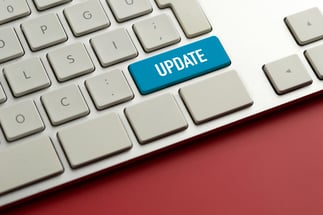 So far we've shown you how to spruce up your website, prune SEO, and declutter your MarTech toolbox. To cap off this spring cleaning season, we'll move into sprucing up your B2B social media profiles.
Your organization's social media profiles are an important part of your marketing mix. They increase brand recognition, often serve as the first point of contact between your business and prospective clients, lend credibility to your reputation as a thought leader, and provide your customers with an easy way to communicate and stay up-to-date on the latest news from your organization.
However, when other initiatives are competing for your time and attention, it can be easy to take a "set it and forget it" approach to your social media accounts. As a part of your marketing spring cleaning, now is a good time to take a step back and see what's working or what needs a refresh.
Let's get to it!
Assess Platforms and Content
Evaluate Platforms
Start with a quick audit of all the social media platforms your company is using. Do you have Twitter profile that hasn't been active in the last six months? How are your profiles performing? Look at metrics like referrals, engagement, and audience growth. Are you in the right place to reach your target audience?
Make sure you're clear on your goals for each platform, too. Do you care mostly about growing your following, or are fewer, more meaningful interactions with the right people your focus? Don't get caught up in all the analytics, but do take some time to make sure the broader social media strategy you have in place is still right for your company and its goals.
Identify Top-Performing Content
Time to dive a little deeper into the data available to you from each social media account. Pull data from the past six months and look at the content that provides the most shares, engagement, likes, etc. See if you notice any trends — do posts with photos outperform those that are text? Does your audience get more engaged when you ask a question or post a relevant stat? What content are they consuming the most: videos, white papers, infographics? What times and days are they interacting with your content the most?
Identify a few topics that also resonate with your audience so you can be sure to incorporate them frequently into your social content. Check what your competitors or influencers in your industry are doing with their profiles. They might provide fresh approaches to content that you can adapt and make your own.
Check Your Branding
You should have consistent imagery, colors, branding, and messaging across your social accounts. There's a little wiggle room for variation (for example, your tone on LinkedIn might be a bit more formal than on Facebook), but people should experience the same brand voice no matter what platform they use to engage with your company.
If you've recently gone through rebranding or updated your company's messaging, your social accounts need to reflect those changes. You should also check for updates to social media platforms to see if they made any changes to image size or profile layouts. You may need to resize profile images or add page background images depending on the updates the platforms have implemented.
Update Passwords and Automate
Update Password Logs and Users
Security is a big concern with online activities. Make sure you have all logins and passwords documented securely for employees that may need access to social accounts. If you've had employment changes, add the appropriate new users, remove access for people who no longer need access to your accounts. Check the admin and security settings of your accounts to ensure that backup email addresses or the main point of contact for your accounts are up to date and assigned to the right person.
What Can I Automate?
A final step is to make the management of your social media accounts easier. Can you automate posting with a tool like Sprout Social or Hootsuite? Do you have any automated response messages set up for Twitter followers? Many tools can help with different aspects of your social media, but that doesn't mean they're right for your company. Go back to those goals you set for yourself and see what tools can help you more effectively reach them.
If you follow the steps above, your company's social media will operate more smoothly, and you can be confident in how your company will be represented if prospective clients are researching your brand. You should look at the performance of your accounts monthly but consider doing this full audit every six months or so to keep your accounts clean and up-to-date.
Need help sprucing up your marketing?
Get in contact with one of our demand generation specialists to jumpstart your spring cleaning efforts.