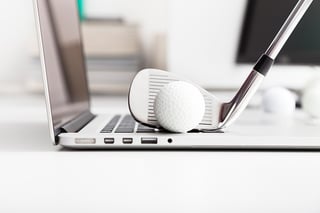 My friend Greg once lost his grip on a golf club during a hack at a practice ball. The golf club flew over a two-story house and crashed through the back windshield of a used Mercedes owned by the next-door neighbor. It was a beautiful disaster by all accounts – one that started with the best of intentions.

Just like Greg, you'll have the best of intentions when beginning the new year with a new marketing agency – and so will the agency team. It's a time full of opportunity, and it's exciting. But before we get to the fun stuff (hello, gamification), it's important to create a strong foundation for a successful partnership.
Hold the Horses

At an agency, we want to get results for you. We want to hit the target right out of the gate. We love running campaigns, analyzing the data, and making tweaks along the way. But if an agency doesn't know your business first, then it will not be able to deliver for you.

Don't be surprised if your new agency gives you a bit of homework. For example, at Marsden we have a comprehensive onboarding checklist that we ask new clients to complete. To be honest, we ask for a lot, from who our primary contacts will be to full-on SWOT analysis. But that information is invaluable in helping us understand benchmarking data, existing digital marketing programs and how sophisticated they might be, CRM systems we need to integrate with, and your inventory of marketing assets.
Charting a New Course

During onboarding, the most important thing to consider is how to define success. In golf, it's easy - the course is set and everyone knows what par is. You and your agency are now mapping a new course, and setting up joint metrics is crucial. What do you want to achieve together? Are you trying to grow top-of-the-funnel metrics such as awareness or build a pipeline of qualified leads for your sales team?

Agreeing on this information can help your agency propose marketing initiatives that are aligned to those goals. It also will keep everyone on the same page about what's important and whether targets are being hit. We like to be held accountable, and having defined and quantifiable goals helps us as much as you.
Stop, Collaborate, and Listen

Your new agency already should have done some background research on your company, your industry, and your competitive landscape – but now comes the heavy lifting. That means going beyond marketing team conversations and tapping into a variety of perspectives in your organization so your agency gets a deep understanding of your business and customers.

Interviews with sales teams, customer success teams, and customers (whenever possible) give invaluable insight to the agency. Information from the front lines helps your agency create accurate buyer personas, messaging, and creative concepts that will be the footing for future campaigns. When it comes to your business, you're the experts; when it comes to marketing, your agency has the expertise. Merging the two together makes for a powerful collaboration that can bring great results.

For example, we have a lot of experience helping clients with SEO for their websites. We know which tools work best for finding new keyword opportunities and do the groundwork to figure out what keywords competitors rank for and where they have backlinks. Combining this information with what our clients know about their customers and products helps us boost website visibility and traffic, which eventually leads to more conversions.
Call Me, Maybe

Your agency should work with you to determine a communications cadence – how often you need to get together and how you'll share information – that meets your expectations. It may vary given the nature and complexity of the campaigns you plan to run. It's also helpful to create a document repository and a place to share meeting notes and project plans.

In the beginning, your agency may err on the side of oversharing. Not all research will end up in written documents, but those on your account should strive to demonstrate their improved understanding of your business. After a few campaigns have been launched, communication can be scaled back as necessary to accommodate reporting and strategy sessions.
Remember, it takes a lot of small things to go wrong for a pitching wedge to sail through a car window. Taking the right approach from the outset will help keep you and your agency on the fairway – and in the event you do end up in the rough, the trust to keep swinging for the green.
Want to learn more about our thoughtful onboarding? Let's start a conversation.