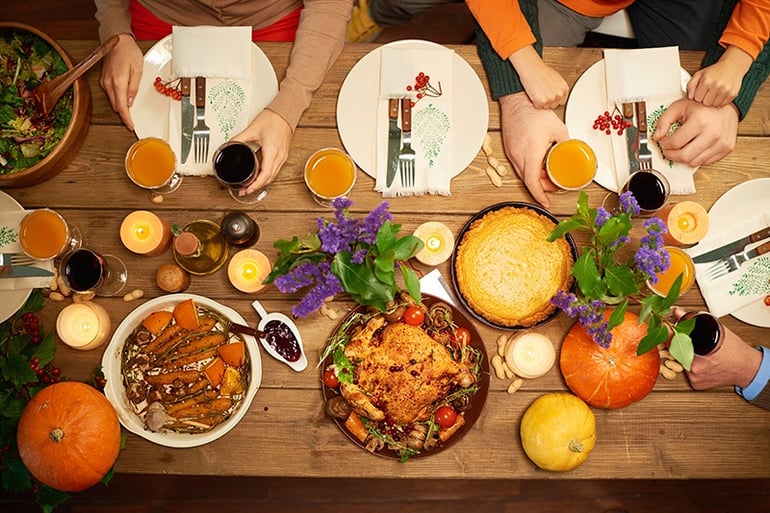 This year our agency has a lot of things to be grateful for: new and continued relationships with great clients, dynamic additions to our team, and a scope of work that continues to challenge us and help us grow, to name a few.
As we reflect on 2015 and look to 2016 for new endevours, in marketing and in life, Team Marsden would like to share what we're grateful for this Thanksgiving.
"I am thankful for my beautiful daughter. She lights up my life everyday with her smile. I am also thankful for the Internet and what is has provided for me in my career. I can stay connected with my work anywhere, and anytime." - Shannon Henrici, Senior Inbound Marketing Specialist
"After scanning the 700 pages of required material for the Google AdWords certification, I'm thankful that HubSpot has helpful videos for their training and certifications. I'm also thankful for the healthy delivery of my new nephew, Harper, and the other one that's on the way!" - Thomas Mayhew, Inbound Marketing Specialist
"This year I'm most thankful to be ending the year exactly where I should be. I can't say that every year. But I feel as if I'm in the home, the job, and surrounded by the people and pets that I should be at this point in my life. In marketing, I am thankful that content continues to be king. As a writer and lover of language, I'm thrilled to know that regardless of the changing mediums the constant that remains steady is content, content, content." - Jeffrey Willis, Digital Marketing Consultant
"One marketing trend that I am grateful for is the rise of B2B Social Media. As someone who has always been a fan of various social media platforms, and now someone that uses it to market for several B2B businesses, I am grateful many companies are starting to realize social media is not only B2C but also valuable for B2B. I am also grateful that my internship trainers will now become my peers as I transition into a full-time position as an Inbound Marketing Specialist here at Marsden. My co-workers have always been extremely helpful to me during my internship and I am excited to begin this new journey leading into the new year with such wonderful people." - Quisha E'lom, (Recently promoted!) Inbound Marketing Specialist
"I am grateful for all of the new relationships I've built with colleagues and clients over the course of this year. Also, I would like to express gratitude for the clouds. They are ginormous, have the ability to shape-shift, and are nearly always within visible range." - Brian Bicknell, Graphic Designer
"In my professional life, I am grateful to be in an industry that is constantly challenging me to think outside of the box - I am learning something new every day, and it reminds me to stay humble, and to stay motivated. I am also grateful for the love and support of family and friends near and far, and to be marrying my best friend next year!" - Brenna Zenaty, Marketing Manager
"I am grateful for smart clients who want to collaborate and drive results together, and for family and friends who provide support and strength through good times and bad." - Suzanne Moore, Principal
" I am grateful to have work I love doing, clients I love serving, and teammates I love making it happen with! I'm also thankful for a deep sense of gratitude and the opportunity I have to live a life I love." - Anne Marsden, Principal & Founder
As a team, we would like to extend our best wishes this holiday season. From our team to yours, Happy Thanksgiving.